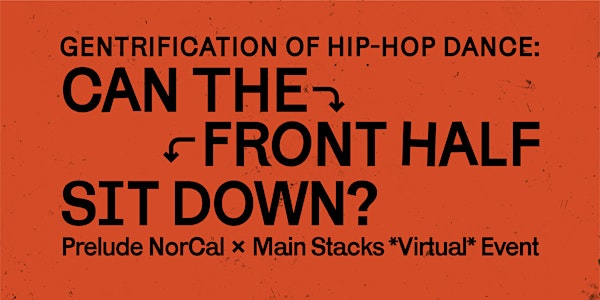 Gentrification of Hip-Hop Dance: Can the Front Half Sit Down?
Please join us for this opportunity to learn and become more informed dancers for a more inclusive, honest, and better future.
About this event
[Event Info]
What is the place for non-Black dancers in today's hip-hop/"urban" dance culture? This year, Prelude NorCal is using our platform to investigate the issue of cultural appropriation of hip-hop dance as a Black cultural art form, and our privilege as non-Black dancers. We are inviting community leaders and academic experts to speak and educate on the history of hip hop, and its commodification and gentrification that we are seeing in dance today.
To become a more informed and inclusive community, we invite all our past Prelude NorCal attendees and wider circles to participate in our 2-day speaker series this fall. If you are interested in learning more about how to enact anti-racism and fight complicity in your dance experience, we implore you to join us and learn more about this critical issue.
Day 1
3:00 PM - Moncell Durden: "Hip-Hop as a Way of Life" (1hr Lecture)
4:00 PM - Jade "SOUL" Zuberi: "How and Why I am Committed to Anti-Racism" (1hr Lecture)
5:00 PM - Traci Bartlow: "A History of African American Dance with Traci Bartlow" (1.5hr Workshop/Lecture)
Day 2
3:00 PM - Jillian Amadi: "Give Props to Hip-Hop: Honoring the Culture Responsibly" (1hr Workshop/Lecture)
4:00 PM - Jade "SOUL" Zuberi: "Applying Actions (Moving From Allies, Co-Conspirators to Accomplices) for Black Lives" (1hr Lecture)
5:00 PM - Arnel Calvario, Bibi Khalili, Breanna Myers, Jade "SOUL" Zuberi, Jillian Amadi, Traci Bartlow, Christian Rodriguez, moderated by Danyel Moulton: "Move With Intention" (1hr Community Panel)
[Ticket Info]
1 day suggested donation: $20
2 day suggested donation: $40
Donations are accepted via Venmo to @preludenorcal and PayPal to norcal.prelude@gmail.com or the direct link paypal.me/preludenorcal.
100% of the proceeds from each ticket will go towards compensating our guest speakers.
[Prelude NorCal x Main Stacks Social Media]
[Contact Info]
Feel free to DM us on any of our social media platforms or send us any questions/concerns at norcal.prelude@gmail.com.