Description
NEW DATE APRIL 26
Join the Avant-Garde Network for "Gentrification: How to Make Affordable Housing More Affordable" at Fordham Law School on Wednesday, April 26, 2017. At this event you will learn from seasoned professionals and industry experts about the affordable housing market. We will discuss the current state of affordable housing, the impact of the proposed Trump funding cuts and solutions. This event is in partnership with Fordham Law School's Black Law Students Association.
Did you know? Recently, Trump proposed to cut $6 Billion dollars from the U.S Department of Housing and Urban Development (HUD). These cuts will negatively impact affordable housing and thousands of poor and working class households.
AGN Pillar and Purpose: The Avant-Garde Network brings this program to you in an effort to empower professionals with information about affordable housing and how it impacts communities of color.
Please note: Fordham Law School is a secure building and you cannot gain entry without an RSVP. Onsite registration is not available. The RSVP list will close once we reach capacity; so invite a friend and RSVP ASAP.
This is a panel you won't want to miss!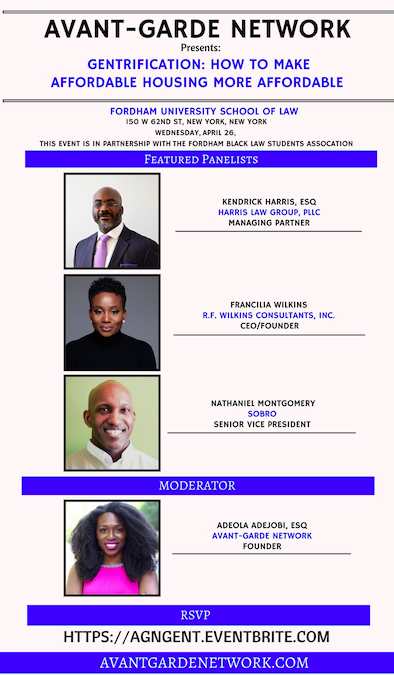 Kendrick Harris, Esq. is the Managing Partner of the Harris Law Group, PLLC. He began his career with the New York State Attorney General's Office within the Real Estate Finance and Investor Protection bureaus where he oversaw the regulation of the sales of real estate securities, including cooperative interests in realty, syndications and intrastate offerings. Prior to founding his own firm, Mr. Harris worked as a senior associate at the law firm of Goldstein Hall where he focused his practice in the area of affordable housing and community development, non-profit law and governance, and general real estate law. Before joining Goldstein Hall, Mr. Harris worked for the law firm Bryant Rabinno LLP, the largest WMBE transactional law firm in the country, providing advice on a wide range of capital markets, finance and real estate transactional matters, including the issuance of debt, acquisitions, dispositions, leasing and financing transactions. Mr. Harris holds a Bachelor of Science in Real Estate Development and Finance from New York University's Schack Institute of Real Estate, a Master's of Science in Real Estate from Columbia University, and Juris Doctor with a concentration in Real Estate from Hofstra University's School of Law.
Francilia Wilkins is the Executive Director of the New York Real Estate (NYREC). NYREC is a chamber of commerce comprising well-established residential and commercial developers committed to expanding minority business participation and community development in New York. Her efforts have led to the formation of various partnerships and inclusionary efforts including New York City's Housing Preservation and Development (HPD) Capacity Building Course, HPD's MWBE RFP, New York City's Economic Development Corporation (EDC) Emerging Developer Loan Fund, and MWBE legislation enacted in New York City and New York State. She holds both a Bachelor of Science in Finance and a Master of Business Administration in Marketing Management from St. John's University.
Nathaniel Montgomery is Senior Vice President of Real Estate Development at the South Bronx Overall Economic Development Corporation (SoBRO). SoBRO's mission is to enhance the quality of life in the South Bronx by strengthening businesses and creating innovative economic, housing, educational, and career development programs for youth and adults. Nathaniel Montgomery leads the day to day activities of SoBRO's Real Estate Development efforts as Senior Vice President. Mr. Montgomery is proficient in real estate finance and has significant experience in working with City, State, and Federal funding sources. His areas of expertise are in Conventional Financing, CDBG, HOME, and Low Income Housing Tax Credits. Mr. Montgomery holds a Master's Degree in Urban and Regional Planning from Jackson State University and a Master's Degree in Public Administration from Baruch College.
Adeola Adejobi, Esq. is the founder of the Avant-Garde Network. Adeola practices law at the New York City Housing Preservation and Development Agency, the largest municipal affordable housing preservation and development agency in the nation. Since 2015, she has chaired the Real Estate Committee for the Metropolitan Black Bar Association. She is a 2017 Council of Urban Professionals Fellow and she also sits on the Advisory Board of the National Black Law Students Association. Adeola received a B.A. in Political Science from Spelman College, and a J.D. with a specialization in International Legal Affairs from Cornell Law School.