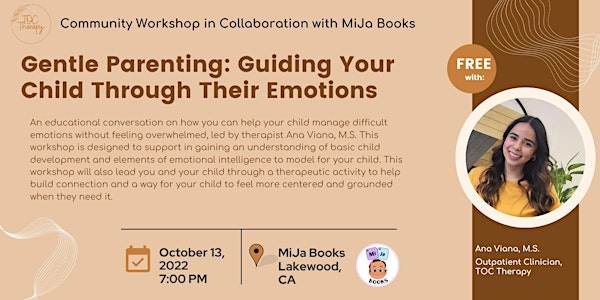 Gentle Parenting: Guiding Your Child Through Difficult Emotions
An educational conversation on how you can help your child manage difficult emotions, led by therapist Ana Viana, M.S.
When and where
Location
MiJa Books 500 Lakewood Center Mall #Space 039 Lakewood, CA 90712
About this event
JOIN US for an educational conversation on how you can help your child manage difficult emotions without feeling overwhelmed, led by therapist Ana Viana, M.S. This workshop is designed to support in gaining an understanding of basic child development and elements of emotional intelligence to model for your child. This workshop will also lead you and your child through a therapeutic activity to help build connection and a way for your child to feel more centered and grounded when they need it.
*The workshop is tailored for parents, but children are welcome.*
Workshop Host: Ana Viana, M.S. is an outpatient clinician at TOC Therapy. She works with BIPOC adults and teens in individual therapy and helps BIPOC and interracial couples develop parenting identities. Ana uses an integrative approach of mindfulness, journaling, and art to guide her patients in the management of stress, anxiety, communication, and self-esteem.
About TOC Therapy: TOC Therapy is an online group practice in California tailored to meet the mental health needs of BIPOC Adults in Individual and Couples Therapy. All clinicians are trauma-informed and culturally competent. When working on parenting issues, they integrate their client's culture in treatment to assist them in their own inner child healing and building a parenting style that feels best for them. TOC Therapy Hosts free monthly workshops on mental health and wellness for BIPOC Adults. Request a free consultation through their website or sign up for their newsletter to be the first to know about their workshops.
SUBSCRIBE to their newsletter! http://eepurl.com/h-7peD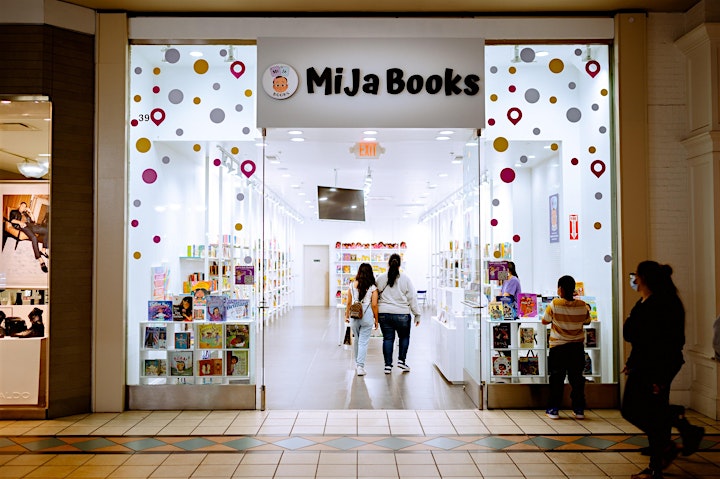 MiJa Books is an independent, family-owned bookstore in Lakewood, CA that curates a collection of multicultural and diverse children's books. Their values of inclusivity and representation are exactly why we are so excited to partner with them. You can visit them online at www.mijabooks.com.
They will have a curated selection of SEL (Social & Emotional Learning) books that are great resources to guide children through various mental health subjects.