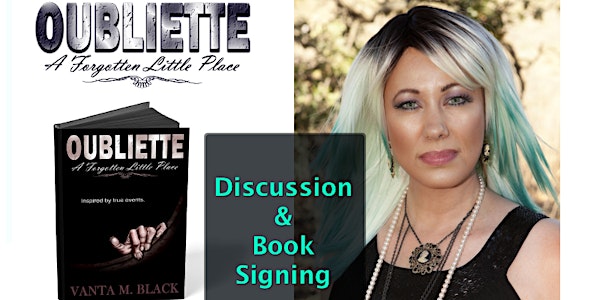 GENRE WRITING AND THE ART OF THE NOVEL
When and where
Location
The Secret Rose Theater 11246 Magnolia Blvd NoHo Arts District North Hollywood, CA 91601
Description
Join Prophecy Girl Films and Black Chateau Enterprises for an evening with Vanta Black, author of Oubliette: A Forgotten Little Place on Sunday, March 20th, 2016.

Are you writing a genre novel or series? Does your writing require extensive research and development? Are you wondering how to publish and market your novel? Join us for a discussion with author Vanta M. Black and get answers to all your questions! Moderated by Phil Giangrande - host of "Seated at The Writers Table", this discussion on novel writing, the horror genre and how to get published is one you do not want to miss!

Find out more about how Black wrote and published her masterpiece novel and learn about:
* The craft of novel writing
* Research and development of a genre novel
* How to successfully base a novel on true events
* What it takes to publish and market a genre novel
Vanta M. Black's book, Oubliette - A Forgotten Little Place, is based on true events and historic legends. A collection of interwoven stories that center around the oubliette of a fictional castle in France, each tale is rooted in reality or well-known myth. Oubliette is available through Barnes and Noble and Amazon, and will be featured at the Los Angeles Times Festival of Books in April 2016.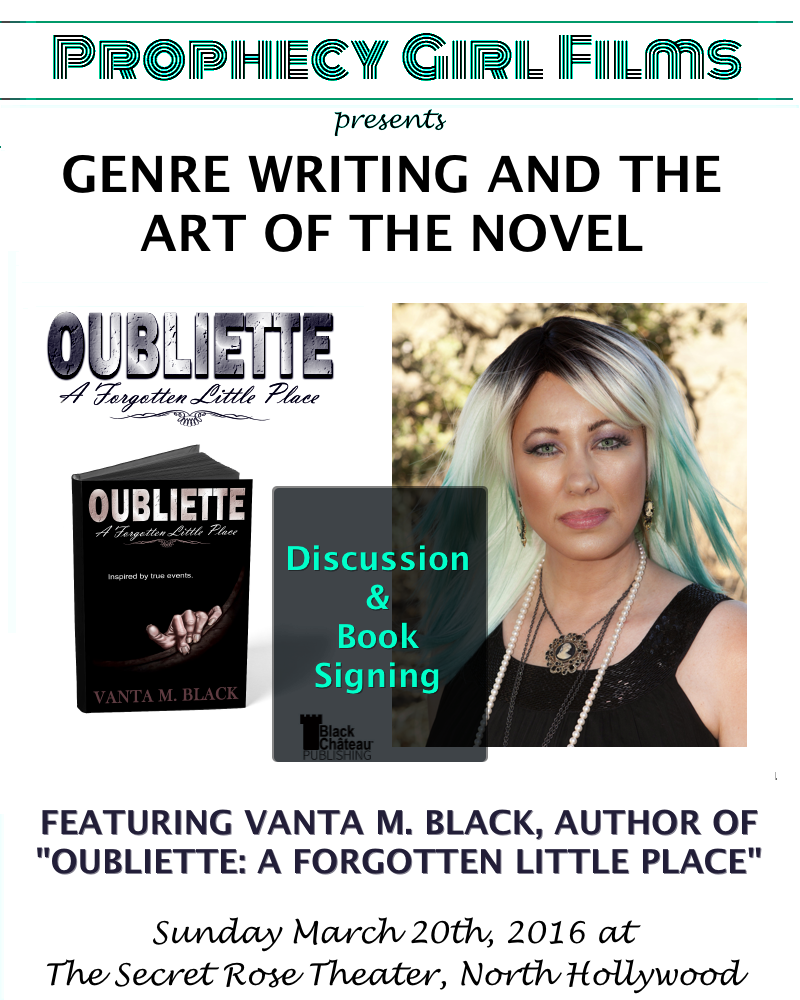 Praise for Oubliette:

Unexpected, fresh, and deliciously twisted. There are plenty of thrills and chills to be found here." — John Stuart Wildman, Director, The Ladies of the House.

Strong characters. Real relationships. Deep terror. A journey through time where the fears are not only of monsters, but of shadows inside ourselves. —Justina Walford, Writer/Producer, Wildworks Productions.

"Great, now I'm afraid of bunnies." - Sheena Metal, Host of Haunted Playground, LA Talk Radio.

Fall in now! Oubliette is the break-out, must-read novel of 2016. — Shelley Lee, Radio Host and Personality.
TICKETS AVAILABLE NOW. ORDER YOUR COPY OF OUBLIETTE IN ADVANCE OR BUY IT AT THE EVENT!

Find out more at

www.prophecygirlfilms.com
www.vantamblack.com
www.seatedatthewriterstable.com