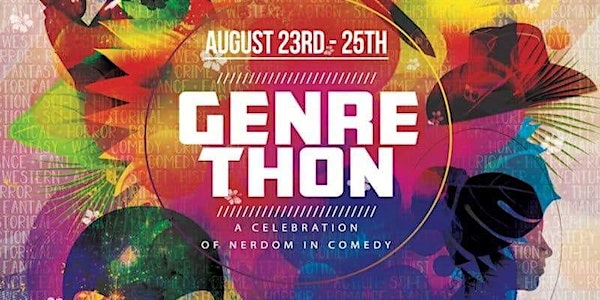 Genre-thon
A full weekend of Geek Comedy at Otherworld Theatre featuring Improvised Star Trek, The Stuntment, Improvised Jane Austen &; more!
When and where
Location
Otherworld Theatre Company 3914 N Clark St Chicago, IL 60613
About this event
GenreThon 2019- This Celebration of Geek and Genre Specific Comedy lasts for 3 miraculous days at Otherworld Theatre Company August 23rd- 25th. Featuring some outstanding Chicago Comedy Troupes, such as Improvised Star Trek, Improvised Janes Austen, and The Stuntmen! Plus a special performance from Otherworld's in-house parody team of "A Taste of Manflesh, A Lord of The Ring's Parody" and Out On A Whim Presents: Improvised Dungeons and Dragons, and many more!
*** Breaking News 8/19: Genre-thon will be the final live performance of Improvised Star Trek, after an award winning 10 year run as both a live show ad a podcast. The USS Sisyphus will embark on it's final live performance Saturday at 9:30pm.
Genre-thon will also be host to other once and a lifetime events, such as the final performances of Lost In Space/Time Improv and Heros's Journey Improv, as well as the premeir of new Improvised Dungeons and Dragons character: Magnar Tinforge! ***
Full weekend passes are $30, day passes are $20 ! Tickets to individual shows will only be availiable at the door for $10 per block.
August 23rd Schedule: (No day pass available for Friday. All tickets may be purchased individually. Weekend pass holders will have access.)
7-10pm Mixer in the Otherworld Lobby (Free!)
7:30pm A Taste of Manflesh: A Lord of the Rings Parody (Buy tickets here.)
*9pm Dorothy Does Oz (Tickets Must Be Purchased Separately. Purchase them here.)
*10pm A.M.pocalypse ( For non-pass holders this performance is pay-what-you-can. Purchase tickets here. )
11pm Open Mic (Free!)
August 24th Schedule :
2:00pm Geektastic : Cage Match
2:30pm Hero's Journey Improv
3:30pm Improvised Star Tours: Endor's Moon!
4pm Joke Concert
5pm Tinderella
5:30pm P.S. Burlesque
6:30pm Double Feature: Lost In Space Time & Improvised Riverdale
7:30pm A Taste of Man Flesh, a Lord of the Rings Parody
*9pm Dorothy Does Oz (Tickets Must Be Purchased Separately. Purchase them here.)
9:30pm Improvised Star Trek
11pm Geekspeare Presents: The Tragedy of Johnny and Lisa: a Shakespearean Parody of "The Room"
August 25th Schedule
2pm Down In Front, Live! Presents: Saturday Morning Cartoons!
2:30pm The Shrews
4 pm Double Feature: Squatchin' & Moebius Theatre
4 pm Mass St. Productions Presents: I Am Uncomfortable
5:30pm Double Feature: Rodney & Rachel Schrock
5:30pm Double Feature: Unwritten Works of William Shakespeare & Daniel Whightkin
7pm Improvised Dungeons and Dragons
7pm Improvised Jane Austen
8:30pm The Stuntmen
9:30pm Hex Lake
10pm Blooper Troopers
Best of the Fest Awards will be awarded for excellence in Sketch, Improv (Long and Short form), solo performance, and more!
* All asterisked shows require a separate ticket purchase. Please click the links or go to our website, www.otherworldtheatre.org to reserve tickets for Dorothy Does Oz.