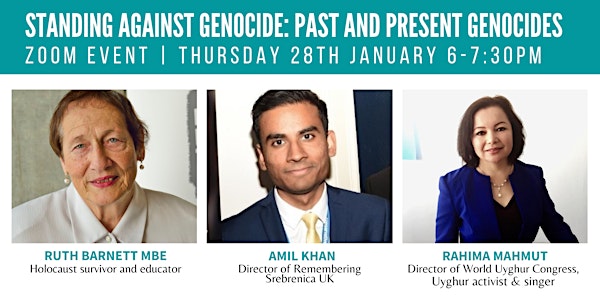 Genocide Panel: Past and Present Genocides
Join us for a panel discussion on preventing and standing up against genocide to commemorate Holocaust Memorial Day 2021
About this event
**REGISTRATION CLOSES AT 4PM THURSDAY - PLEASE BOOK NOW**
Join this thought-provoking reflective discussion with the incredible speakers: Holocaust survivor Ruth Barnett MBE, Director of Remembering Srebrenica Amil Khan, and Director of the World Uyghur Congress (UK) Rahima Mahmut.
This is a brilliant opportunity to hear from and ask questions to these exceptionally inspiring individuals who have worked tirelessly to educate others on the Holocaust, the Bosnian genocide and the ongoing genocide of Uyghur Muslims in East Turkestan (Xinjiang).
Each speaker will share their experiences, work and expertise on genocide, and we will finish with a Q&A. Sign up for free below, tickets are limited!
Speakers:
RUTH BARNETT MBE
Ruth Barnett is a Holocaust survivor and educator. She was born in Berlin, Germany and in 1939, aged four, Ruth and her seven-year-old brother arrived in Britain on the Kindertransport. Over the next ten years, Ruth and her brother lived with three foster families and in a hostel.
She is now an author and regularly shares her testimony in schools and colleges. Ruth was awarded an MBE in the 2020 New Years Honours list for services to Holocaust education and awareness.
AMIL KHAN
Amil Khan is the Director of Remembering Srebrenica, a British charitable initiative that raises awareness of the genocide that was committed in Bosnia, in which over 8,000 Muslim men and boys were systematically murdered in Srebrenica in July 1995.
The Remembering Srebrenica charity aims to educate people about the genocide and create a society free from hatred. They bring communities together to remember the genocide through organising commemoration events and taking people on their 'Lesson from Srebrenica' education visits programme.
RAHIMA MAHMUT
Rahima Mahmut is director of the World Uyghur Congress (UK) and Adviser to the Inter-Parliamentary Alliance on China.
Rahima came to the UK to study in the year 2000 and has lived here ever since, she is now an Uyghur activist and singer. She has been unable to contact any of her family living in China since 2017.
At the same time, evidence has emerged of the incarceration of 1-3 million innocent Uyghurs in 're-education' camps. Uyghurs in East Turkestan (Xinjiang) are currently facing imprisonment, torture, sterilisation, and separation from their children.