#GenNOW Professional Development Series: Leadership and Inclusion Symposium
Description


Generation NOW Cincinnati Network:
Mission: To encourage the continued development and engagement of our young professionals in the greater Cincinnati area.
Our vision is to enhance the vitality of the Tri-State region by promoting and developing a strong community of professionals ranging in the ages from eighteen to forty.
Values: GenNOW fosters a culture of excellence, integrity, diversity, generosity, and growth as the fundamental foundation of its identity.
GenNOW Cincinnati is designed with the purpose of getting diverse professionals to visit, live, experience, and stay in our city long-term. We recognize that in order to accomplish our goal we have to create an environment conducive for growth, a lifestyle suited for progress, and opportunities to embrace diversity offered by Cincinnati. By unifying this body of 18-40 year old professionals, GenNOW provides a powerful platform to unite professionals in the cultural, social landscape for years to come.
#GenNOW
Professional Development Series:
Leadership and Inclusion Symposium for the Millennial Professional
Featured Speaker: Ann Schulte, Global Leader, Learning, & Leadership Development @ P&G
Message: "Are you really inclusive?"
❖ Leadership & Inclusion Panel & Q&A:
Panel Moderator: Karl Preissner, HR P&G
Feature Panelists:
Steve Bowling, HR Business Partner – Talent Acquisition & Engagement, LPK and Spicefire
Paaras Parker, HR Leadership Team, 84.51
Sharahn Monk, Talent Connections Leader
Tessa Xuan- Greater Cincinnati Chinese Chamber of Commerce
Event Info:
Date: Thursday March 30th, 2017
Time: 5:30pm-8pm
Location: Cincinnati USA Regional Chamber: 3 E 4th St, Cincinnati, OH 45202
Cost: $20
Register for the event at gennowcincy.eventbrite.com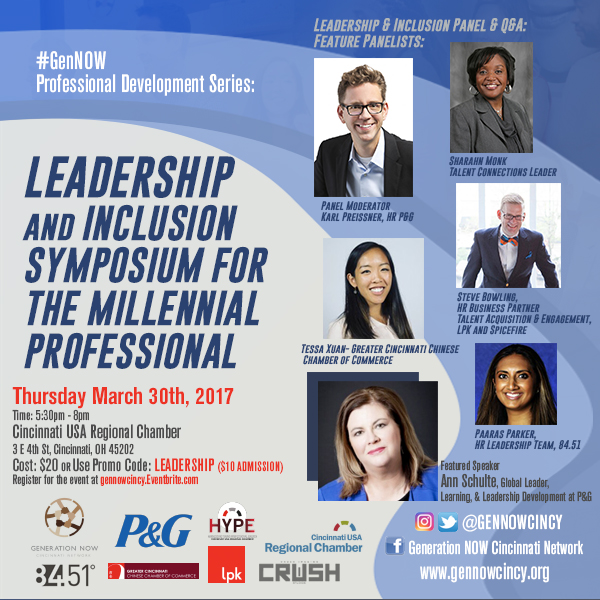 Social Media:
Instagram & Twitter: @gennowcincy
Facebook Like Page: Generation NOW Cincinnati Network
Website: gennowcincy.org
Background History of the Program:
#GenNOW Professional Development Series. So what is this series all about?! How impossible is it to find great professional development training in Cincy, for a cheaper bill for Millennial's?! Almost impossible, right?! And then when you do find a program, the next inquiry is how consistent is this program or how useful is the program?! Is this program worth my time and investment in the end?!
Generation Now Cincinnati network a local non-profit organization led by a diverse group of young professionals, decided to take matters into their own hands on solving this problem by coordinating a seasonal 6-8 month professional development series, for Cincinnati young professionals, created by Cincinnati young professionals.
This program actually started out 3 years ago as the LinkedIn Networking Happy Hour event. 3 years ago Founder Renika J. Smiley launched the LinkedIn Networking Happy Hour Event. The event was originally hosted at local bars, at Happy Hour time. Renika, came up with a great idea to host Happy Hour networking events on the second floor of Igby's, with a diverse speaking panel, dedicated to a diverse young professional audience. The event started out with a room full of 40-75 young professionals jammed back into Igby's second floor private area. Who would've thought 3 years later, this event would grow from Igby's second floor, to Fortune 500 Company Office venues, with an attendance of over 200 young professional an month. Renika's tenacity proves that it's not about the start, it's about how you finish!
Within 3 years, Generation NOW Cincinnati Network 5013c Non-Profit organization has highlighted over 200 local businesses, and honored over 150 young professionals with awards and plaques for this career achievement. The organization has locked in community partnerships and sponsorship opportunities with RDI, Nielsen Company, P&G, Cincinnati USA Regional Chamber, & many more.
The success of this program has won loyal followers with job opportunities, business clientele have been built, professional growth for young professionals, panelists have grown into stronger speakers, and the promotions of inclusion have brought so much growth to our community.
This event includes:
Local Keynote Speaker

Food & Beverages

Top 10 Recognition

Leadership and Inclusion Exercise

Networking

Leadership & Inclusion Panel

Q&A

Talent Acquisition Specialists