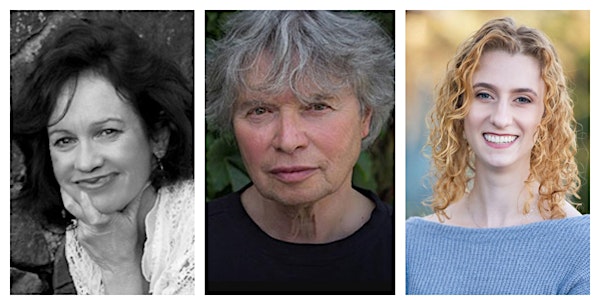 Gennifer Choldenko, Avi, and Aimee Lucido for Towne Center Books
A discussion with Gennifer Choldenko, Avi and Aimee Lucido to support Towne Center Books
Refund Policy
Contact the organizer to request a refund.
About this event
It's a tough time for local bookstores, what with the social distancing and the sheltering in place. So we're raising funds to help local Bay Area bookstores stay in business, with a series of fundraisers. Fridays will feature readings for kids, and we're incredibly lucky and thrilled to feature Gennifer Choldenko, Avi, and Aimee Lucid to support the wonderful Towne Center Books.
The authors
With more than 2 and a half million books sold, Choldenko's best known Tales from Alcatraz series, has been called "A cornerstone series in contemporary children's literature." Al Capone Does My Shirts – the first book in the series -- was a Newbery Honor Book and the recipient of twenty other awards. All four books in the series were Junior Library Guild selections and garnered many starred reviews. Gennifer's newest novel: Orphan Eleven will be out May 26. Publisher's Weekly has said this about Orphan Eleven: "This uplifting tale of hope, survival and belonging has all the ingredients to become a beloved middle grade book." Gennifer lives in the San Francisco Bay area with her loyal husband and naughty dog.
Avi is part of a family of writers extending back into the 19th century. Born in 1937 and raised in New York City, Avi was educated in local schools, before going to the Midwest and then back to NYC to complete his education. Starting out as a playwright—while working for many years as a librarian—he began writing books for young people when the first of his kids came along.
His first book was Things That Sometimes Happen, published in 1970, recently reissued. Since then he has published more than seventy books. Winner of many awards, including the 2003 Newbery award for Crispin: the Cross of Lead (Hyperion), two Newbery Honors, two Horn Book awards, and an O'Dell award, as well as many children's choice awards, Avi frequently travels to schools around the country to talk to his readers.
Among his most popular books are Crispin: The Cross of Lead, The True Confessions of Charlotte Doyle, Nothing But the Truth, the Poppy books, Midnight Magic, and The Fighting Ground.
His most recent books are The Button War, The Player King, The Unexpected Life of Oliver Cromwell Pitts, and Catch You Later, Traitor. Learn more at avi-writer.com, where you can read his weekly blog, Word Craft. Follow Avi on Facebook, where he shares an inside look at his writing process facebook.com/avi.writer and on Twitter @avi3writer.
Aimee Lucido is the author of EMMY IN THE KEY OF CODE and the upcoming RECIPE FOR DISASTER (Versify, Spring 2021). She's a software engineer who has worked at Google, Facebook, and Uber, and she got her MFA in writing for children and young adults at Hamline University. She lives with her husband in San Francisco where she likes to bake, run marathons, and write crossword puzzles.
The beneficiary
Towne Center Books is a locally owned general bookstore, conveniently located on Main Street in Downtown Pleasanton. We stock the books you need and want. Some of our most popular sections include Fiction, Mystery, Personal Growth, and Children's Books. Our store is an excellent community gathering place as we offer book clubs, author luncheons, and writing workshops.
How does it work?
We use the conferencing system Zoom. After you sign up you'll get an email with the Zoom access code. (Check that Eventbrite is using your current email address.) You don't have to join with video, but it's nice to see faces.