About this Event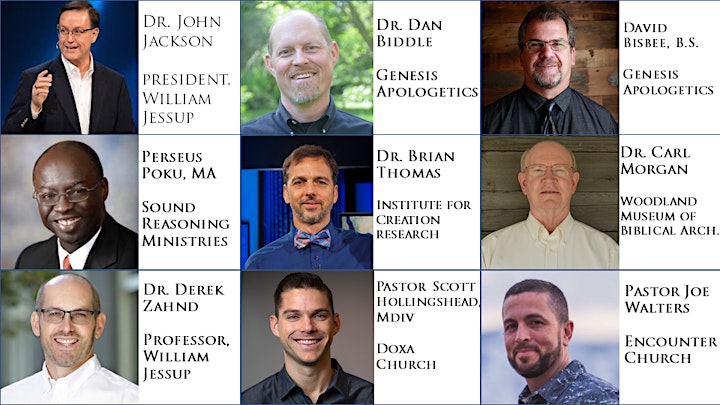 THIS IS THE RESCHEDULED GENESIS CONFERENCE EVENT! (The original event was scheduled for March 14th, but will now take place on June 13th, same time, same place!).
Sign up here!
This conference is FREE for Jessup students!
Join Genesis Apologetics, the Institute for Creation Research (ICR), and speakers from William Jessup University as we present the Biblical case for the reliability of the Bible, Creation, Dinosaurs, Noah's Flood, and biblical archaeology. Great for students 5th grade to college! Speakers include:
Dr. John Jackson (president of Jessup), Dr. Dan Biddle (Genesis Apologetics), David Bisbee, B.S. (Genesis Apologetics), Perseus Poku, MA (Sound Reasoning Ministries), Dr. Brian Thomas (ICR), Dr. Carl Morgan (Woodland Museum of Biblical Archaeology), Dr. Derek Zahnd (Jessup), Pastor Scott Hollingshead, MDiv (Doxa Church), and Pastor Joe Walters (Encounter Church).
The conference starts at 10:00 a.m. and ends at 4:30 p.m. Lunch options available on-site and nearby (lunch not included). The schedule is below:
10:00 Joe Walters: Opening Prayer & Intro/Overview of Day
10:10 Worship Team
10:30 Dr. John Jackson: From Genesis to Jesus
10:50 Dr. Dan Biddle: Biblical and Scientific Reasons I Converted to a "Biblical Creationist"
11:10 Logos Bible Software
11:25 Perseus Poku: Relational Apologetics in Today's Era
11:45 Illusionist Break!
11:55 Dr. Dan Biddle: Testing the Theory of Human Evolution
12:15 LUNCH (1hr, off-site options available)
1:15 Erik Carlson Illusionist
1:25 Dr. Derek Zahnd : Why we can Trust the Bible
1:45 Dr. Carl Morgan: Top 10 Archeological Evidences that Confirm the Bible
2:05 Dr. Brian Thomas: Fossils: Evolution or Flood & Supposed "Transitions"
2:35 Joe Walters: Announce Text Number and Q&A Process
2:40 BREAK/TEXT QUESTIONS FOR Q&A PANEL
2:50 Dr. Brian Thomas: Dinosaurs and the Bible
3:20 Dr. Dan Biddle: Evidences for Noah's Flood
3:40 Q&A Panel (All Speakers)
4:00 Scott Hollingshead: Living Under the Authority of Scripture can Change your Life