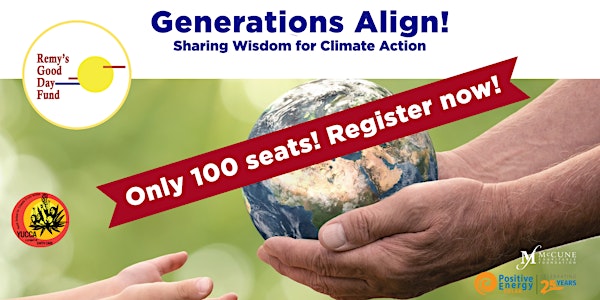 Generations Align! Sharing Wisdom on Climate Action
Generations Align! Sharing Wisdom for Climate Action. A collaborative conversation bringing together two generations to save our planet.
Date and time
Friday, June 30 · 4 - 6:30pm MDT
Location
Museum of Indian Arts & Culture - Museum Hill 710 Camino Lejo Santa Fe, NM 87505
Agenda
4:00 PM - 5:00 PM
Panel Discussion
---
Six people plus a moderator will be seated on stage. The stage and, at times, the attendees will be videotaped for use on our website for those who could not attend. The stage is quite close to the a...

5:00 PM - 5:30 PM
Audience Question & Answer
---
When you register for tickets you can pose a question or topic you feel may be of interest to the panel and attendees. We can't guarantee that your question will be used but it can help us direct the...

5:30 PM - 6:30 PM
Reception
---
Food on platters and beverage will be provided in a room off of the museum lobby after the Q&A. There isn't any seating in this area.
About this event
2 hours 30 minutes

Mobile eTicket
Remy's Good Day Fund is partnering with YUCCA (Youth United for Climate Crisis Action) to present the first event in a series - Generations Align! Sharing Wisdom for Climate Action - taking place at the Museum of Indian Arts + Culture on Friday, June 30, 2023.
This live panel discussion will feature
Three Grandparents will share their knowledge and experience working to protect the planet for future generations and their concerns for their grandchildren.
Paola Gianturco, Co-Author with her granddaughter) of "COOL, Women Leaders Reversing Global Warming"
Larry Rasmussen, Author of "The Planet You Inherit, Letters to my Grandchildren When Uncertainty's a Sure Thing"
Three youth panelists will share their vision and calls for change and what they need from the generations that came before them in order to build a truly intergenerational movement for transformative climate justice.
Ada Ovitt, a student at Albuquerque Academy is headed into her junior year. In eighth grade she started a Climate Club at her school. In 2022 she and another member of the Academy's Environmental Club won the "Most Effective/Efficient Concept" prize in CAVU's Climate Innovation Challenge for their video on the impact of community gardens on urban environments.
The first 50 parties to reserve receive a SunZoon Lite Solar Car made possible with funding provided by the McCune Charitable Foundation and Positive Solar Energy.
According to Maureen Vosburgh, Executive Director of Remy's Good Day Fund, "The purpose of "Generations Align" is to elicit the visions of young climate leaders who are leading the movement for climate justice in NM, while engaging the insights and knowledge of elders in an intergenerational dialogue that we hope will inspire our community to action."
Remy's Good Day Fund is a non-profit organization which grants funds for programs on Tribal lands and in northern New Mexico villages. Our mission statement "Collaboration for sustainability and the well-being of future generations" guides us in making grant-making decisions. Since moving to Santa Fe in 2017, Remy's Good Day Fund has invested approximately $700,000.00 in projects that support solar energy, food security with a solar component and youth-driven programs combating climate change.
Frequently asked questions
If I've registered and am not able to attend should I change my rsvp?
Is the event handicap accessible?
Will alcohol be served at the reception?