GENERATION WHO? TOOLS TO CONNECT WITH & ADDRESS TODAY'S BLACK YOUTH (PT. 2)
Sales Have Ended
Registrations are closed
Thank you so much for supporting our events.
Sales Have Ended
Registrations are closed
Thank you so much for supporting our events.
GENERATION WHO? TOOLS TO CONNECT WITH AND ADDRESS THE CHALLENGES FACING TODAY'S BLACK TEENS AND YOUNG ADULTS (PART 2)
About this event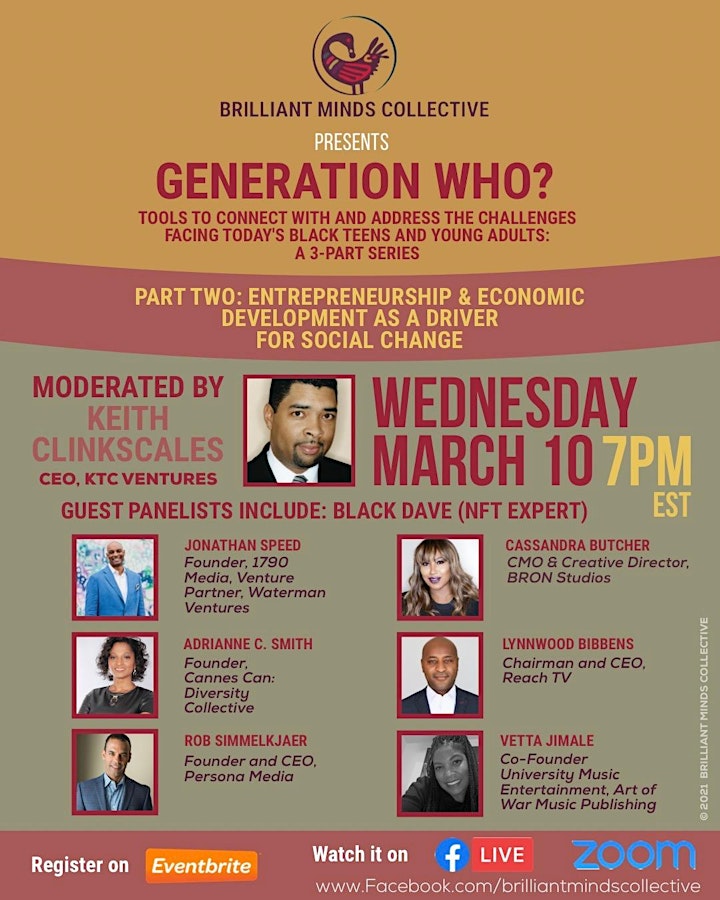 BRILLIANT MINDS COLLECTIVE PRESENTS A 3 PART WEBINAR SERIES: GENERATION WHO? TOOLS TO CONNECT WITH AND ADDRESS THE CHALLENGES FACING TODAY'S BLACK TEENS AND YOUNG ADULTS
Date: Wednesday, March 10, 2021 @ 7pm EST
PART TWO – ENTREPRENEURSHIP and ECONOMIC DEVELOPMENT AS A DRIVER FOR SOCIAL CHANGE
Many African Americans teens and young adults struggle to find employment post graduation. Youth entrepreneurship can play an important part in facilitating economic development and job creation. Entrepreneurship can provide them with valuable skills such as critical thinking, decision-making, leadership, teamwork and innovation—all of which remain relevant for the rest of their lives.
In Part 2 of this this webinar series, we will be exploring ways of providing opportunities for young black people to earn a living through entrepreneurship and to make a crucial contribution towards their communities and poverty reduction.
Moderator: Keith Clinkscales, CEO, KTC Ventures
Seasoned media veteran Keith Clinkscales is the entertainment powerhouse behind household names VIBE, Heart & Soul, Savoy, Honey and ESPN. An Emmy Award Nominee and two-time Peabody Award Winner, Mr. Clinkscales had his start in the media industry by co-founding Urban Profile, a bi-monthly publication dedicated to young urban culture. Hand-picked by Sean Combs to lead one of the largest, independent network launches in cable television history, Mr. Clinkscales took the helm of REVOLT Media & TV as CEO in 2013. Mr. Clinkscales earned an MBA from Harvard Business School and was presented with a Professional Achievement Award from Harvard Business School's African American Alumni Association. He also earned a BS in accounting and finance from Florida A&M University, where he serves on the school's Foundation Board, as well as on the Boards of Howard University School of Communications, MillerCoors and PepsiCo.
Panelist Bios
"Black Dave" , NFT Expert
"Black Dave" works as a freelance creative, recording artist, artist, producer/engineer focusing on both traditional and non-traditional means of promoting his products. Having established himself on/off the Blockchain and through the NFT space, Dave is known to be a multidisciplinary creative citing anime, rap, hardcore rock, streetwear & sneaker culture as influences for his work. In 2021, Dave is focused on leveraging his knowledge of the NFT space, creating art, music & experiences through that technology.
Jonathan Speed, Founder, 1790 Media, Venture Partner, Waterman Ventures
Jonathan is a senior business development executive and financial strategist who has worked in the financial services, life sciences, and technology sectors. Before joining Waterman, he spent eight years as the CFO/COO of two SaaS, e-learning companies where he managed the administrative, business development, finance, and operations teams. Prior to entering the SaaS sector, Jonathan spent two-plus decades at Fortune 1000 companies (EY, Citibank, Manufacturers Hanover Trust) and several Silicon Valley start-ups (myCFO and Xaaps). In addition to his professional activities, Jonathan mentors six start-ups, advises Astia.org and the Nasdaq Entrepreneurial Center, runs entrepreneurial summits for students who attend Historically Black Colleges and Universities, sits on the Episcopal Impact Fund board—and is the co-chair of the San Francisco chapter of the CFO Leadership Council. He is an emeritus trustee of the Brown University Corporation and a former member of the San Francisco Housing Development Corporation. He also supports the start-up community as a venture partner at Waterman Ventures, and as a membership/marketing committee member of the Angel Capital Association (ACA). At Waterman Ventures and the ACA, Jonathan is teaming up with leadership to build diverse pipelines of founders and investors. Jonathan holds a BA in Political Science from Brown University and an MA in Military History from Norwich University.
Adrianne C. Smith, Founder and Visionary of the Can: Diversity Collective
Adrianne C. Smith is the Founder and Visionary of the Can: Diversity Collective, a non-profit organization created to provide access and exposure to young adults of color and under-represented communities to global thought leadership conferences on advertising, marketing, creativity, economics, innovation and technology. Prior to this role, she was the first Global Director of Inclusion and Diversity at WPP, the largest multinational communications, advertising, public relations, technology and commerce holding company.
Rob Simmelkjaer, Founder and CEO at Persona Media
Rob Simmelkjaer is an American television executive, journalist and entrepreneur. He served as a senior executive and on-air journalist at ESPN, ABC News and NBC Sports. In 2011, Simmelkjaer was named Senior Vice President of NBC Sports Ventures, where he was charged with leading international business development for the NBC Sports Group, including Golf Channel, NBC Sports, NBC Sports Radio and other businesses, and oversees the Group's stake in Universal Sports. He is now the Founder and CEO of a digital video interview platform called Persona. Mr. Simmelkjaer covered both the 2012 and 2016 Summer Olympics for MSNBC. Prior to his work in broadcast journalism, Mr. Simmelkjaer practiced law at two New York firms: Weil, Gotshal and Manges from 2000-2001 and Cravath, Swaine & Moore from 1997-2000. Mr. Simmelkjaer is a graduate of Dartmouth College and Harvard Law School.
Cassandra Butcher, Chief Marketing Officer & Co-Creative Director, BRON Studios
Cassandra Butcher oversees all marketing campaigns, she works with the company's distribution and sales partners, and is a part of the development and production process for both film and TV projects. Most recently "American Skin". Prior to joining BRON, Butcher worked at Fox Searchlight for over a decade as VP of national publicity and worked on best picture Academy Award winners including "The Shape of Water" and "12 Years a Slave," along with "The Best Exotic Marigold Hotel" films, "Beasts of the Southern Wild," "Crazy Heart," and "Three Billboards Outside Ebbing, Missouri." Prior to that, she was a unit publicist and publicity consultant for multiple studios including Fox, Lionsgate, Screen Gems, MTV Films, and Paramount Pictures. Her credits include "The Secret Life of Bees," "Notorious," "Ray," "Hustle & Flow," and "Black Snake Moan.
Lynnwood Bibbens, Chairman and CEO, Reach TV
Lynnwood Bibbens is a serial entrepreneur and the CEO & CoFounder of ReachTV. As CEO, Bibbens has taken a leadership role in identifying new markets and opportunities for the ReachTV Network, resulting in the Company's seminal sales, distribution and partnership deals with world-class traditional and digital media and technology powerhouses. Bibbens has led the Company's direction and growth from a national to an international network with a reach of over 100 Million viewers on the go.Earlier in his career Bibbens founded and sold several technology and e-commerce companies focused on computers and consumer electronics with combined Revenues eclipsing $2 Billion.
Vetta Jimale Ridgeway, Co-Founder University Music Entertainment, Art of War Music Publishing (AOW)
Vetta Jimale Ridgeway is a sales and marketing professional with over 30 years experience working in entertainment and media. Ms Ridgeway is also Co-Founder University Music Entertainment (home of award-winning multi-platinum artist Dru Hill, Mya and Sysqo) as well as a partner in Art of War Music Publishing (AOW), which manages the song catalog for the aforementioned artists. In addition, Vetta is the Owner of Manifest Media, Marketing & Events, where she developed, curated, and executed events for clients to include, Pepsi, McDonald's, Ford, AstraZeneca, Sony Music, Reebok, Chrysler, AstraZeneca, Duracell Radio One, BET, The Afro American NewsPaper and more.
Description: Brilliant Minds Collective Group
The Brilliant Minds Collective Advocates for the Advancement of Black People globally. Our group was initially created because we began to understand that way too many Black people were searching for answers on what they could do to stop Police Brutality. We would regularly be asked, "What can I do?"
We wanted to not only provide answers and information but to open the floor for educated and experienced leaders, doers and drivers to engage. Understanding that Black people are relentlessly overwhelmed and brutally challenged with so many different social justice, health, economic, environmental and governmental critical issues. All of which hits our community negatively from every direction.
As Black people, we have a tendency to work in silos. Working as a group or a community is in many cases a very real challenge for us. This group consists of people who are willing to break out of these individual silos, who are not afraid to engage in difficult conversations and to share their knowledge and information, who are ready to take action and not just post on social media and complain and criticize one another. This is a group filled with Brilliant Minds who share an everyday commitment to globally creating a better environment for our race. When we share knowledge and information with each other and take action, we become a better people creating opportunities that would not have otherwise existed.
This is a group of likeminded people. Welcome to our collective, Brilliant Minds Advocating for the Advancement of Black People.
Organizer of GENERATION WHO? TOOLS TO CONNECT WITH & ADDRESS TODAY'S BLACK YOUTH (PT. 2)