Generation Gap 2014

Saturday, June 21, 2014 from 9:00 AM to 3:00 PM (PDT)
Event Details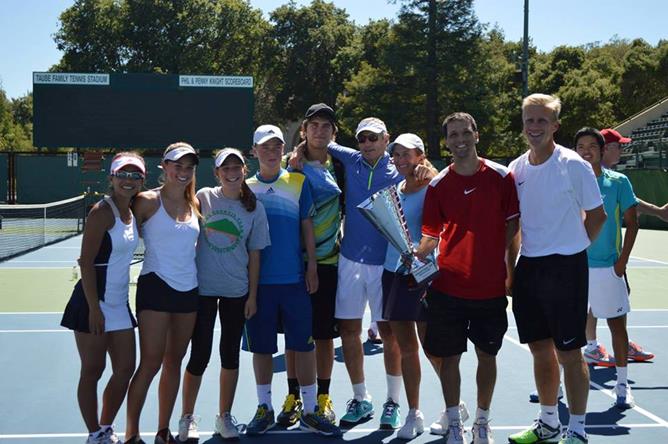 On behalf of the USTA NorCal and title sponsor Nike Tennis Camps, I would like invite you to come and watch one of the most unique, exclusive, and exciting tennis events of the year …  
THE GENERATION GAP INVITATIONAL   
Saturday June 21st 
Stanford University.  9am - 3pm
At the Gen Gap our top NorCal Adults play with and against our best up and coming juniors!
This is the one occasion were you'll be able to see ALL of norcal's best talent ... together in one spot!
This years lineup includes players such as:
Jeff Greenwald, Paul Goldstein, Polo Cowan and Elly Hakami, Alaina Miller, Sam Riffice and Lori Riffice, Chris Morgan , Fanny Gamble, John Sutter, Brad Stine, Billy Griffith , Katie Volynets, Kim Grant (TBD) , Andrea Barnes , Alex Poorta , Alisa Yee,  Aditya Gupta , Andy Ye, Anne Kerwin & Kristen Hildebrand  (TBD), Anett Schutting , Ashley Yeah , Brandon Coupe, Aidan Mayo, Charlie & Charles Hoeveler, Carolyn Wei, Pablo Pires de Almeida, Steve Cornell , Mark & Lane Leschly, David and Melissa Van Ness  (TBD), Alex Keyser, Jana Juricova, Jeff Heely , Stephanie Nguyen, Felicity Maltby, Kat Winterhalter , Lejla Hodzic, Nick Leustian , Austen Huang , Matt Seeberger, Keenan Mayo,  Judy Newman , Ogidi Obi , Katya Tabachnik , Marisue Jacutin Mariona  , Romana Tedjakasuma (TBD) , Ryan Redondo  (TBD) , Rachel Eason , Elena Van Linge, Vanessa Nommensen , Jillian Taggart , Tyler Browne, Tracy Houk, Darya Possokhova (TBD), Rachel Chong (TBD), Allison Chuang (TBD), Joel Kusnierz, Jake Bragonier, Evan Rose, Christina Visico, and JT Nishimura.

Please click ATTEND (spectator option) to confirm your seat at the Taube Tennis Stadium.
The tournament is a great reward for our junior players, who are always hungry for a variety of strong competition. In addition it is a great chance for our adults to stay on their toes against the next generation of players. Bridging the generation gap allows our adults to mentor and give back, and it's a chance for our junior tennis beyond their limited age bracket, and to learn that tennis is the sport of a lifetime. 
The event is designed with the following purpose in mind:
Adults enjoy giving back and mentoring the juniors

Juniors can learn so much from cross-generational match play, against top adults

Encourages doubles play and mixed doubles too!

Culture change that encourages more of a connection/cooperation between juniors/adults in NorCal. They learn tactics/strategy as well as mental/emotional maturity.

its FUN, COMPETITIVE and GREAT ENTERTAINMENT!
When & Where

Stanford University - Taube Tennis Stadium
625 Campus Dr
Stanford, CA 94305


Saturday, June 21, 2014 from 9:00 AM to 3:00 PM (PDT)
Add to my calendar
Organizer
Charlie Hoeveler, Jeff Heely, Steve Cornell & Amy Jensen