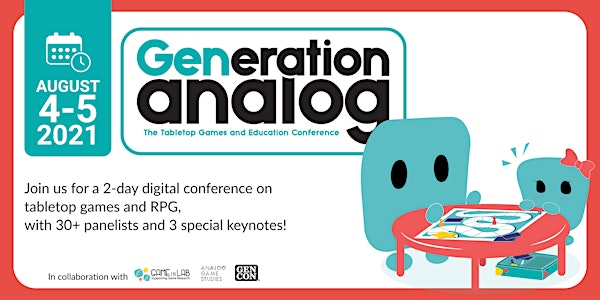 GENeration Analog
Join us for a 2-day digital conference on tabletop games and RPGs, with 30+ panelists and 3 special keynotes!
About this event
GENeration Analog is an international online conference on tabletop games. It is devoted to exploring the intellectual and educational dimensions of hobby gaming.
Our two day program includes presentations that cover topics such as inclusivity, player community, history, design, aesthetics, and more. We invite players, professionals, researchers, as well as community members from the general public to join us for our inaugural event.
Special keynote speakers:
August 4, 2021
- Scott Nicholson, "Ask Why for the Tabletop: Using Design Concepts from Escape Rooms to Create More Immersive Board and Card Games"
- Elizabeth Hargrave, "Things I Wish We Knew: Some Ludological Research Ideas"
August 5, 2021
- B. Dave Walters, "Diversity and Inclusion in the Content Creation Space"
GENeration Analog is a collaboration between Game in Lab, Analog Game Studies & GenCon.