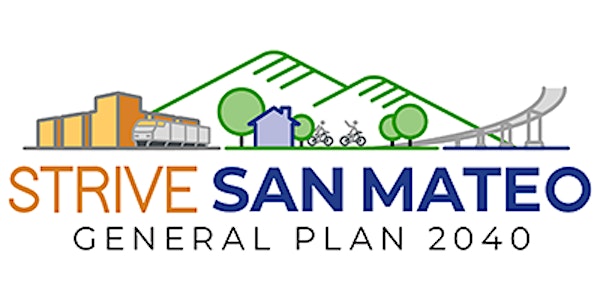 General Plan Open House
Join us for an in-person open house to share your ideas on important topics that can improve the future of San Mateo.
When and where
Location
San Mateo Public Library 55 West 3rd Avenue San Mateo, CA 94402
About this event
You are invited to an in-person open house on Saturday, September 17, 2022 from 10:00 am to 12:00 pm at the San Mateo Main Library.
The City is hosting this event to hear your ideas on how the City can improve conditions related to:
Climate Change and Sustainability
Parks and Public Services
Community Design
Public Health and Safety
Development, Growth and Transportation
The open house will include various stations for you to provide ideas and comments. Stop by any time during the event. There will be a short presentation at the start of the open house. You can also provide your input by completing the online survey available at https://strivesanmateo.org
The City encourages advanced registration for the open house to help us plan for the event.
To show our appreciation for your participation, we will be holding raffles for gift cards!
For more information about the project, visit: https://strivesanmateo.org/
If you have any questions or comments, please contact: generalplan@cityofsanmateo.org
Este evento se llevará a cabo en inglés. La ciudad tendrá un taller en español el 10 de septiembre del 2022 a las 10 de la mañana en el Martin Luther King Center, 725 Monte Diablo Avenue, San Mateo, CA 94401. Para más información por favor visite: https://Taller-del-PlanGeneral.eventbrite.com