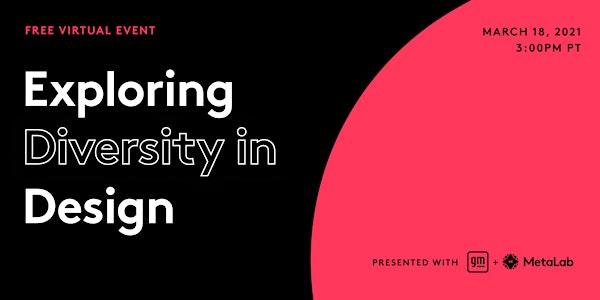 General Motors presents: Diversity in Design
An honest conversation about representation, access, and allyship in design.
About this event
Now more than ever, the design community has an obligation to mediate discussions that move our craft and our culture forward.
We can seize this moment to refocus, reframe, and double efforts to ensure our work serves all audiences, responsibly, and from now on. But it will take all of us.
What is the role of the creative community to advance social justice? In the products we create? In the marketing we produce? What does effective allyship look like?
Join us for an evening of community, focused on affecting positive change, sustaining momentum in this moment, and championing moments to come.
+++
Panel Speakers:
Emily Bowman, Global Director of Customer Experience Design at General Motors
Roger Rohatgi, VP and Global Head of Design at bp
Jacques Bastien, Entrepreneur, Author & College Professor
John Hanawalt, Principal Product Designer at Stitch Fix + Co-founder of Queer Design Club
Noah Gachie Bond, Researcher & DEI Advocate at LinkedIn
Moderated by:
Brent Summers, Director of Marketing at MetaLab
+++
ASL Interpreters will be available
+++
This event is presented by Nilll Design with support from MetaLab.
ABOUT NILLL
Nilll creates shared spaces to discuss timely and consequential topics. We are facilitators, producers and allies to mission-driven partners.
https://nilll.design
ABOUT METALAB
At MetaLab, we make interfaces. From Fortune 500 companies to stealth startups, we help our clients design, build, and ship products and services that people love.
https://metalab.co