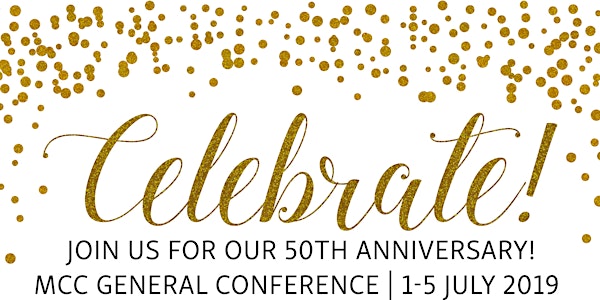 General Conference 2019: Celebrate!
By Metropolitan Community Churches
When and where
Date and time
July 1, 2019 · 9:30am - July 5, 2019 · 5pm EDT
Location
Hilton Orlando 6001 Destination Parkway Orlando, FL 32819
Description
Celebrate the 50th Anniversary of Metropolitan Community Churches in Orlando, Florida, USA!
In 1968, 12 people gathered in Rev. Troy Perry's living room to celebrate a risen Christ who includes all at His table, most especially the LGBTQ community.
General Conference 2019 will bring together MCC'ers from around the globe to worship and celebrate God's all-inclusive love. Come, taste, and experience all that MCC is and is becoming.
We use this time together to conduct our denominational business and provide educational opportunities through workshops, day-long institutes, and plenaries. If it is a spiritual connection you are seeking, we also provide Bible studies and numerous opportunities to worship together as a global community. All are welcome to this gathering of queer Christians.
To kick-off our celebration, we will feature a Celebration Gala/Ball you won't want to miss. So, plan to arrive on Sunday afternoon by 3pm!
You might notice that our end time on Friday is earlier than some of our previous conferences. Closing worship on Friday morning will feature our next Moderator. Immediately after worship, we will have buses outside ready to go to Disney to celebrate our future. So, the traditional afternoon break will be on Friday. Plan to stay through Saturday to take advantage of our excellent conference location!
If you have any questions as you register, reach out to us: Conferences@MCCchurch.net
Registration Frequently Asked Questions:
Q: How are the registration categories chosen?
A: MCC follows the guidelines from the World Council of Churches which groups countries based on GDP to make the registration costs more equitable.
Q: What are the US/Canada prices different from Europe/Australia/New Zealand?
A: In an effort to make registration and access to General Conference more equitable across the world, we have adjusted the registration costs for equitability.
Q: Why did the price for General Conference increase for US/Canada registrants?
A: Costs for General Conference rise slightly each year. This year, there is a larger rise for US/Canada residents in order to be more equitable around the world.
Q: What are service fees?
A: Like Ticketmaster or other online registration systems, all registration systems have a cost. This service fee pays for the online registration and credit card fees.
Q: Is there a way not to pay the service fees?
A: Yes, you can send a check into the MCC Office. For details on how to register this way, please contact: conferences@MCCchurch.net
Q: Can I do a payment plan?
A: Yes, 3-installment payment plans are available for the $375 rate. Your first payment will be $108 and due at the time of registration. The other installments will be established by each registrant and the registrar. If you have any questions on payment plans, please contact: conferences@MCCchurch.net
Q: What is the refund policy?
A: Refunds are available on a sliding scale.
Refund requested by 31 December 2018 - 100% refund
Refund requested by 01 March 2019 - 50% refund
Refunds requested after March, 1, 2019 are generally NON-REFUNDABLE

Q: Does my registration include food and the hotel?
A: No, reservations for the Hilton Orlando need to be made separately. Food is also not included in registration, so please plan a food budget.
Do you have a question not on this list? Email: conferences@MCCchurch.net