General Anthony C. Zinni, Former Commander in Chief of CENTCOM and special...
Description
WTS Hampton Roads Chapter presents General Anthony C. Zinni, Former Commander in Chief of CENTCOM and special envoy to the Middle East
General Anthony (Tony) C. Zinni, is a retired four-star United States Marine Corps general. He served his country in numerous diplomatic roles, as the U.S. special envoy to Israel and the Palestinian Authority and in missions to Pakistan, Somalia, Eritrea and Ethiopia. General Zinni retired from the U.S. Marine Corps in 2000, after a distinguished 39-year career that took him to over 70 countries in many command assignments. In his final tour of duty, from 1997 to 2000, he was commander-in-chief of the U.S. Central Command (CENTCOM).
In his military career General Zinni earned 23 personal awards and 37 unit, service, and campaign awards. General Zinni joined the U.S. Marine Corps in 1961 and was commissioned an infantry second lieutenant in 1965, after completing his undergraduate degree in economics at Villanova University. He earned graduate degrees in international relations from Salve Regina University and in management and supervision from Central Michigan University. General Zinni has been awarded honorary doctorates from Villanova University; the College of William and Mary and the Maine Maritime Academy.
He has held academic positions that include the Stanley Chair in Ethics at the Virginia Military Institute; the Nimitz Chair at the University of California, Berkeley; the Hofheimer Chair at the Joint Forces Staff College; the Harriman Professor of Government Chair and membership on the Reves Center for International Studies at the College of William and Mary; selection as a Carter O. Lowance Fellow in Law and Public Policy at the William and Mary Law School; and Professor of Military Science at Old Dominion University. He has also lectured at numerous colleges and universities in the U.S. and abroad.
General Zinni is a Director of Michael Baker International. He currently serves on numerous boards including Sotherly Hotels, Inc. and BAE Systems, where he previously served as Chairman and acting CEO. In addition, he has served as Executive Vice President of DynCorp International and President of International Operations for MIC Industries. He has held positions on several boards of directors and advisors of major companies in the fields of engineering design, government services, manufacturing, telecommunications, electronics, hospitality and hotels, defense industries, software development, financial services, shipbuilding, mining, cyber security, film making, energy, and capital investment. He has also had his own consulting business working with companies in strategic planning, business development, international marketing, customer relations, communications, and leadership development.
General Zinni has co-authored a New York Times Best seller book on his career with Tom Clancy entitled "Battle Ready" and a foreign policy book entitled "The Battle For Peace" that was also a New York Times Best Seller and a Foreign Affairs Bestseller. He has written a book on leadership, "Leading the Charge," published in 2009, and a national security policy book, "Before the First Shots are Fired," published in 2014.
General Zinni has appeared on 60 Minutes, Nightline and Charlie Rose, among others.
Special for WTS Members Only: Free Book and Signing Event
Members who register for the luncheon will receive a copy of General Zinni's book, "Leading the Charge, Leadership Lessons from the Battlefield to the Boardroom." Immediately following General Zinni's presentation, there will be a members-only signing event. If you'd like to become a member of WTS HRC prior to the event to take part in the members-only luncheon discount and receive a copy of the book, please go to the WTS International website and become a member no later than April 14, 2017.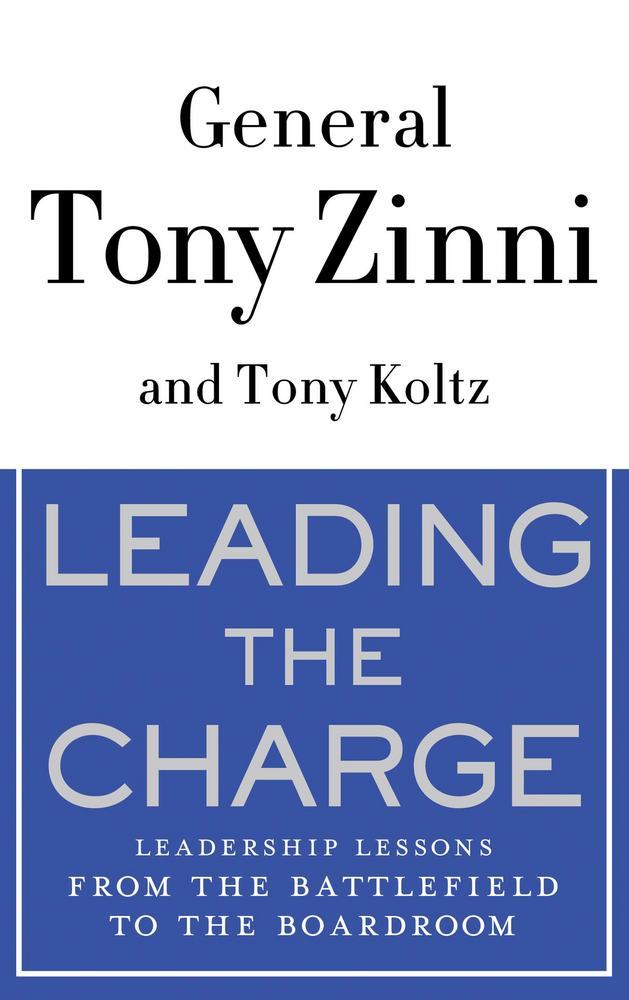 "What's happened to our leaders and to our leadership?"
Based on General Zinni's leadership experiences from the battlefield to the boardroom, Leading the Charge shows a new way through the significant leadership challenges of the 21st century.
The times are changing at an ever-increasing velocity. Old systems, organizations, and ways of operating no longer work in our dynamic, complex and increasingly unstable new environment. Out of this chaos and confusion, a new and different leader must emerge. Old systems and methods will no longer work.
Leading the Charge is a visionary leadership book that examines the trends that have reshaped our world and the ways in which visionary leaders and organizations can effectively respond. Tomorrow's successful leaders-in all fields, including the military, academia, politics, and business-must know how to create, operate, and thrive in very fluid, flattened, and integrated structures that are remarkably different from the traditional organizations we are used to seeing. They will have to manage rapidly changing technology and flows of information, and create faster and more far-reaching spans of control.
Leading the Charge shows the way, and is an incisive and compelling guide to the new world of leadership, one that will prove indispensable for years to come.
Organized around "Leading a New World," a revolutionary leadership course General Zinni developed and taught at the Terry Sanford Institute of Public Policy at Duke University, Leading the Charge makes a convincing case that leaders must . . .
change with the times to be relevant.

be ready for crisis mode at any given time.

have a moral compass and the ability to steer the company in the right direction.

be forward thinking, not reactive, to provide innovation and creativity.

develop great leaders.