General Admission "The Making Of Moguls 2017" Presented by Darlene's Utopia

Saturday, April 1, 2017 from 9:00 AM to 4:00 PM (EDT)
Event Details

Co-Hosted By Alishia Goodridge, Motivational Speaker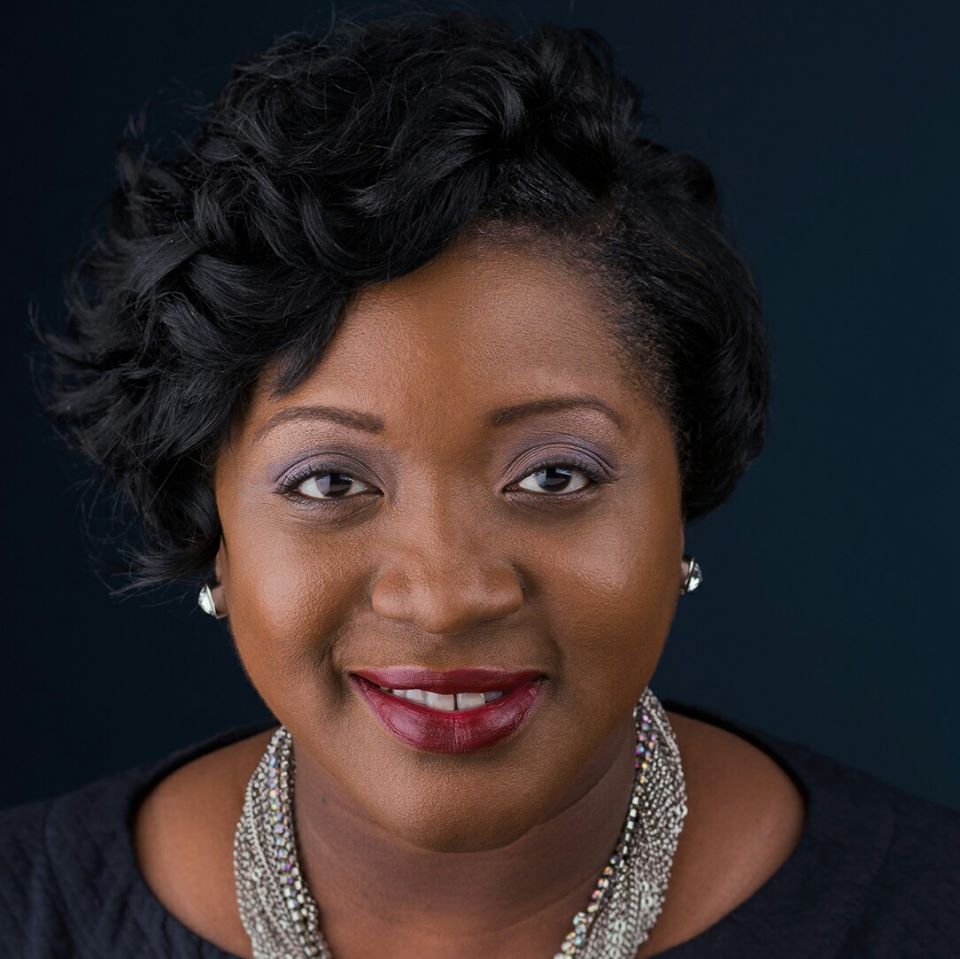 The Making of Moguls is an "Entrepreneurial Conference" and a component of Darlene's Utopia; this annual project is designed to educate, motivate, and enable entrepreneurs, as it relates to establishing successful businesses and maintaining them. 
The Making Of Moguls 2017, Presenters
**Oliver T. Reid, I Am A Solution:  
Concentration: Social Media Branding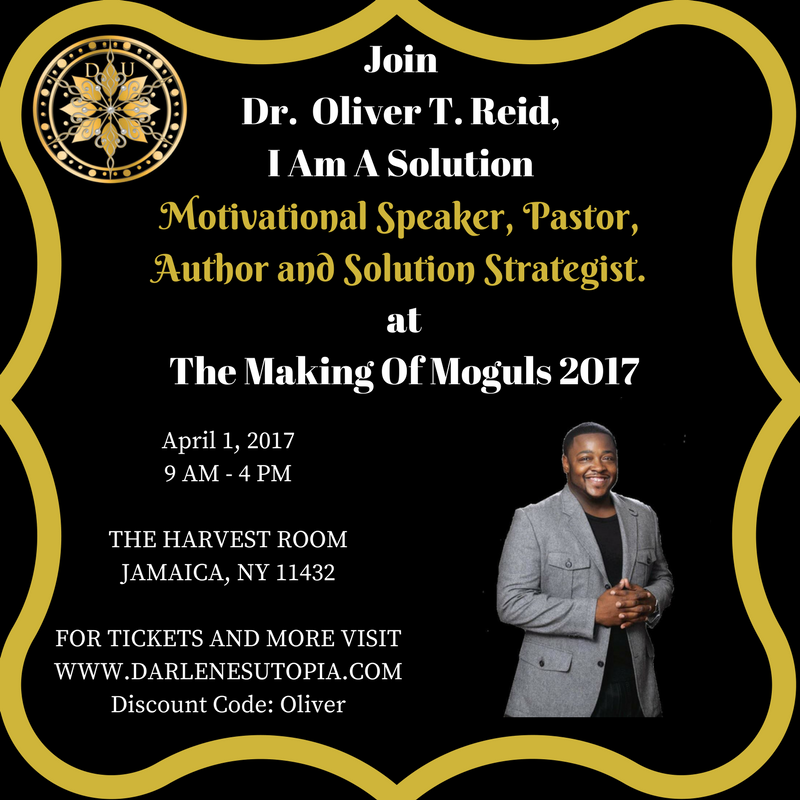 **Marc Williams, Marc Williams Speaks,
Concentration: Public Speaking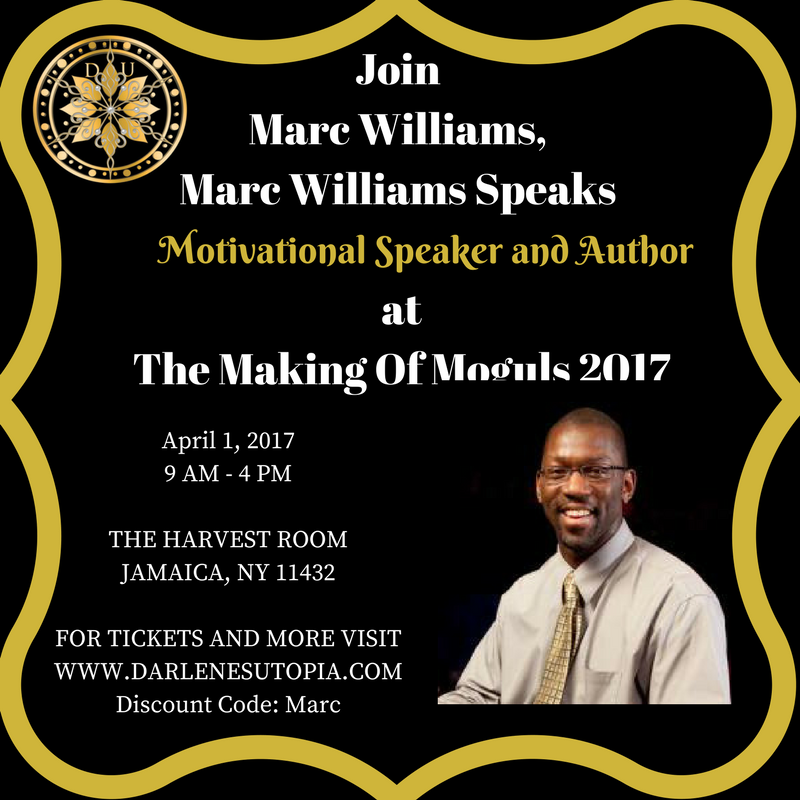 **Elizabeth Madison, Elizabeth Madison Nutrition, 
Concentration: Nutrition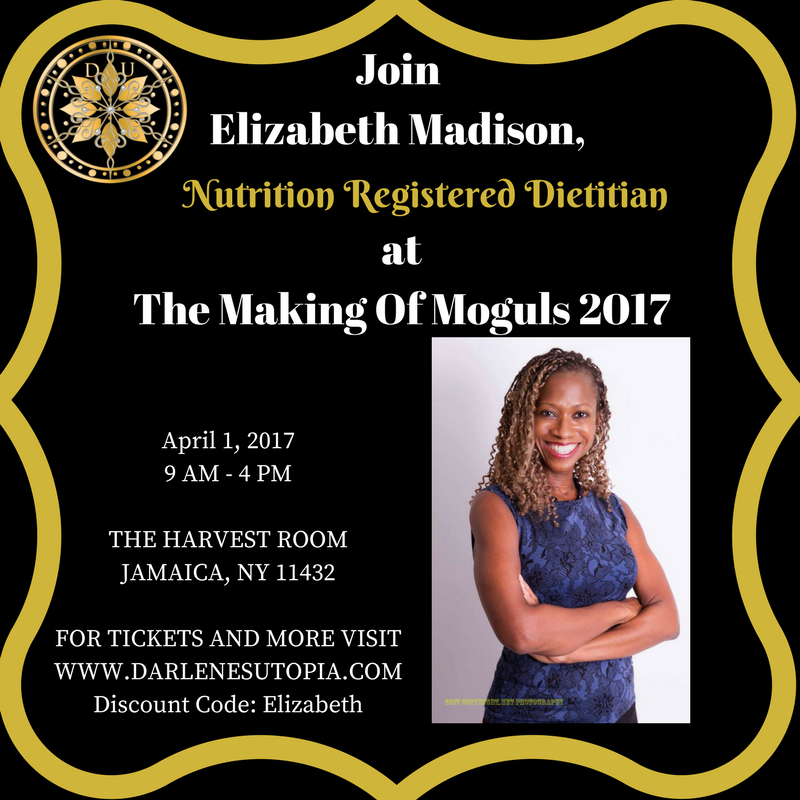 **Tanya Sherise Odums, Hope,
Concentration: Leadership Development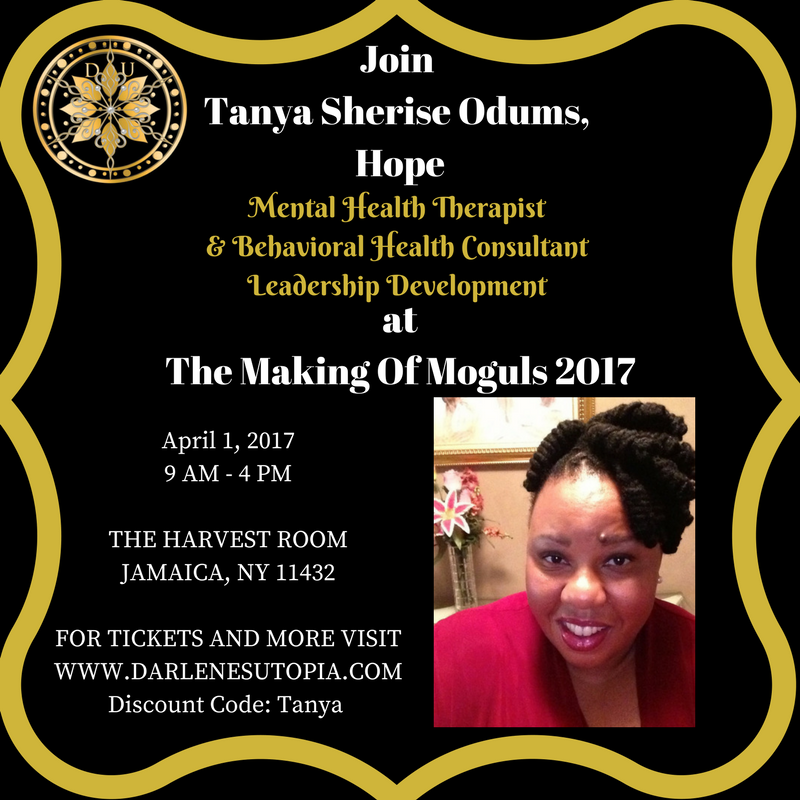 **Don Sinkfield, Help To Adjust,
Concentration: Stress Management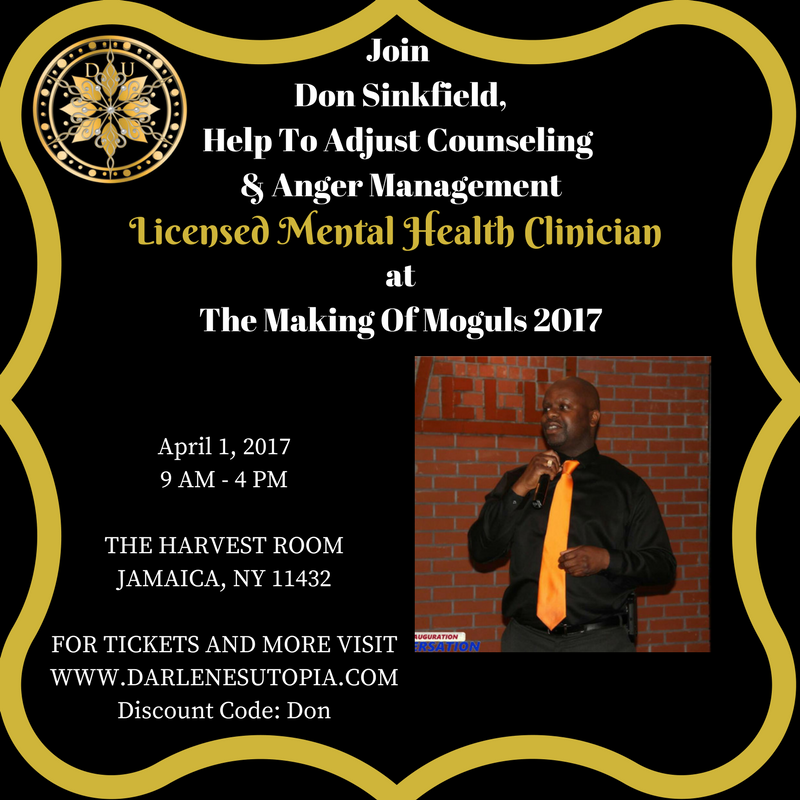 **Nakisha Smith, Alwayz Fit4 Lyfe,
Concentration: Physical Fitness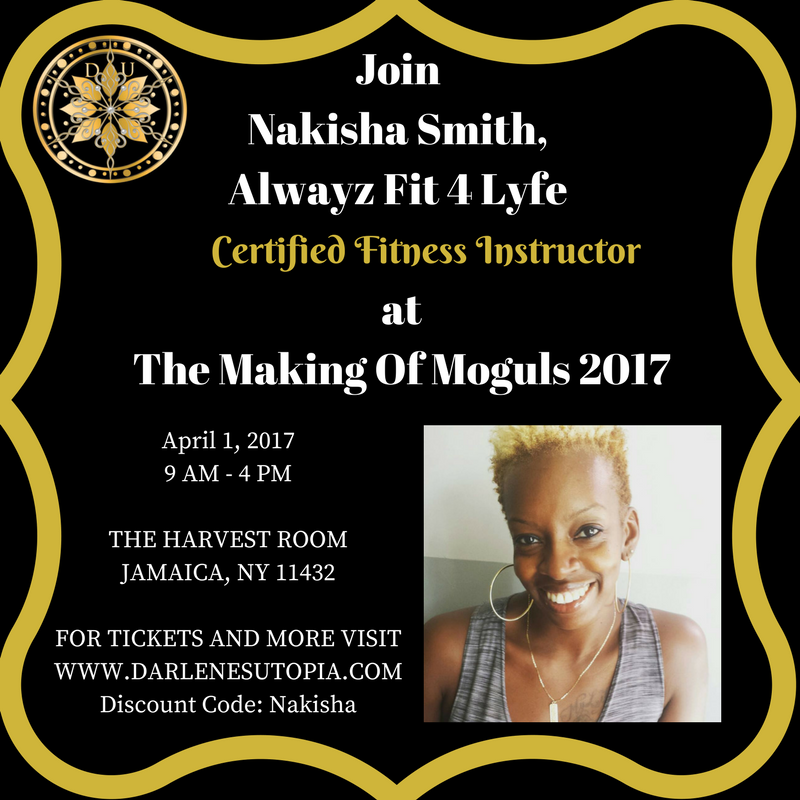 **Robin St. Clair, TheCycleBreker, TheRiteStep,
Concentration: MasterMind Affiliations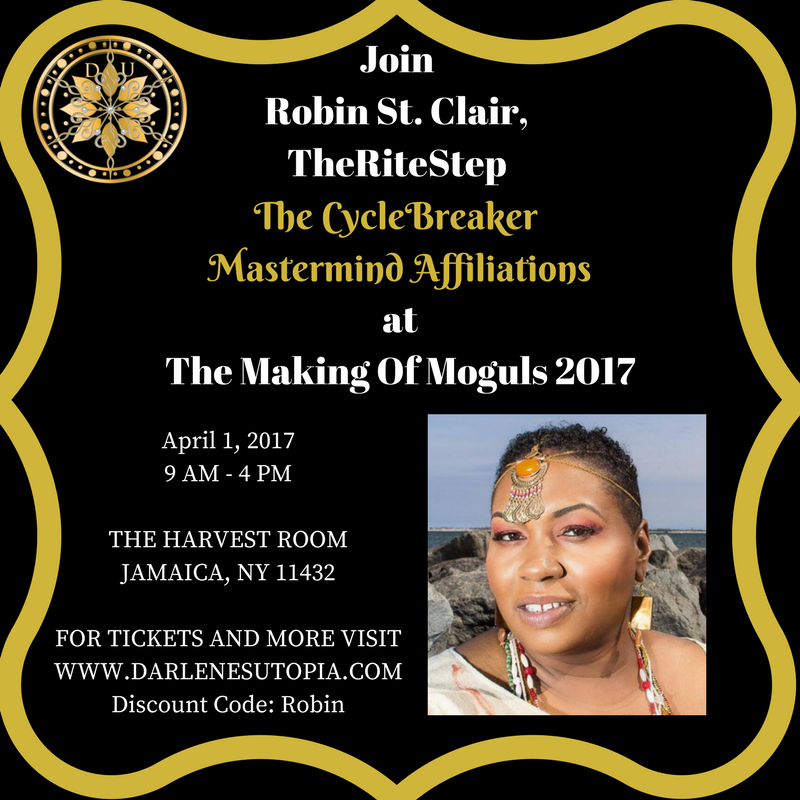 Special Guest Appearance By
Dr. Stacie N.C. Grant
Author Of
"Action...Action..Despite The Distraction"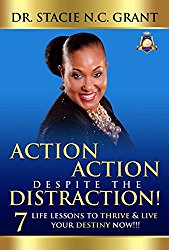 & 
Forrest Huguenin
Author Of 
"Broke No More "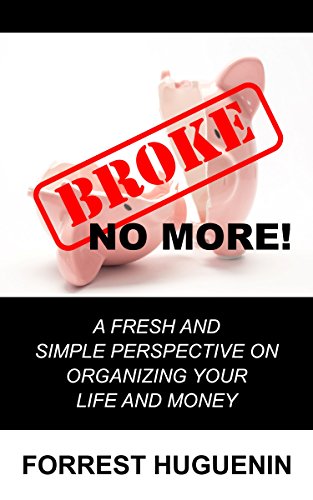 The Making Of Moguls 2017 is Being  Brought To You In Part By
 Tam Jams Entertainment
The Bruce Wayne Music Group
Regina Turner, Financial Empowerment Maven
Alicia Rodriguez-Kaufman, Pure Romance

 Asha Johnson,  Traci Lynn  
Kim M. Sudderth, PIP Women Rock
Christine McPherson-Smith, 5 Linx
Denise G. Hanney, The Spa Expectations Corporation 
Premier Tax Solutions Inc.
Forrest Huguenin, Org 4 Life Solutions 
Yvette-Clark Watkins, Douglas Elliman Real Estate
 ***Our Series Ranges in Participants***
Single men ranging in age 25-50 years old
Single women ranging in age 25-50 years old
Married couples ranging in age 25-50 years old
Residents of New York, New Jersey, Connecticut, and Pennsylvania
Entrepreneurs
Community Base Organizations
Event Focus
**Public Speaking**

**Business Structure**

**Accountant / Tax Preparation**

**Legal Services** 

**Stress Management**

**Personal Branding** 

**Professional Branding** 

** Social Media Branding**
**Goal Setting**
**Mastermind Affiliations**
**Commercial Health Insurance** 
And More...
Check Out Pictures from The Making Of Moguls 2015
What They're Saying About Moguls.....
The Making OF Moguls Event was simply amazing!  Experiencing powerful, dynamic speakers that uplift, inspire and motivate you to greatness in all areas of your life was priceless. For me, coming from a setback, I needed to create solutions to reinvent myself and my business, so that I could unlock my barriers, to make a  change and serious comeback!!! The Making Of Moguls is the most exceptional platform with solid tools, resources, opportunities and support for growth potential while taking you to the next level of your destiny.
~B. Lynch 
What They're Saying About Moguls... 
"The Making of Moguls was a very inspiring event that has motivated me to re-evaluate and re-establish the goals for my personal and professional life. For years I had been stuck in the monotony of going to work at an institution that was draining me and slowly killing my spirit, my desires, my dreams and my vision for my life. I was stuck and I lacked the motivation to move forward with re-establishing my business and creating a life that would allow me to live out my purpose and my passion. The dynamic keynote speakers provided spiritually uplifting messages that made me believe in myself and my life's vision again. They also provided concrete tools for managing my life, my finances, and my business so I can reach my full potential.  These messages have propelled me to take the necessary steps to move forward in pursuit of my dreams. It helped me to release fears, self-doubt and false beliefs about myself and my ability fulfill my dreams. In the last 30 days, I have been more focused and driven than I have in the past 5 years.Participating in this event has provided me with invaluable networking opportunities to move forward with my vision for my life. Things are definitely shifting in my life for the better." 
 ~T.Odums
Have questions about General Admission "The Making Of Moguls 2017" Presented by Darlene's Utopia?
Contact Darlene's Utopia
When & Where

The Harvest Room
90-40 160th Street
Jamaica, NY 11432


Saturday, April 1, 2017 from 9:00 AM to 4:00 PM (EDT)
Add to my calendar
Organizer
Darlene's Utopia is a full service consulting company created to empower, motivate and provide resources for clients through coaching, speaking engagements, and events. Our goal is to help clients and event attendees reach their highest personal and professional potential. Contact Darlene's Utopia today. @ www.darlenesutopia.com