Location
Douglas County Fairgrounds Event Center
500 Fairgrounds Rd
Castle Rock, CO 80104
Seasons change and kids grow fast!
About this event
You're invited to shop at the Spring & Summer Sale!
At Just Between Friends Douglas County, you'll find everything you need to clothe and entertain your kiddos for the next two seasons and beyond.
The best part?...
Prices are generally 50-90% less than retail. 🤑 And, your purchase helps to support another local family. It's a win-win. 🙌
You can find:
clothing (sizes preemie to juniors)
shoes
indoor & outdoor toys
books, games & puzzles
baby bathing & feeding essentials
baby gear & furniture
travel & safety items
room decor
maternity items, and so much more!
We can't wait to see you!
- Deborah & JBF Douglas County Team
- - - - - - - - - - - - - - - - - - - - - - - - - - - - - - -
DATES & HOURS:
Wednesday, March 30th - Consignors & Team Member Presale AND Prime Time Presale  (Get your tickets HERE. $10-$30. Timed Entry)
Thursday, March 31st - OPENING DAY! ($7.50-5.00 ) 9 am - 7 pm
Friday, April 1st - 9 am to 7 pm (FREE)
Saturday, April 2nd - 9 am to 3 pm (FREE)
Sunday, April 3rd - 50% OFF SALE! 9 am to 3 pm (FREE)
*Sunday, April 3rd, 3 pm to 4 pm is our Fill-A-Bag Charity Fundraiser (Cost is $7.50 to enter. $10/sm bag or $20/lg bag) Fill up your bags with anything marked donate!
- - - - - - - - - - - - - - - - - - - - - - - - - - - - - - -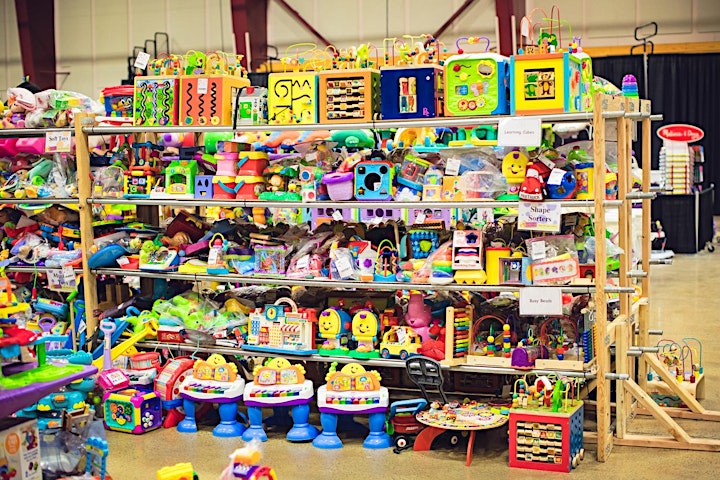 FAQs
What to expect? Shoppers who join us on Wednesday or Thursday are typically shopping for all the things, including baby equipment and gear -- items that are limited and highly sought after. This results in big purchases which slows down our checkout process. If you want to shop with NO wait in the checkout line then plan to join us on Friday afternoon.
What items are for sale? Clothing, shoes, toys, books, games, baby and nursery equipment and gear, outdoor and ride-on toys, strollers, car seats, cribs, maternity and nursery items, room decor, and much, much more!
What methods of payment are accepted? We accept Cash, all major credit cards, and personal checks, Venmo and PayPal.
Is there an admission charge/fee?  Some days -- but we always offer a FREE option
Who shops at the sale?  New & Expecting Moms, Grandparents, Teachers, and any family with children age 0-18
What is the 50% off sale?  On the last day of the sale, most (but not all) remaining items are marked half off their listed price.
What is a presale, and who is eligible to attend a presale?  The presale is an EXCLUSIVE opportunity to shop at Just Between Friends BEFORE we open to the general public. Presale passes are for sale to the public -- SEE ABOVE for the link to more information.
For more information visit our website at www.douglascounty.jbfsale.com. Once you register for our event you will receive free entry into all future events.