Description
Harvard

College

China

Forum

2018
"The Power of Our Times"
April 6th - 8th

, Seaport World Trade Center

Founded in 1997, Harvard College China Forum is North America's leading student-run conference on China. Dedicated to promoting a constructive dialogue on the challenges, trends, and issues affecting China, the Forum engages leaders in business, academia, and politics in discourse that offers insights and generates new ideas.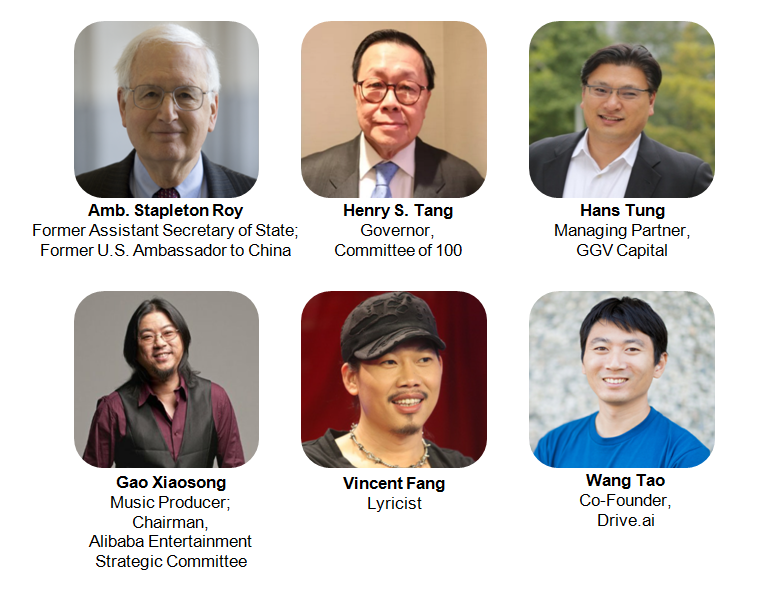 Keynote (Ranked by Last Name in Alphabetical Order)
Ding Liguo (Chairman and CEO, Delong)
Mark Elliott (Vice Provost of International Affairs at Harvard)
Vincent Fang (Lyricist)
Gao Xiaosong (Chairman, Alibaba Entertainment Strategic Committee; Music Producer)
Guo Wei (Chairman, Digital China)
Fred Hu (Founder and Chairman, Primavera Capital Group)
William C. Kirby (Spangler Family Professor of Business Administration at Harvard)
Stephen Orlins (President, National Committee on US China Relations)
Amb. Stapleton Roy (Former Assistant Secretary of State; Former U.S. Ambassador to China)
Michael Szonyi (Professor of Chinese History at Harvard University; Director of the Fairbank Center for Chinese Studies)
Henry Tang (Co-Founder, Committee of 100; Founding Managing Partner, Carnegie Towers Strategic Investment Advisory)
Lawrence Y. Tian (Founding Partner, Yuanming Capital; Founder and Chairman, Yabuli China Entrepreneurs Forum)
Wang Zimu (Chairman and CEO, Huatai Insurance Group)
Xiang Bing (Founding Dean, Cheung Kong Graduate School of Business)
Eric Xing (Professor of Computer Science at Carnegie Mellon University)
Bob Xu (Founder, ZhenFund)
Zhang Wenzhong (Founder, Wumart)
... and more!
Other Speakers
Chai Qimin (Director of International Cooperation, National Center For Climate Change)
Stanley Chan (Science Fiction Writer)
Dan Bin (Chairman, FEOSO Harbour Investment Management Co)
Anna Fang (CEO and Partner, ZhenFund)
Fang Yihan (CEO, Yirendai)
Soul Htite (Founder and CEO, Dianrong; Co-Founder, Lending Club)
Jing Huang (Managing Executive Director at Harvard Center Shanghai)
Huang Wei (CEO, Unisound)
Jiang Changjian (Associate Professor, Fudan University; Host, "Super Brain")
Li Junfeng (Deputy Director General of ERI, National Development and Reform Commission)
Li Lu (Director, "In the Name of the People")
Richard Lui (News Anchor, MSNBC and NBC News)
Jenny Ming (CEO, Charlotte Russe; Former President, Old Navy)
Dede Nickerson (Producer)
Anthony Saich (Director, Harvard Ash Center for Democratic Governance and Innovation)
Jake Sullivan (Former Deputy Assistant to President Obama, Former Director of Policy Planning at the U.S. Department of State)
David Tang (Partner and Managing Director, NGP Capital)
Tang Jun (Founder and CEO, Tuandai.com)
Hans Tung (Managing Partner, GGV Capital)
Wang Guangyu (Chairman, China Soft Capital)
Wang Tao (Co-Founder, Drive.ai)
Yang Hui (CEO, Vivid Media; Founder, "Boss Town")
Zhang Xiaohua (Senior Policy Advisor, United Nation)
Feng Zhu (Associate Professor of Business Administration at Harvard Business School)
Nancie Zhu (Anchorwoman, Phoenix Infonews)
... and more!
*The tickets include entry pass for all 3 days of our conference. Free simultaneous translation will be provided for non-Chinese speakers. Holders of "Harvard Students" and "Other Students" tickets will be asked to present their student IDs upon entering the conference venue.
*门票包括论坛三天会议的全程入场券。哈佛学生和其他学生须在入场时出示学生证。
Please follow our Wechat account ("harvardchina", or scan the QR code below) to receive the latest updates regarding this year's speakers, or send an email to contact@harvardchina.org with the subject line "Subscribe" so that we can put you on our mailing list. For questions, please email contact@harvardchina.org.