Description
Multiple stages featuring podcasts, film, stand-up, and more!
CLICK HERE TO SEE ALL THURSDAY SEPTEMBER 20TH EVENTS!
Including performances by:
Film: Thunder Road
Watch trailer. Flawed police officer Jim Arnaud (Jim Cummings) lives a shambolic life made worse by his mother's passing. Unable to change his life for the better, his only stability comes in the shape of his daughter (Kendal Farr) who he tries to her father in the best way he can.
BKCF Presents: Nimesh Patel featuring Nataly Aukar, Petey DeAbreu, Paris Sashay, + special guests!
Nimesh Patel works as a writer for Saturday Night Live. In 2017, he became the first Indian American writer on SNL. He has written for the White House Correspondents' Dinner, Comedy KO, the 2016 Oscars with Chris Rock, and lots of other cool stuff.

Live Podcast: Kevin McDonald's Kevin McDonald Show with special guest Julie Klausner & music by Sister Sparrow
Kevin McDonald (The Kids In The Hall) performs a live old-school variety hour that features famous friends, musical acts, new sketches, and uninhibited tomfoolery! "Pairs the type of sketch comedy that made Kids in the Hall such a cult phenomenon with guests that don't often make the podcast rounds." -Paste

Bitches Brew
A stand-up show with performances by Mark Normand (Comedy Central Half Hour, Conan), Liza Treyger (Comedy Central Half Hour, Late Night with Seth Meyers), Jordan Carlos (The Colbert Report, The Nightly Show), + more!

Brett Davis Presents: John Gentle, A Lone Man Show
Special guest Eudora Peterson. John Gentle, a pitiable former adjunct college professor and self-published poet from New Jersey, presents his delusional one-man show, an unfortunate collection of gauche stories and lewd poems about his past lovers and his, ugh, "Mama." Written by and starring Andy Kaufman Award-winning comedian Brett Davis.
PLUS MORE!
This badge will get you access to all THURSDAY SEPTEMBER 20TH Brooklyn Comedy Festival events at the Brooklyn Bazaar.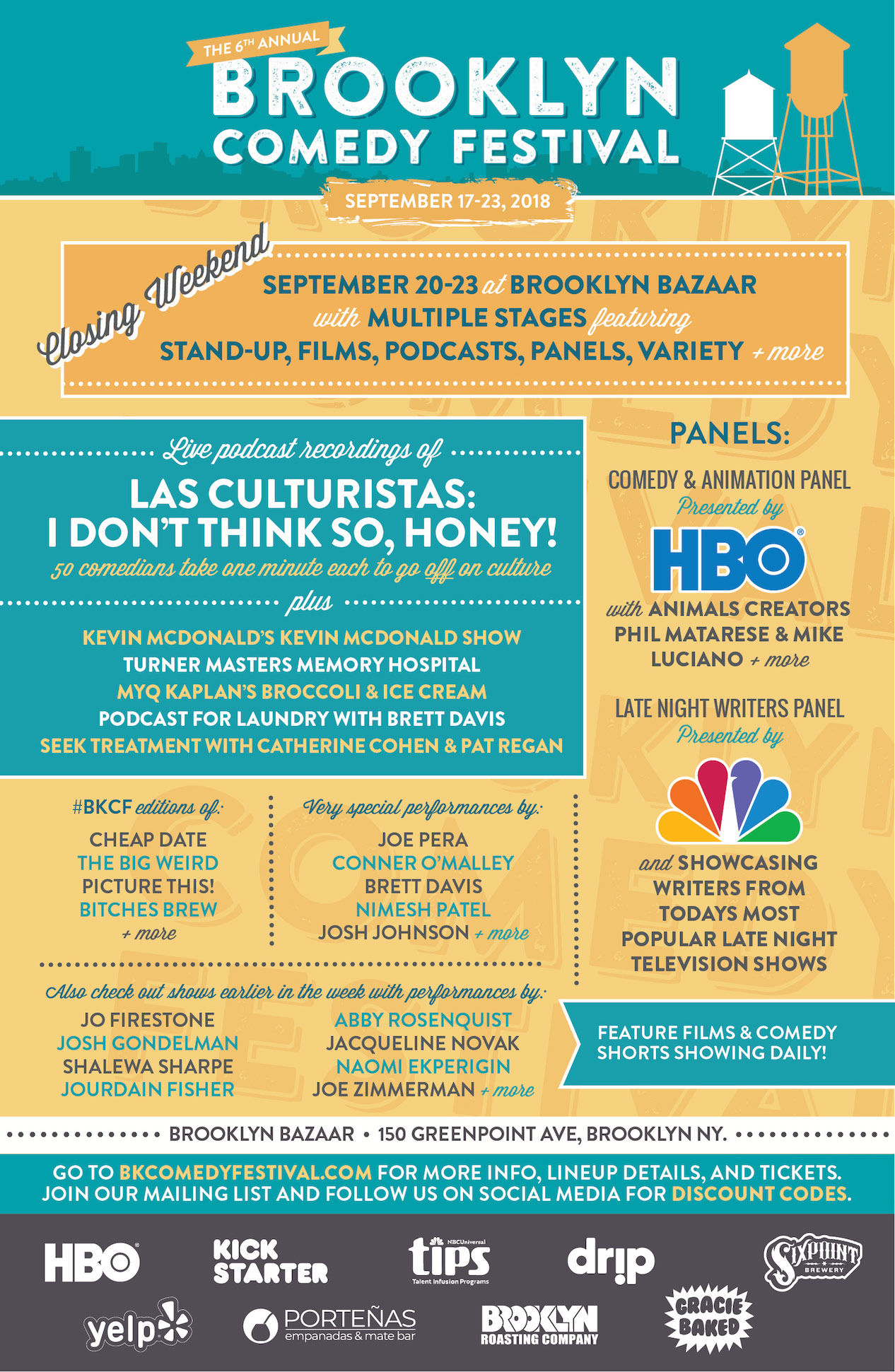 Closing weekend kicks off Thursday September 20th and runs through Sunday September 23rd.
Lineups are subject to change without notice (but will always be a fantastic time).
Badges must be picked up in person at the Brooklyn Bazaar beginning on Thursday September 20th through Sunday September 23rd.
Food and alcohol will be available for purchase, and re-entry will be allowed.
This event is all ages but will contain some adult content. Attendees under 18-years old must be accompanied by an adult.
REFUNDS: Due to High Demand, we are not able to provide refunds once tickets have been purchased.