Description
Multiple stages featuring podcasts, film, stand-up, and more!
CLICK HERE TO SEE ALL SUNDAY SEPTEMBER 23RD EVENTS!
Including performances
Podcast for Laundry with Brett Davis
Special guest Janeane Garofalo. A man who loves laundry starts an abrasive and sad niche podcast. Andy Kaufman Award Winner Brett Davis brings us this aggressive, frustrating, brilliant audio project.
Brooklyn-based drag queen Adele Computer's Queens of Qomedy! Performances by: Andres Govea, Sandy Devastation, Mini Horrorwitz. Crystal Mesh, The Ladies Who Ranch + more!
Late Night Writers Panel, Presented by NBC
Featuring writers from the most popular late night television shows.

Homeschooled: A Comedic Lecture Series
Comedians perform short, humorous PowerPoint presentations on a diverse variety of subjects (Black holes! Taxidermy! Genghis Khan!) guaranteed to entertain and educate you. Hosted by Doogie Horner.

Always Happy Video Comedy Bop
Never Sad presents a night of never-before-seen comedy videos and shorts, submitted each month by NYC's top comedians and filmmakers. Curated and hosted by Jed Feiman and Nehemiah Markos (The New Yorker, Funny or Die).

Film: Comedy Short Films
Screenings TBA.

Improv: We Will Turn You Gay
You are going to turn Gay, and you are going to love it. You will also enjoy the improv show we put on for you. Cast: Aaron Jackson, Josh Sharp, Brandon Scott Jones, Jeff Hiller, Brian Faas.
Plus MORE!
This badge will get you access to all SUNDAY SEPTEMBER 23RD Brooklyn Comedy Festival events at the Brooklyn Bazaar.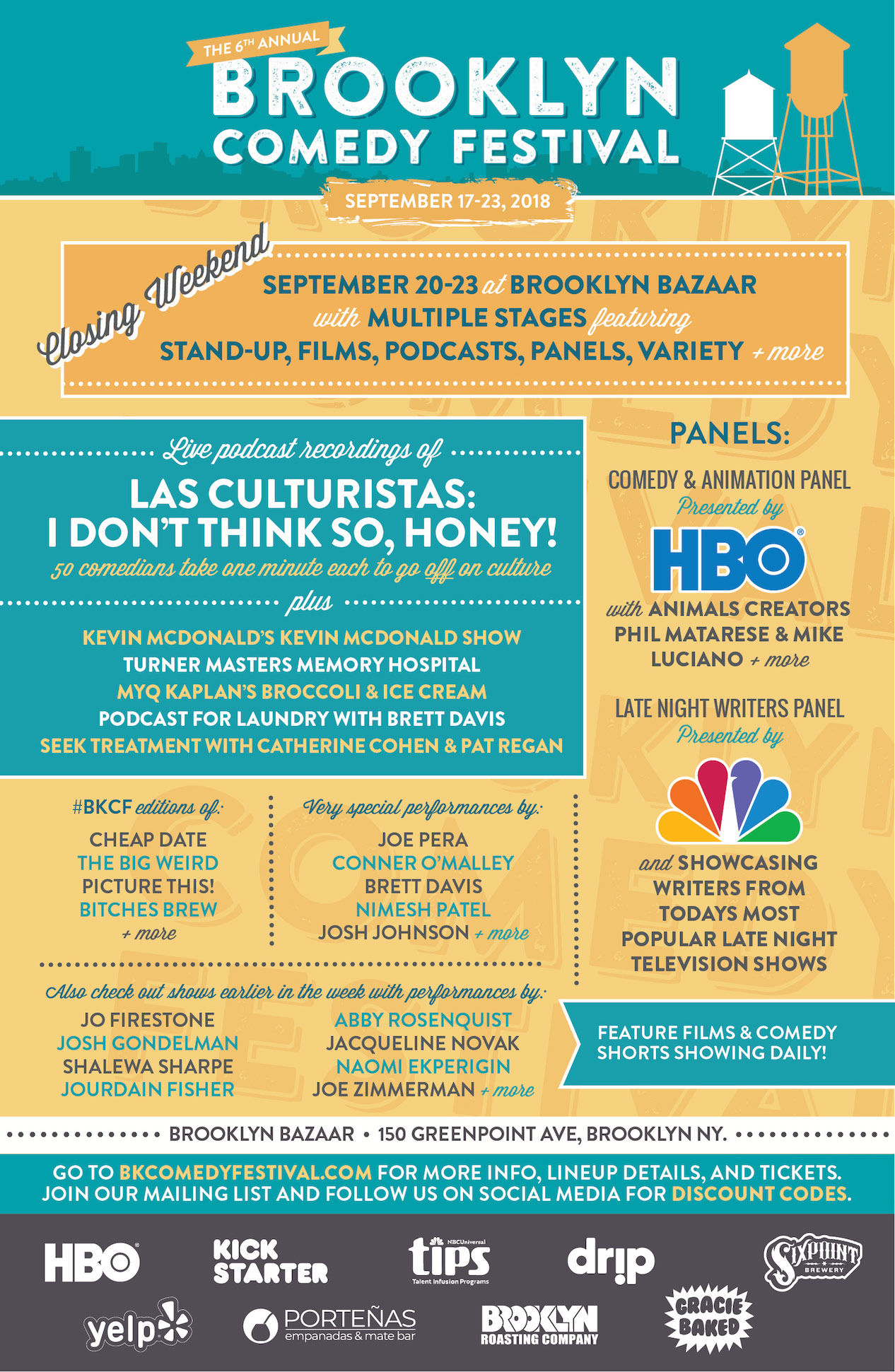 Closing weekend kicks off Thursday September 20th and runs through Sunday September 23rd.
Full lineup announcement coming soon. Lineups are subject to change without notice (but will always be a fantastic time).
Badges must be picked up in person at the Brooklyn Bazaar beginning on Thursday September 20th through Sunday September 23rd.
Food and alcohol will be available for purchase, and re-entry will be allowed.
This event is all ages but will contain some adult content. Attendees under 18-years old must be accompanied by an adult.
REFUNDS: Due to High Demand, we are not able to provide refunds once tickets have been purchased.