Description
Multiple stages featuring podcasts, film, stand-up, panels, and more!
CLICK HERE TO SEE ALL SATURDAY SEPTEMBER 22ND EVENTS!
Including performances by:
Las Culturistas: I Don't Think So, Honey!
LAS CULTURISTAS is a weekly podcast (and live show, "I DON'T THINK SO, HONEY") hosted by Matt Rogers and Bowen Yang featuring 50 comedians doing one-minute rants on any pop culture pest of their choosing. The show has been featured at the New York Comedy Festival and the Brooklyn Podcast Festival. In the words of Guy Branum (Pop Rocket): "Bowen Yang and Matt Rogers are fucking culture warriors and we don't deserve them."

Comedy and Animation Panel, Presented by HBO
Featuring HBO's Animals creators Phil Matarese and Mike Luciano, John Lee (PFFR, Xavier: Renegade Angel), plus more TBA.

Live Podcast: Myq Kaplan's Broccoli & Ice Cream
Comedian and human Myq Kaplan (pronounced Mike Kaplan) has conversations with friends about the work of their lives (as represented by broccoli) and the joys of their lives (as represented by ice cream). Everyone has the best time and learns a lot forever. Enjoy!

Brooklyn Comedy Festival Presents: Josh Johnson with Logan Nielsen
Josh Johnson, is a standup, writer and performer from Louisiana by way of Chicago. He is currently a writer on The Daily Show with Trevor Noah and has been featured on Kevin Hart's Hart of the City. Josh's next stand-up special will be released on Netflix in 2018.

Picture This!
The ONLY live animated comedy show where comedians perform while animators draw along with them live on a screen projected behind them. It's a really fun mix media showcase of both comedian Talent and local animator/artist talent! Hosted by Ian Fidance, with performances by Krystyna Hutchinson, Samantha Ruddy, Lorelei Ramirez, Marie Faustin, Nore Davis, Pat Regan, + more! Animation by Bryan Brinkman, Lorelei Ramirez, Josh Howell, Elena Ferri, Gabe Pinto, Dan Pinto, + more!

The Big Weird
Check out rising stars and established comedians working their best material at the Big Weird comedy show. Hosted by Casey James Salengo (Jimmy Kimmel Live, Comedy Central Half Hour) and Will Winner (The Good, The Dad, and The Ugly Podcast, HuffPost), with performances by Ryan Beck, Ahri Findling, Courtney Maginnis, Carmen Lagala, Chris Cotton, and Matt Wayne.

Cheap Date
Stand-up hosted by Sharron Paul and Calvin Cole. Lineup TBA.

Improv: The Law Firm
UCB Theatre's long-running improv show serves you an hour of criminally insane comedy.

Film: Comedy Short Films
Screenings TBA.
PLUS MORE!
This badge will get you access to all SATURDAY SEPTEMBER 22ND Brooklyn Comedy Festival events at the Brooklyn Bazaar.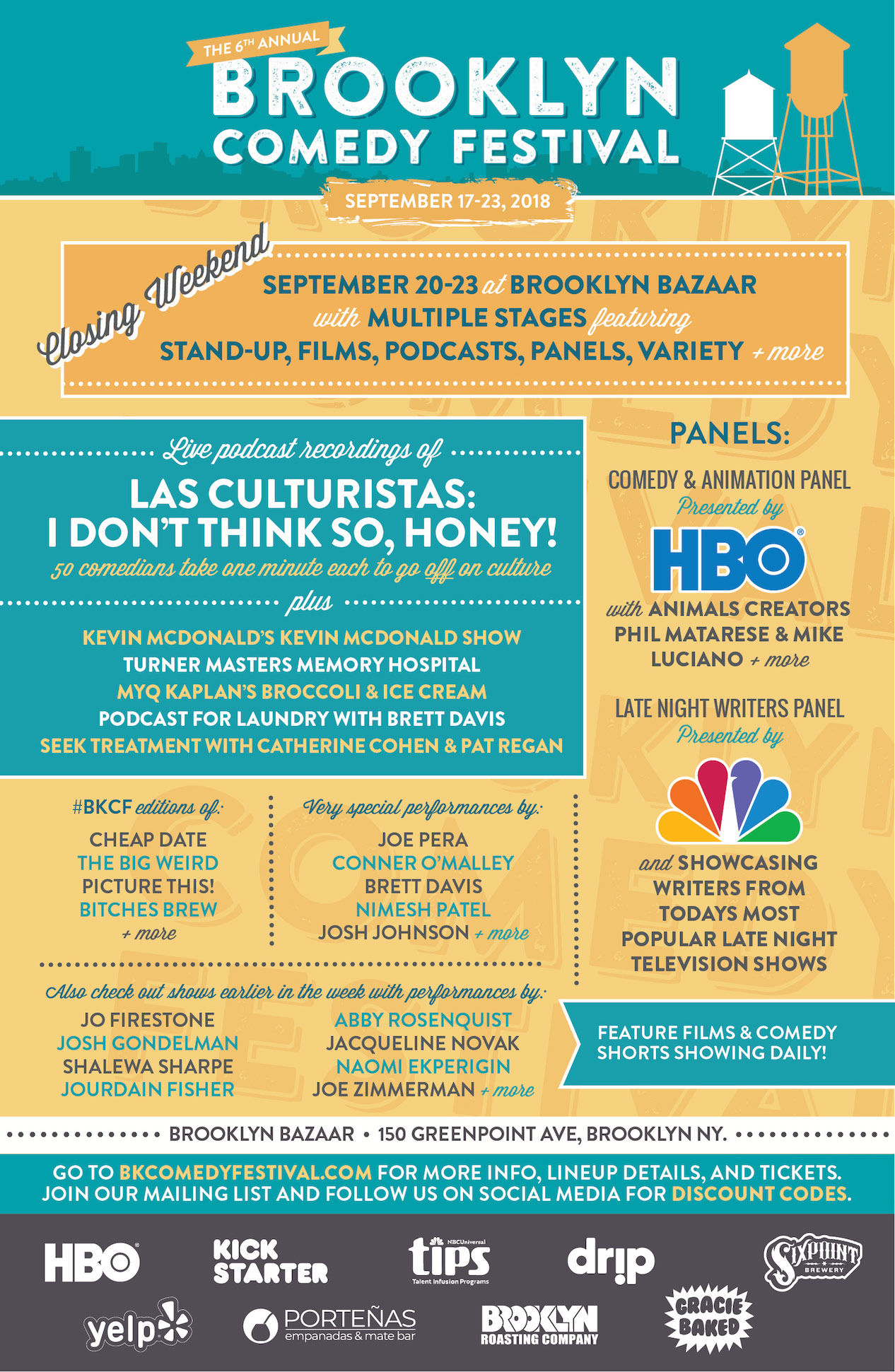 Closing weekend kicks off Thursday September 20th and runs through Sunday September 23rd.
Full lineup announcement coming soon. Lineups are subject to change without notice (but will always be a fantastic time).
Badges must be picked up in person at the Brooklyn Bazaar beginning on Thursday September 20th through Sunday September 23rd.
Food and alcohol will be available for purchase, and re-entry will be allowed.
This event is all ages but will contain some adult content. Attendees under 18-years old must be accompanied by an adult.
REFUNDS: Due to High Demand, we are not able to provide refunds once tickets have been purchased.