Description
Multiple stages featuring podcasts, film, stand-up, and more!
CLICK HERE TO SEE ALL FRIDAY SEPTEMBER 21ST EVENTS!
Including performances by:
The Daily Show Writers Stand-Up Tour
The Daily Show with Trevor Noah Writers Stand-Up Tour makes a stop at the Brooklyn Comedy Festival for a night of political-ish comedy, featuring performances by David Angelo, Matt Koff, Jospeh Opio, and Kat Radley.

The Special Without Brett Davis
The NYC public access variety show The Special Without Brett Davis is returning to the airwaves on 2/26 and to celebrate, we're partnering up with the Brooklyn Comedy Festival to kickoff the new season with a big show and party! Special guests: Chris Gethard, Colin Burgess, Sally Burtnick, Dan Chamberlain, Lena Einbinder, Nick Naney, Clare O'Kane, Lorelei Ramirez, music from Luxardo (aka Simon Hanes with STRING QUARTET), and host Brett Davis, along with other surprise guests!

Fim: DRIB
Watch trailer. DRIB is a cinematic re-enactment of the entire story, a no-holds-barred satire of L.A. advertising culture told by Amir Asgharnejad, the person who lived it all. To avoid a lawsuit from the brand in question we invented our own: DRIB.

Live Podcast: Turner Masters Memory Hospital
Hilarious and unrelenting, Turner Masters Memory Hospital is a vicious new satire from Catherine Cohen and Steven Markow.

Joe Pera & Conner O'Malley: Thank you Viacom!
Through song and dance, Joe and Conner will say thank you to the $6.035 billion gentle giant Viacom. Performances by Joe and Conner's friends, Annie Donley, Dan Licata, Carmen Christopher, and Devin Bockrath.

PLUS MORE TBA!
This badge will get you access to all FRIDAY SEPTEMBER 21ST Brooklyn Comedy Festival events at the Brooklyn Bazaar.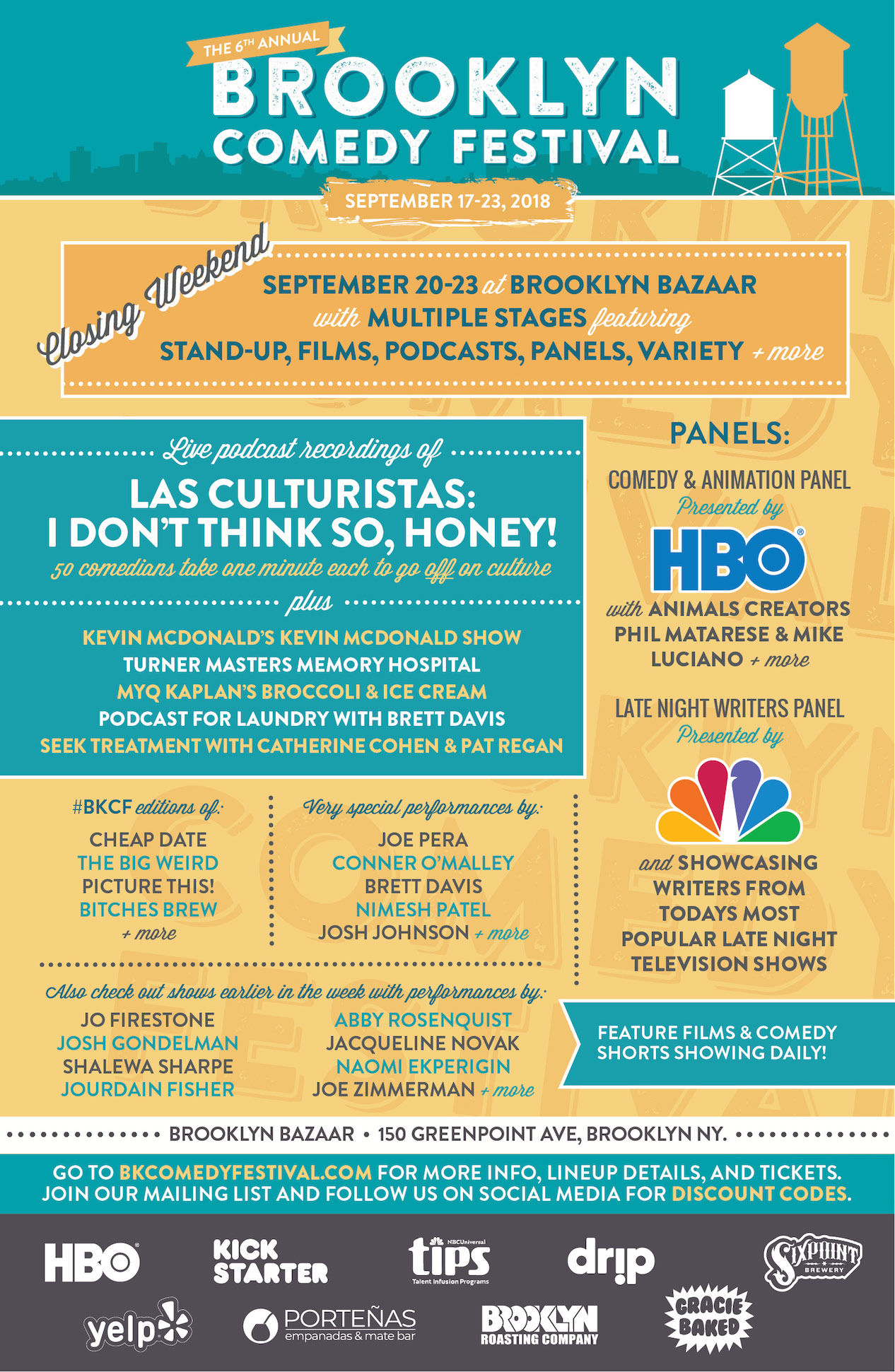 Closing weekend kicks off Thursday September 20th and runs through Sunday September 23rd.
Full lineup announcement coming soon. Lineups are subject to change without notice (but will always be a fantastic time).
Badges must be picked up in person at the Brooklyn Bazaar beginning on Thursday September 20th through Sunday September 23rd.
Food and alcohol will be available for purchase, and re-entry will be allowed.
This event is all ages but will contain some adult content. Attendees under 18-years old must be accompanied by an adult.
REFUNDS: Due to High Demand, we are not able to provide refunds once tickets have been purchased.