About this Event
Genealogical Resources for Angel Island
ONLINE
Aug 13 4 - 5 pm PDT
Presented by 
Grant Din
The event is presented online via Zoom
Immigrants from Eighty Countries who passed through Angel Island and the Genealogical Resources They Left Behind
While people who have heard about Angel Island might know about the Chinese poetry carved on its walls, what is less known is that over half a million immigrants from eighty countries were processed by officials on the island, and genealogical resources are still available to researchers. Learn from examples of case studies of Chinese, Japanese, Jewish, Korean, Russian, and South Asian immigrants, as well as the island's use to house "enemy aliens" from Hawaii and the West Coast during World War II, and find out about the National Archives and other resources that might be available for your own research.
Topics that will be covered:
History of the immigration station and why it was built.
Examples of stories of Angel Island immigrants from several different countries.
Resources for Angel Island and West Coast immigrant research, including online and at the National Archives in San Bruno.
The event will take place via Zoom. If you join, please sign in early to make sure you are able to see the program.  We will send you instructions the night before, and a reminder shortly before the event, which will give you access. Please note all times are Pacific Daylight Time. 
You do not have to have a Zoom account to attend a Zoom meeting. You will be prompted to download the software, once you have clicked on the link that you have been provided. You may also wish to create an account, but that is not required to participate in a Zoom meeting.
 If you have any problems ahead of time or when you're logging on, send email to remcom@californiaancestors.org
See you online!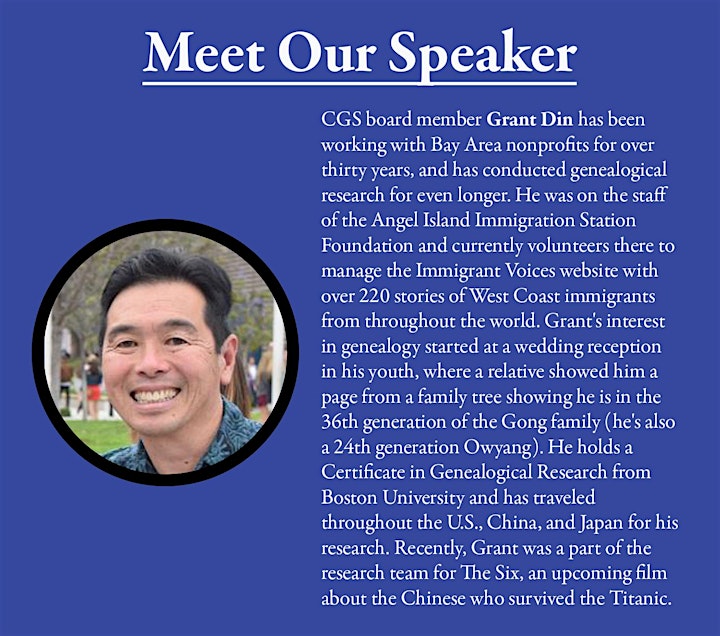 REGISTRATION INFORMATION:
CGS Members and Non-Members enjoy free access.
You can purchase a $45 one-year CGS Basic membership when you check out. To sign up for other membership options go to our web page: CGS Membership application
Date and Time
Location
Refund Policy