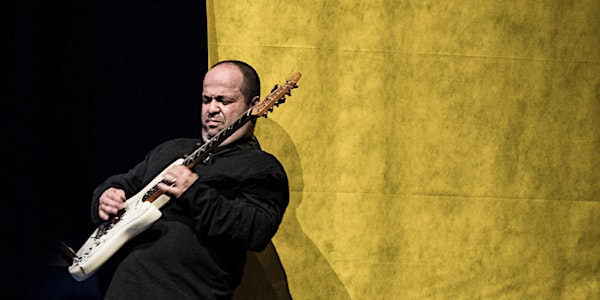 Gene & The Guitarists
When and where
Location
The Gallery at LPR Le Poisson Rouge 158 Bleecker St New York, NY 10012
Description
Gene & The Guitarists at the Gallery at LPR
5:00pm doors | 6:00pm show | All Ages
$15 Advance Tickets | $20 Day of show Tickets
Composer Gene Pritsker presents a concert of his music for Guitar. "being a guitarist myself I have written many guitar compositions, from solos to chamber music to guitar ensembles, etc. This concert revisits some of these older compositions and even has a premiere of a new piece I wrote just for this performance for a guitar quintet". Five extraordinary guitarists join Gene to perform solos, duos, trios, and the new quintet, The concert will feature: classical guitars: Sean Satin, Jay Kauffman and Jay Sorce and electric guitarist Jane Getter and Greg Baker. Compostions include 'Quaalude & Fugue #1' for solo electric guitars the classical guitar duo 'Beneath The Wheel', the electric guitar duo 'Still', the classical guitar trio 'Still Laughing Even Louder', a duo for fretless electric guitar and classical guitar called 'Infinite Vacuum', and the grand finale is the premiere of 'Subsume' a quintet for 2 electric guitars and 3 classical guitars. The concert is co presented with Composers Concordance
BIOS:
Composer/guitarist/rapper/Di.J.

Gene

Pritsker has written over six hundred compositions, including chamber operas, orchestral and chamber works, electro-acoustic music and songs for hip-hop and rock ensembles. All of his compositions employ an eclectic spectrum of styles and are influenced by his studies of various musical cultures.
He is the founder and leader of Sound Liberation; an eclectic hip hop-chamber-jazz-rock-etc. ensemble who have released cd's on Col-legno, Composers Concordance and Innova Records. He is also the co-director of Composers' Concordance, a new music presenting organization with a 30 year history of producing concert in NYC. Other organization he is associate with include the Grammy nominated Absolute Ensemble, which he co founded in 1993 with Kristjan Jarvi and has been a composer in residence and guitarist with ever since.

Gene

's music has been performed all over the world at various festivals and by many ensembles and performers, including the The Adelaide Symphony, MDR Symphony, The Athens Camerata, China Philharmonic Orchestra, Brooklyn, Shanghai and Berlin Philharmonics, Orchestre de la Suisse Romande, St. Lukes Chamber Orchestra, Sinfonietta Riga, Orchester des Pfalztheaters, Yomiuri Nippon Symphony Orchestra, Anhaltische Philharmonie as well as such soloists as Anne Akiko Meyers, Lara St. John, Sarah Chang, Kathleen Supové, Martin Kuuskmann and Simone Dinnerstein. He worked closely with jazz fusion legend Joe Zawinul and has orchestrated major Hollywood movies, including 'Cloud Atlas', for which he wrote additional music and composed his ''Cloud Atlas Symphony'.
The New York Times described him as "...audacious...multitalented." Joseph Pehrson, writing in The Music Connoisseur, described Pritsker as "dissolving the artificial boundaries between high brow, low brow, classical, popular musics and elevates the idea that if it's done well it is great music, regardless of the style or genre". Raul d'Gama Rose writes in All About Jazz: "Barring the obvious
exceptions, much of 21st century composition appears to be thinning in significance, but this might be about to change.
Gene
Pritsker is one of a very spare handful of composers effecting this change." Evan Burke writes in ICareIf YouListen: "Pritsker seems to look at all music as one genre, in which all other possible styles, sounds and traditions are meant to be used as building blocks and palette colors, combined in various configurations to create a boundless whole. This result is almost always more interesting, and representative of how most new music will be born in the 21st century, as genres and barriers begin to vanish, and as styles begin cross-fertilizing in previously unimagined ways." Classical Music Sentinel writes: "His expressive reach is so wide as to encompass everything from ethno/techno, rock/jazz fusion, classical opera and more, and it all seems to be effortlessly integrated within his anima and comes out through different facets of his persona. You could almost see him as a modern day renaissance man. "
Organizations he is associated with include: Co-director of Composers Concordance & Composers Concordance Records, co-founder/guitarist of Absolute Ensemble and artist-in residence at the Austrian Outreach Festival.

Gene

Pritsker's music is published by: Falls House Press, Gold Branch Music, Periferia Sheet Music & Calabrese Brothers music. Recorded on: Col Legno, Enja, Eutrepe, Wergo, Innova , Composers' Concordance Records, SONY Classical, and Capstone record labels.
Sean Satin began formal training under Jorge Morel. Shortly after, he was accepted into the Manhattan School of Music where he earned a B.M. in Classical Guitar Performance. While there, he studied with Oren Fader and Mark Delpriora. He also played in master classes for Eliot Fisk, Eduardo Fernandez, David Starobin, and James Smith. Sean later went on to earn an M.A. from Teachers College, Columbia University, where he is pursuing post-graduate studies. He has performed throughout New York including concerts at Lincoln Center's Alice Tully Hall, Spectrum, ansd Symphony Space. Sean performs extensively in a wide variety of musical styles from classical to rock. He is currently on faculty at Brooklyn College and Turtle Bay Music School.
"Getter is clearly an impeccable guitarist and a fine singer" says Rebel Noise of Jane Getter. She has performed and recorded with many music icons, including legendary jazz/blues organist Brother Jack McDuff, Return To Forever drummer Lenny White, vocalist Ursala Dudziak, as well as Jaimoe (of the Allman Brothers), Michal Urbaniak, Kenny Garrett, The Roots the jam, Regina Carter, Headhunters drummer Mike Clark, and many others. She also received worldwide exposure playing in The Saturday Night Live Band. Her composing talents received attention when she won the ASCAP/Gershwin award for Music for Theatre or Dance.
Jane has regularly appeared in Guitar Player Magazine, most recently with feature interviews in 2013 and 2015. Her fifth album, the live "ON Tour" from 2017, continues to receive rave reviews such as "Electrifying, brilliant blazing Jane Getter Premonition – ON TOUR"…Contemporary Fusion Reviews. Her current band Jane Getter Premonition features an all-star lineup and has toured nationally and internationally, with appearances in Austria's Outreach Jazz Festival, SF Jazz Festival, India's Bb Bar, NYC's The Iridium, Warsaw's Guitar City, Netherland's North Sea Jazz Club and many more.
---
Refund Policy & Terms of Service: LPR does not issue refunds or exchanges for ticket purchases. All sales are final. No refunds will be processed for unused tickets or for patrons who are denied entry due to not having valid identification for will call pickup or admittance to an age restricted event. Events are subject to change in date, time, reserved seat location or scheduled act at anytime. In the case of an event cancellation, refunds will be provided via the method of payment originally used. Resale of any ticket at a price greater than the original ticket price is absolutely prohibited. We have the right to revoke or reclaim possession of any tickets from the buyer who violates such restrictions..