Description
WE SOLD OUT! If you still want to be part of the fun, find Kelli on facebook and we'll be broadcasting the entire thing on FB live! Check it out at 7 PM PT.
-------------------------
JUST IN! BUY AN ADVANCE TICKET AND GET A FREE "LET MY PEOPLE PEE" MAGNET AT THE SHOW HANDMADE BY THE COMICS!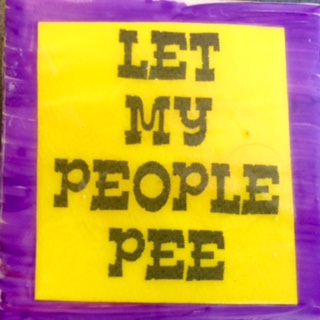 New York based comic Kelli Dunham's all new stand up show, one-night only! Kelli Dunham is everyone's favorite ex-nun genderqueer nerd comic and has hella stories to tell about the Lord's Boot Camp, an exploding knee replacement and the neverending search for a gender friendly bathroom. New York podcast superstar Katrina Goodlet and Bay Area favorite Red Durkin opens!
About KELLI DUNHAM
Kelli Dunham is the ex-nun genderqueer nurse storytelling nerd comic so common in modern Brooklyn. Kelli has appeared on Showtime and the Discovery Channel and nationwide at colleges, prides, fundraisers, and even the occasional livestock auction. Kelli's comedy CDs (including "I am NOT a 12 Year Old Boy,"" Why Is the Fat Always One Angry" and "Almost Pretty") are on regular rotation on Sirius Satellite Radio's Rawdog Comedy Station. Kelli is the founder and producer of ORGAN RECITAL an annual week long festival of stories about bodies health and healthcare and was a 2015 White House Champion of Change nominee for her work as the co-founder of the very earnest storytelling series Queer Memoir.
Kelli is an RN and has written seven books of humorous non-fiction, including two childrens books being used by Sonlight conservative home schooling association in their science curriculum. You may have also seen Kellis unique humorously concerned voice in articles on XOJane, Refinery29, The New Republic, Thought Catalog, Autostraddle and the NPR Health Blog. She has also appeared at the Cinder Block Comedy Festival and this year's Women in Comedy National Festival. Kelli debuted a show called CAT Talks: Ideas Worth Shedding, a feline based TED talk parody at last year's Solocom. No one was quite sure whether to laugh or cry.
About KITTY BELLA:
Kitty Bella has performed her fire brand style of comedy at Nuyorican Poets cafe, QED, The University of Albany and BAAD (Bronx Academy of Arts and Dance). She has also been featured and or appeared in Huffington Post, Mtv.com, Pix 11 morning news and more. Katrina is the creator and host of the Kitty Bella podcast on Blog Talk Radio where she has interviewed many notable Trans people including Laverne Cox and TS Madison. Follow her on Instagram at kittybella79 and or on Twitter at Twitter.com/kbellacomedy
About RED DURKIN
Red Durkin is a stand-up comedian, writer, and activist. She was voted the 2013 MOTHA Performer of the Year, has toured extensively as part of the Tranny Roadshow, performed at Camp Trans and the Transgender Leadership Summit and was a member of the Fully Functional Cabaret. She is the managing editor of PrettyQueer.com. She has written 9 zines, was featured in the final issue of Punk Planet magazine and a contributor to Topside Press's The Collection: Short Fiction from the Transgender Vanguard.
Media may be arranged through Katrina Dulles at kellidunhambooking@gmail.com.
ACCESS NOTES
This space is a standard art gallery set up with stairless entrance. We won't sell more tickets than seats and seating provided will be metal folding chairs without arms.