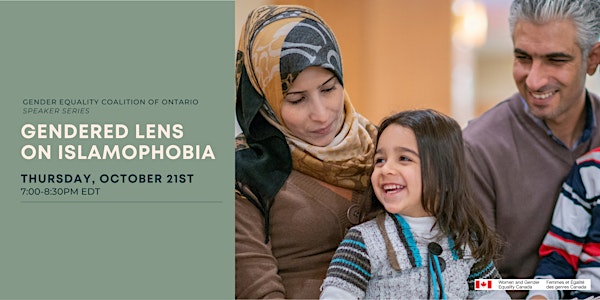 Gendered Lens on Islamophobia
Hear from Panelists as we discuss Gender Equality and apply a gendered lens to Islamophobia.
About this event
About our Moderator and Panelists
Moderator:
Amanda Zavitz, PhD is a Professor of Sociology at Fanshawe College and at Western University in London Ontario.  She is the Chair of the Coalition to Empower Gender Equality and she has organized the Social Science Speakers Series at Fanshawe College for the past ten years.  Amanda's area of expertise is social inequality.  She teaches women studies as well as courses related to race, gender, sex, and class inequality in Canada.
Panelists:
Eaman Fahmy is the Inclusive Program Designer at Pillar Nonprofit Network. She is a community mobilizer and an anti-racism/anti-oppression educator whose lived experience as a Muslim woman propels her to center social justice in her work. A long- time community organizer, she believes in the power of nurturing relationships and trust.
 Eaman's anti-racism/anti-oppression work has included presenting on Islamophobia as a part of Pillar's Be Inclusive Series, as well as at Western University, Brescia University College and King's University College.
__________________________________________________________________________
Dr. Mohammed Baobaid earned his doctoral degree from the institute of Psychology at the University of Erlangen-Nürnberg in Germany. He is the Executive Director of the Muslim Resource Centre for Social Support and Integration in Canada and adjunct professor at Western University. For 30 years he has conducted research on families and children and youth at risk of violence and developing culturally appropriate responses in Yemen and Canada. Based on the outcome of his research, a culturally integrative model of family violence responses has been developed and implemented. Dr. Baobaid has received many awards, including the 2012 Queen Elizabeth II Diamond Jubilee Medal, and the 2012 Attorney General's Victim Services Award of Distinction.
Prior to coming to Canada, Dr. Baobaid was the head of the department of psychology at the University of Sana'a, Yemen.
__________________________________________________________________________
Sarah Halabi has a PhD in Education from Western University and is a professor at Fanshawe College. Her research primarily has focused on Muslim girls' experiences with Islamophobia, sexism, and anti-Black racism in Ontario secondary public schools. She has been annually asked to guest lecture on the topic of Islamophobia in schools for the Bachelor of Education program at UWO and has been a part of a number of panels aimed to highlight the misconceptions of Islam at Brock. She has also been featured on Rogers T.V. to discuss misconceptions of the veil.
__________________________________________________________________________
Raghad El Niwairi is a Black Muslimah living in London, Ontario. She grew up watching news broadcasting as a child and was, like many others, moved by the social issues she witnessed on TV. Since then, she has committed most of her childhood and adolescence to hands-on community and advocacy work. This has led to her to receiving various volunteer-based awards and to working in projects such as the InterAction Collective and London School of Racialized Leaders. She is currently a university student, still looking to serve through community work and learning wherever she can.