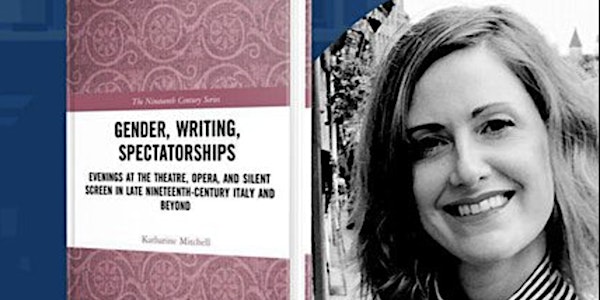 Gender, Writing, Spectatorships: Katharine Mitchell
Join Katharine Mitchell as she discusses her new book, Gender, Writing, Spectatorships
About this event
The University of Strathclyde's Society & Policy strategic sub-themes Gender and Communication, Language and Translation are pleased to host this online launch of Katharine Mitchell's latest book, Gender, Writing, Spectatorships: Evenings at the Theatre, Opera, and Silent Screen in Late Nineteenth-Century Italy and Beyond (Routledge, 2022).
Drawing on archival material – female correspondence, life-writings and journalism – as well as a range of canonical texts, the book brings together detailed engagement with female performance and with female spectators' material responses to "women's opera, theatre and film," placing these in the context of melodrama from the 1880s to the 1920s in Italy, France, the US, and elsewhere. It considers female relationships based on admiration among producers and consumers of literature, theatre, opera and film, to argue that they embodied a vibrant, mobile and successful Italian female culture industry during the first wave of feminism. 
Kate will present a talk on her book followed by a Q&A chaired by Dr Esperanza Miyake, Chancellor's Fellow in Journalism, Media and Communication at the University of Strathclyde.
Time: Apr 28, 2022 15:00 London
*******DO NOT SHARE MEETING INVITES ON SOCIAL MEDIA********
Join Zoom Meeting
https://strath.zoom.us/j/83263380718
Meeting ID: 832 6338 0718
Password: 284907
Join by Skype for Business
https://strath.zoom.us/skype/83263380718
Katharine Mitchell is Senior Lecturer in Italian Culture and Gender at the University of Strathclyde. She is author of Italian Women Writers: Gender and Everyday Life in Fiction and Journalism, 1870-1910 (Toronto University Press, 2014), and among her co-edited volumes are Women and Gender in Post-Unification Italy: Between Private and Public Spheres (Peter Lang, 2013) and Matilde Serao: International Profile, Reception, and Networks (Classiques Garnier, forthcoming).