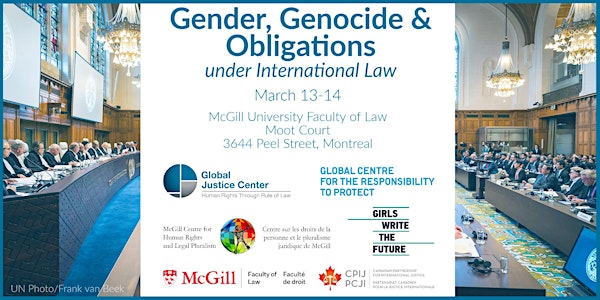 Gender, Genocide & Obligations under International Law
Scholars, experts, and activists will discuss the role of gender in genocide and what it means for compliance with the Genocide Convention.
When and where
Location
McGill University - Faculty of Law 3644 Peel Street Montreal, QC H3A 1W9 Canada
About this event
The conference will be livestreamed. Links are here:
Day 1: https://youtu.be/zfBfo8HhKaM
Day 2: https://youtu.be/4B1xVD3GIzE
Despite a greater emphasis on sexual violence and gender-specific crimes in recent international justice efforts, genocide continues to be understood as being committed primarily through mass murder. Discussions around surfacing gender furthermore retain a limited focus on women and girls as victims of sexual violence, rather than considering the wider significance of gender to the destruction of groups.
This conference, among leading scholars and practitioners, draws on these recent efforts to reflect on a gendered understanding of the crime of genocide. It focuses in particular on the inextricable role that gender plays in genocide, and the relevance of this understanding in the fulfillment by States of their obligations of prevention and punishment under the Genocide Convention.
Schedule
Friday, March 13
(6:00 – 7:30 p.m.) Keynote: Accountability and Prevention of Genocide: From Rwanda to the Rohingya. Featuring Gen. Romeo Dallaire, Yasmin Ullah, and Denyse Umutoni.
(7:30 – 8:30 p.m.) Reception
Saturday, Match 14
(10:30 a.m.) Registration & Coffee
(11:00 a.m.) Welcome: Co-Chairs
(11:10 a.m. – 12:45 p.m.) Panel: Gendering Genocide
(1:00 – 2:00 p.m.) Lunch
(2:00 – 3:30 p.m.) Panel: The Duty to Punish Genocide
(3:45 – 5:15 p.m.) Panel: Gender & the Rohingya Genocide
(5:30 – 6:00 p.m.) Keynote: Senator Marilou McPhedran
(6:00 – 6:15 p.m. ) Closing & Next Steps: Co-Chairs