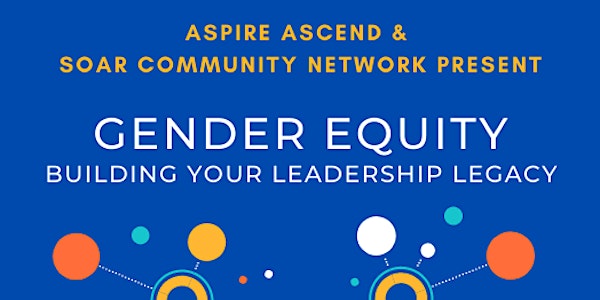 Gender Equity Master Class: Building Your Leadership Legacy
As a successful female executive who has the seat at the table, how can you make gender equity a part of your leadership legacy?
Refund Policy
Contact the organizer to request a refund.
Eventbrite's fee is nonrefundable.
About this event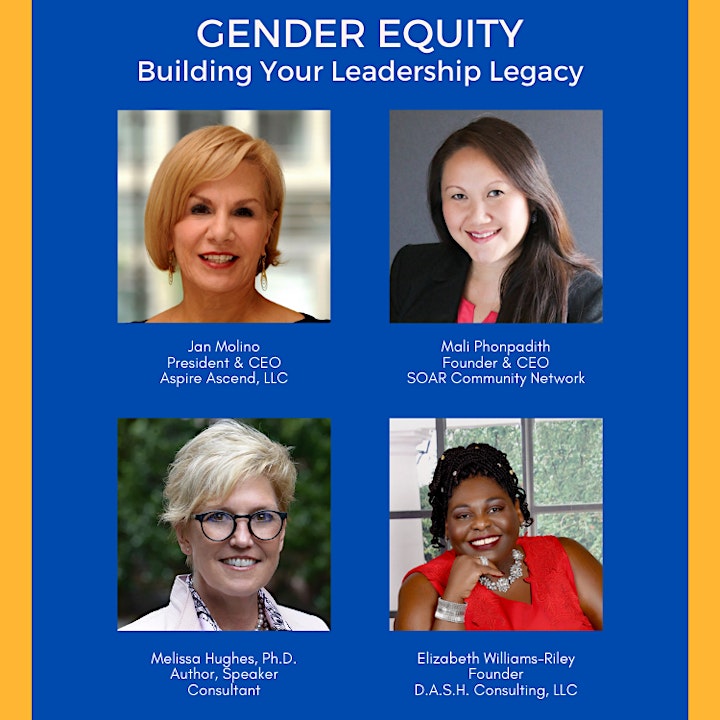 Hosted by: Jan Molino, President & CEO of Aspire Ascend, LLC and Mali Phonpadith, Founder & CEO of SOAR Community Network, LLC
During our 2-day Master Class we will share insights, discuss practical steps and provide an action plan to support your ongoing commitment in making gender equity a part of your leadership mission and legacy.
Guest experts Melissa Hughes, Ph.D. and Elizabeth Wilson-Riley address the importance of Emotional Intelligence and DEI when striving to create Gender Equity in the workplace.
***
Day 1 of the Master Class - April 20, 2021 from 12:00 pm - 3:00 pm ET
Map Your Vision of Success
Own Your Leadership Presence and Self Advocate
Use emotional intelligence to:
Show up with curiosity and consideration for others' perspectives
Drive results
Manage stress and pressure
Day 2 of the Master Class - April 21, 2021 from 12:00 pm - 3:00 pm ET
Rise above myths and stereotypes of gender, race, ethnicity, nationality, generations and more
Unconscious gender bias & imposter syndrome
Practical tools and strategies
Play big
Amplify other women
Practice ally-ship
Action Plan
***
Get to know the experts:
Jan Molino is the President and CEO of Aspire Ascend, a consulting firm providing a comprehensive portfolio of board and executive development services to enhance the success of executive women in leadership. She is known for her customized executive training programs and networking opportunities that have helped women enter the boardroom and expand their careers in the C suite. Jan delivers board development, leadership and executive development coaching packages and public speaking on women in leadership. Recognized as a thought leader on becoming a board member, CEO success, gender diversity, and networking, Jan speaks on issues that impact women as leaders in the C-Suite and the boardroom. She is often featured in numerous broadcast outlets including Forbes, Vunela, Thrive Global, Medium, as well as others. Jan currently sits on the advisory board of First Source Consulting and Progresando, serves on the DC Committee of 5050 Women on Boards, the Aging Life Care Association Advisory Board and is an active member of both the International Women's Forum and the DC Chapter. She is an emeritus member of the on George Mason University Women in Business Initiative Advisory Board.
http://www.aspire-ascend.com
Mali Phonpadith is the CEO of SOAR Community Network and Co-founder of SCN Nebula. She is a #1 International Bestselling Author, TEDx Speaker, Certified Talent Optimization Leader, C3 Community Architect and Builder of Compassionate, Cohesive & Collaborative Communities within growing companies and mission-driven organizations. She is a four-time author, including A Million Fireflies, her memoir about her voyage from war-torn Laos to America. In 2017, Born to Be Me, a compilation of authentic stories written alongside 18 international female authors, made Amazon's #1 International Bestseller List. In 2018, The Balancing Act also hit the #1 International Bestseller List. She has been featured on Huffington Post, Entrepreneur.com, Asian Fortune Newspaper, WJLA DC, Radio Free Asia, WHUR Radio, Voice of America, Better Business Bureau's Trusted Magazine and numerous internet radio programs and global podcasts.
https://soarcommunitynetwork.com/mali-phonpadith
Elizabeth Williams-Riley is the Founder of D.A.S.H. Consulting LLC, where her primary focus is Developing Assets for Successful Habits (D.A.S.H.). Elizabeth enjoys working in partnership with clients to develop comprehensive inclusion, diversity, equity, and asset-building (IDEA) learning, critical analysis, strategy-building, strategy execution, and coaching. Elizabeth is the former President and CEO for the American Conference on Diversity and served as the National Vice President of Programs for the National Conference for Community and Justice. Elizabeth is an award-winning diversity and inclusion professional. She was named Girls Scouts of America 2015 Woman of Distinction, and 2013 Diversity Journal's Woman Worth Watching. Mrs. Williams-Riley is the 2016 NAACP Corporate Community Service Award Winner as was presented the South Asian Business Alliance Network's Chairman Award. She is a connector and helps individuals navigate the complexities of living in an increasingly diverse society. She boldly tackles the nation's unfinished business of equity and inclusion. Her approach to dismantling systemic and institutional oppression is charismatic, engaging, and above all, thought-provoking.
https://www.dashriley.com
Melissa Hughes, PhD, is a self-proclaimed neuroscience geek and the author of two best-selling books, Happy Hour with Einstein and Happier Hour with Einstein: Another Round. Dr. Hughes helps us to understand how the brain works and how to increase and optimize its function. Having worked with a wide range of audiences - everything from students in the classroom to the boardroom of Fortune 1000 companies - she combines her PhD in education and her vast experience in marketing communications with extensive research in neuroscience and behavioral psychology to share simple, applicable strategies that improve outcomes both at work and in our personal lives. With energy and humor, Melissa gives attendees tools to harness the skills to create a culture of learning and inspire organizations and teams to tap into their inner genius for extraordinary results!
https://www.melissahughes.rocks