Gender Equality Challenge Forum: Accelerating Leadership through Action
Description
The Gender Equality Principles Initiative will showcase model and promising practices from 10 Bay Area employers at the 2017 Gender Equality Challenge Forum. Join the San Francisco Department on the Status of Women, Bay Area Council, and Friends of the Commission on the Status of Women to learn about these innovative programs and policies, share ideas, and get inspired to advance women in the workplace!
The 2017 Gender Equality Challenge will recognize the following companies for their model and promising practices that exemplify the Gender Equality Principles:
Bank of America - Women's Leadership Program
Glassdoor, Inc. - Annual Employee Pay Analysis
Latham & Watkins LLP - Breast Milk Shipping Program
Morgan Stanley - Return to Work Program
Moss Adams LLP - Forum W
Pinterest - Apprenticeship Program
PricewaterhouseCoopers LLP - Leave of Absence Career Roundtable Program
Prologis - Breakthrough
Target Corporation - Network of Executive Women's (NEW) Future Fund
University of California, San Francisco - CARE Program for Campus Advocacy, Resources, and Education
Event Program
8:30 am Registration
9:00 am Welcome and Opening Remarks
Emily M. Murase, PhD, Director, Department on the Status of Women
David Hayer, Vice President of Global Sustainability, Gap Inc.
Naomi Kelly, City Administrator
Assemblymember David Chiu
Senator Scott Wiener
Supervisor Malia Cohen
Supervisor Katy Tang
9:30 am Presentation of Practices
Limor Bernstock, AVP, Environmental, Social, and Governance Research Analyst, Calvert Research and Management
Glassdoor: Dawn Lyon, Vice President of Corporate Affairs
Pinterest: Abby Maldonado, Diversity Programs Specialist
Morgan Stanley: Susan Reid, Managing Director, Global Head of Diversity and Inclusion
PricewaterhouseCoopers: Moiré Rasmussen, Leader, Office of Diversity and Inclusion
Latham & Watkins: Joshua S. Friedlander, Chief Human Resources Officer
University of California San Francisco: Denise Caramagno, LMFT, CARE Director & Advocate
Bank of America: Jennifer Williams, Senior Vice President/Sales Performance Executive
Prologis: Tracy Ward, Senior Vice President, Investor Relations
Target Corporation: Kisa Lew, District Team Leader
Moss Adams: Jen Wyne, Executive Director of Human Resources
10:35 am Break
11:00 am Roundtable Discussion Session 1
12:00 pm Lunch
1:00 pm Roundtable Discussion Session 2
2:00 pm Reflections and Closing Remarks
Peg McAllister, Senior Vice President, Lee Hecht Harrison
Diana Ruiz, CEO/Founder, Women's Global Leadership Initiative

Micah Weinberg, PhD, President, Bay Area Council Economic Institute
3:00 pm Networking Reception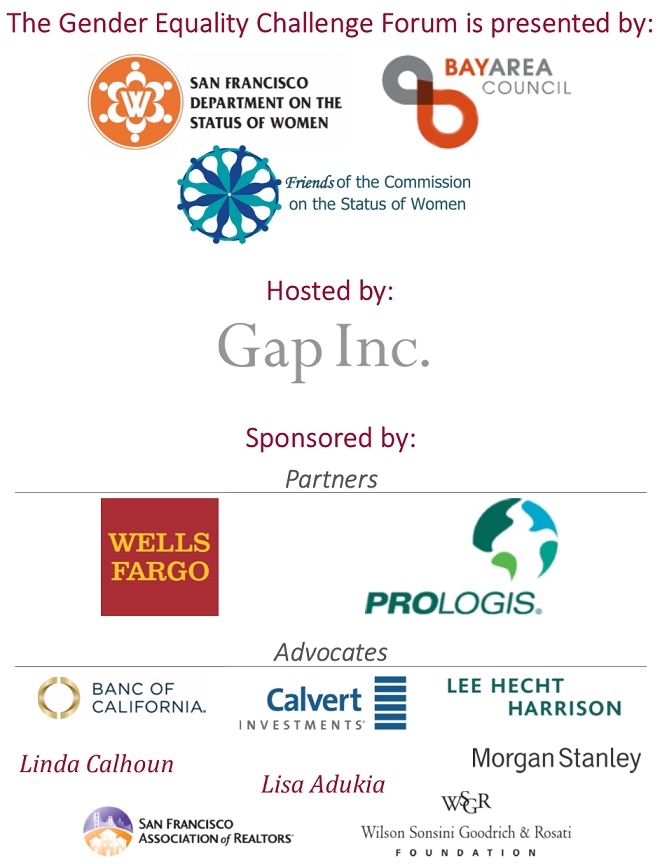 For sponsorship opportunities, please contact genderprinciples@sfgov.org to learn more.
Friends COSW is a 501(c)(3) not for profit organization. Your registration fees and sponsorship contributions may be tax-deductible. Friends COSW tax ID# 51-0183349.