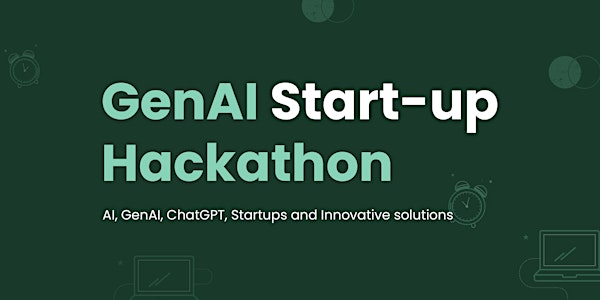 GenAI Startup Hackathon (online)
Are you ready to join the startup revolution? Take on the challenge of creating an MVP that uses Generative AI to solve a real-world problem
Date and time
October 2 · 2pm - October 3 · 2pm PDT
About this event
Are you ready to take your AI startup to the next level?
Join the GenAI Startup Hackathon, the ultimate platform for developers, designers, managers, entrepreneurs, innovators and students to showcase their talents and compete for the top prize. The Generative AI Startup Hackathon is the perfect opportunity to connect with like-minded individuals and gain valuable insights from industry experts and learn new technologies. This AI hackathon will challenge you to push the boundaries of what's possible with AI, and help you turn your ideas into reality.
So what are you waiting for? Sign up now and get ready to create the next big thing in AI!
Some inspirational source for developing your own products, projects, prototypes or services in your tech startup
Space Tech AI Assistance
AI Cyber Nursing Assistance
Wind AI Assistance
Weather AI Assistance
AI Customer Support Chatbots
Smart Farming AI
Oceanic 360 Degree CV AI Drone System
Smart Home AI
Robotic AI Disabled Assistance
PT AI Virtual Assistance
Clean AI CV Detection System
Healthcare AI Diagnostics
AI E-Marketplace
Fintech AI
Adtech AI
Recycling Cloud CV
AI Legal Assistant
Lawtech ML
Insurtech ML
Retail Ad System 2.0
Copywriting Assistance
E-commerce AI Chatbots
Elderly Care AI
Medical AI Emergency Assistance
Forensics AI Assistance
Gaming Industry
XR AI
Traffic CV DS
SecurityOps CV DS
Fraud AI Detection System
Drone Terrain CV Mapping
Driving Assistance
Retailer Analytics
Smart Manufacturing 4.0
RT AI SaaS
Cargo AI
and much more
Why should you participate in this Hackathon?
🧡   Beginner friendly
📢   Innovative challenges in AI industry
🏆   Great prizes from our partners
🌏   Compete on site and with the rest world
📒   Free access to all learning materials from top brands
💼   Get hired by our partner corporations
📃   All teams of submitted projects will get a special certificate signed by our corporate partners
🤝🏻   Networking with same minded people, mentors and judges
You can participate if you:
a) are fluent in english
b) have previous experience in AI or not​
c) are digitally savvy
d) want to understand & explore how AI can be used in their fields
e) If you want to build intelligent startup in 48 hours.