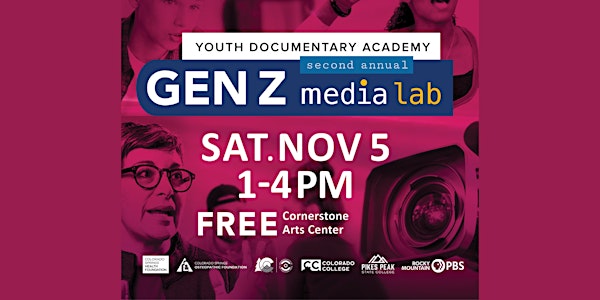 GEN-Z MEDIA LAB
Diverse young people and their families gather to engage journalists, academic and community leaders about the stories that matter to them.
When and where
Location
Edith Kinney Gaylord Cornerstone Arts Center 825 North Cascade Avenue Colorado Springs, CO 80903
About this event
On Saturday, November 5, at 1pm you are invited to the Cornerstone Center for the Arts at Colorado College to attend a free GEN-Z MEDIA LAB. Attendees will watch compelling YDA films from our PBS series OUR TIME, meet the filmmakers and engage in professionally moderated Q&As, and then engage major thought leaders in our community. A panel of local journalists, academic leaders and community organizers will conclude the GEN-Z MEDIA LAB and reflect back what they are hearing youth in our community say about teen mental health, race, gender, disability, and much more.
Panelists include City Councilor Nancy Henjum, Colorado Public Radio's Dan Boyce, Food to Power Director Patience Kabwasa, KKTV Reporter Brian Sherrod, Pikes Peak Suicide Prevention Partnership Director Cassandra Walton, UCCS Associate Professor Kimbra Smith, and PPSC Professor Eric Erickson. Former NY Times Editor and BYkids Director Holly Carter will moderate.
GEN-Z MEDIA LAB was born out of the Youth Media Matters Film Festival conceived in early 2021 in light of a new PBS series OUR TIME created by YDA and a partnership with Colorado Springs School District 11. A committee of youth representing area high schools convened and reviewed dozens of YDA films from the OUR TIME series, selected programming for their own schools and for the GEN-Z MEDIA LAB.
The GEN-Z MEDIA LAB is free to all and begins at 1pm at Celeste Theatre in the Cornerstone Center for the Arts, 826 N. Cascade Ave. Doors open at 12pm.
Later that night, November 5, a red-carpet gala event featuring THE WORLD PREMIERE OF NEW FILMS BY THE YOUTH DOCUMENTARY will be open to the public and also held at the Celeste Theatre in Cornerstone. Doors open at 6pm. Screening begins at 6:30pm. The evening World Premiere red-carpet event is ticketed: (Adults, $15; Youth 18 and under -- $7.50; Youth Participants in the GEN-Z MEDIA LAB and Youth Media Matters Festival – Free Admission)
The Gen-Z Media Lab is sponsored by Colorado College Film and Media Studies, Colorado Springs Health Foundation, Colorado Springs Osteopathic Foundation, Rocky Mountain PBS, Colorado Office of Film, TV and Media. The Youth Documentary Academy site partner is Pikes Peak State College.