Multiple Dates
GEN + Tribalize present... DESIGNING REGENERATIVE CULTURES Day-Long Worksh...
Description
Communities For Our Future Salon - The Global Ecovillage Network in collaboration with TRIBALIZE
Friday evening, March 13 7:30pm - 9:30pm Suggested Donation ($20) - Cash @ Door please Location: HIVE MARIN, 703 3rd Street, San Rafael, CA 94901
In this community dialogue, Kosha explains how the Global Ecovillage Network catalyses the power of community for a sustainable future and inspires governments around the world to include 'Ecovillage Development Programmes' in their strategies for the implementation of the Sustainable Development Goals and Climate Agreements. Together, we will explore whether and how you and your community might join this movement.
For registration, email brad@bradnye.com and location/venue will be provided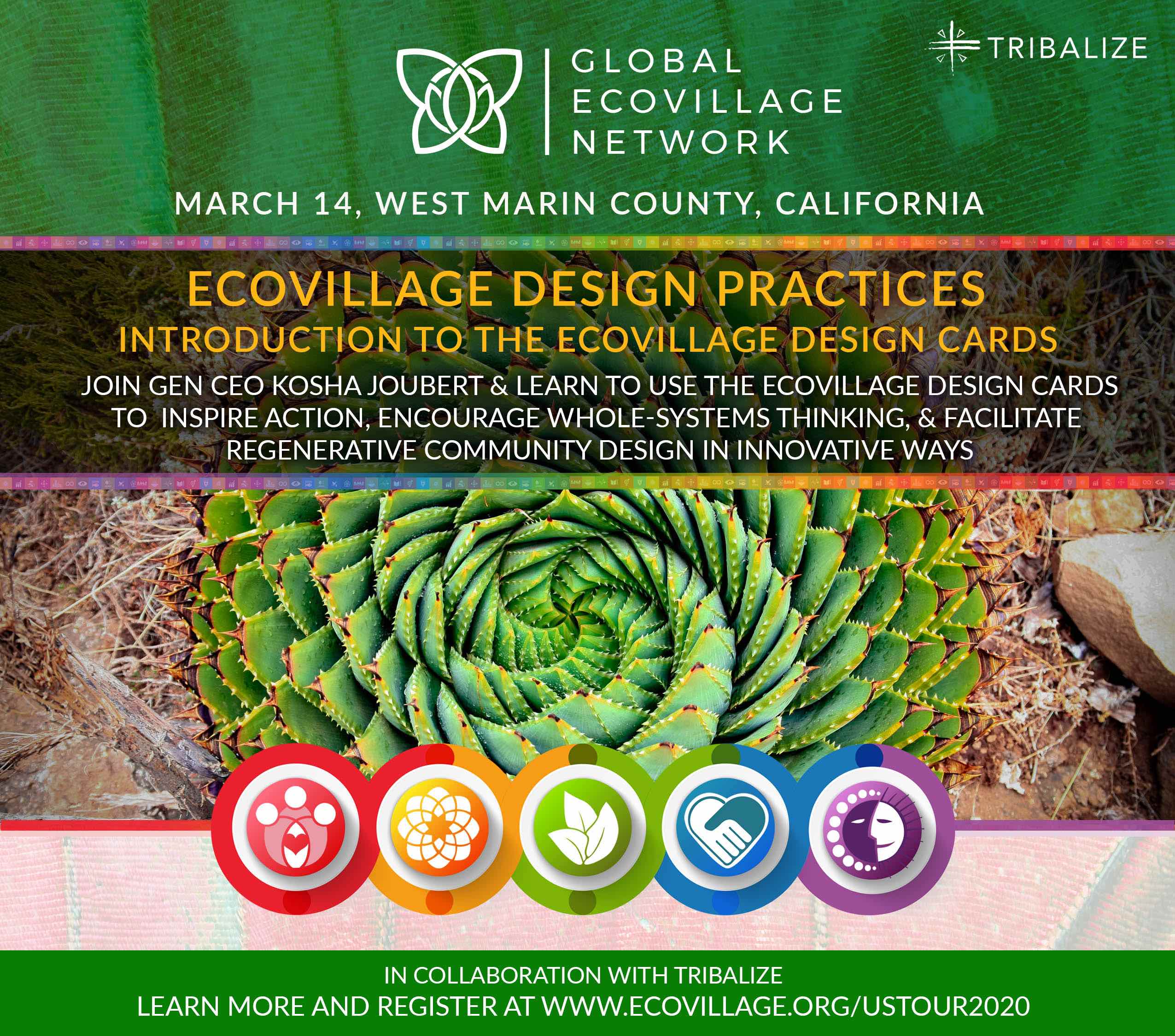 Saturday March 14, HIVE MARIN, San Rafael, CA - in collaboration with Tribalize

Ecovillage Design & Community Healing Practices - Tools & Methods for Regenerative Community Design
Saturday, March 14, 10:00 am - 6:00 pm
Cost: $100 - $250 sliding scale
In this one day workshop, Kosha will guide you though an experiential one-day exploration of innovative tools & methods for regenerative community design, collective resilience, compassionate communication & conflict resolution. The morning will introduce you to the Ecovillage Design Cards and GEN's approach to social, ecological, economic and cultural resilience; a community-led model developed through experimentation, research and lived experience in a diversity of regenerative communities across the globe. You will get a chance to deepen your understanding of what ecovillage living can be, and discuss how ecovillage design is applicable in your own life - regardless of how you live now.
In the afternoon, Kosha will introduce the topic of communication, conflict resolution and healing in community, and lead you through a series of exercises where you get to experience first-hand the power of compassionate communication and authentic relating, and learn more about trauma healing and restorative practices for conflict resolution in community.
Cost: $100 - $250 sliding scale
Location: The Hive Marin, 703 3rd St, San Rafael, CA 94901
For more information and to register, contact ustour2020@ecovillage.or
For more information and to register, go to https://www.eventbrite.com/e/gen-tribalize-present-designing-regenerative-cultures-2-day-workshop-tickets-95551048759
NOTE: Lunch not provided. Please bring your owe or grab lunch in the neighborhood.