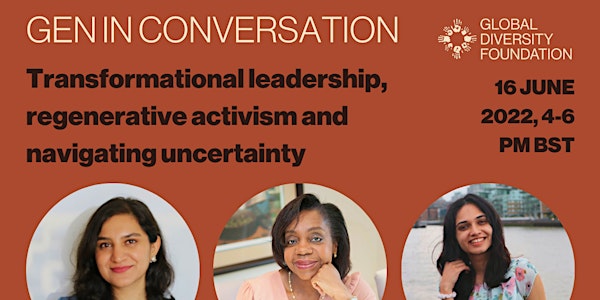 GEN In conversation: Transformational leadership and regenerative activism
Join us to explore how we can make our leadership transformational, while also avoiding burnout and navigating uncertainty.
Refund Policy
Contact the organizer to request a refund.
Eventbrite's fee is nonrefundable.
About this event
Transformational leadership is when 'leaders and their followers raise one another to higher levels of morality and motivation', as defined by leadership expert James MacGregor Burns
Transformational leaders stimulate, inspire and help their followers grow as leaders and achieve extraordinary outcomes. They respond to individuals' needs and align them with the objectives of the group. This leads to higher levels of satisfaction, performance and well-being for both the leaders and those who follow them.
The key to being a transformational leader is having clear, positive visions of the future and most importantly, believing in this vision themselves. Such leaders stimulate followers to develop their creativity and learn more; communicate openly and offer individualised support; inspire and motivate followers to believe in their vision; and serve as role models.
But what does it mean to be a transformational leader in a world in flux? When change is the only constant, how can one navigate uncertainty and uphold the tenets of transformational leadership? And what does it mean for leaders themselves to remain steadfast to their vision or be role models when they themselves may be struggling?
One response to this has been the idea of regenerative activism, which focuses on caring and connecting with oneself, in order to avoid burnout and stay inspired. Central to this is the acknowledgment of the physical and mental toll that being a leader and/or an activist can take. This begets the question of how one can do this in a truly useful and collective manner, beyond bubble baths and surface level remedies. As Audre Lorde says, 'Caring for myself is not self-indulgence, it is self-preservation, and that is an act of political warfare.'
Join us for an invigorating conversation where we explore:
What it means to be a transformational leader
How we navigate the intersecting identities of ourselves as leaders and individuals
How we negotiate the boundaries between our activism and our personal lives
How we put regenerative activism into practice
What transformational leadership and regeneration may look like in such uncertain times
…. and more!
Speakers:
Aditi Arora:
​​Aditi Arora is the Country Manager for Girl Up, India and a member of the Queen's Commonwealth Trust Network and Inclusivity Advisory Board at Just A Girl Inc.,USA. She is passionate about issues related to women and girls and has previously worked on projects related to gender, health and child protection including working for women in landmine affected countries.
She has spoken at various platforms on women and intersecting issues including mental health at the Youth Summit on Mental Health, YOUNGA 2021, Girl Up Leadership Summit, Washington D.C., Women In Dev Conference, London, etc. She is also a two-time TEDx speaker. She has a Master's degree from The Graduate Institute of International and Development Studies, Geneva in International Relations and Political Science.
Frances Mensah Williams CBE:
Frances is an Executive Coach, Consultant, and people development professional with extensive corporate and commercial experience. Following a successful career in Human Resources leadership roles, she works as an Executive Coach with senior leaders and organisations. She is the founder and CEO of Interims for Development and has led HR and skills development projects in the UK and across Africa including critical small business development training, leadership training, and other capacity building initiatives. Frances is also the founder and Managing Editor of ReConnect Africa.com, an online careers portal for professionals of African heritage.
An advocate for African professionals and African development, she engages with groups, networks, and organisations, chairing forums and speaking at events and conferences relating to Africa and the diaspora. The author of three career books and six novels, she has won numerous awards for innovative capacity building and for business and enterprise development in Africa. Frances was awarded the CBE by Her Majesty Queen Elizabeth II in the 2020 New Year's Honours List for services to the African community in the UK and in Africa.
Simran Rawat:
In her role as Communications Coordinator, Simran Rawat supports the visibility of the Global Diversity Foundation's work and that of the Global Environments Network within it. She also handles communications for the Alliance for Mediterranean Nature and Culture. She holds an M.Sc. in Social and Public Communication from the London School of Economics.
For almost 10 years, Simran has led her own non-profit organisation, called A Cry For Help Foundation, which works towards improving adolescent mental and sexual health in India. She is incredibly passionate about gender equality and has worked with women from marginalised communities on varied issues that concern them. She has also spoken about gender justice in several forums such as TEDx, the UN Memorial Hall, podcasts, panel discussions and summits.
Reading and references:
https://www.mindtools.com/pages/article/transformational-leadership.htm
https://www.verywellmind.com/what-is-transformational-leadership-2795313
https://earth.fm/updates/regenerative-activism-why-we-need-it-and-how-to-practise-it/