Description
"GEMS & SIP" - AN INTERACTIVE JEWELRY MAKING EXPERIENCE
Join jewelry & accessory designer, Tatiana Ilia, for an afternoon of setting positive intentions, creating personalized gemstone bracelets, and socializing with like-minded individuals. We will start off the afternoon doing introductions as a group, while indulging in an assortment of refreshments including mimosas, champagne, water, juice, fresh fruits, muffins, and hors d'oeuvre's. Once everyone is settled in, Tatiana Ilia will begin to explain information about gemstones, their healing properties, and how they can serve us in a multitude of beneficial ways. The attendees will then be able to pick the gemstones that they gravitate to most and feel will best serve them, and begin to create their own personalized gemstone bracelet.
Ticket covers refreshments, and jewelry making materials to make custom gemstone bracelet.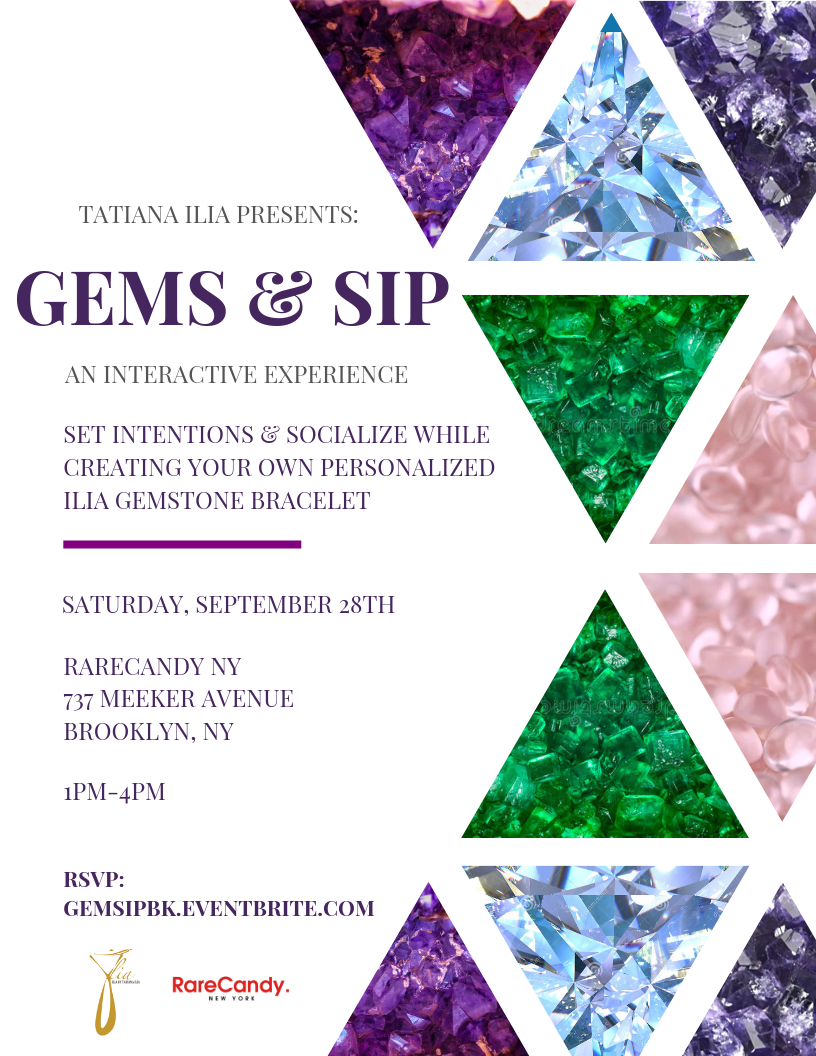 ILIA BY TATIANA ILIA - JEWELRY & ACCESSORIES:
WEBSITE: www.Tatianailia.com
Our gender neutral products consist of bracelets, necklaces, earrings, rings, and suit-wear accessories. Elements like gold, silver, and precious gemstones are incorporated into each piece. The objectives of ILIA BY TATIANA ILIA collections are to uplift, embrace diversity, enhance individuality, and reinforce peace & self-expression through jewelry and accessories.
FOUNDER/CEO:
Tatiana Ilia is a New York native with a love and fascination for the vibrancy of the creative arts world. From a young age this fascination led Tatiana into the realm of jewelry and accessory design, creative direction, styling, modeling, event curation, women's empowerment, community empowerment, philanthropy, and much more.
She is co-founder of the women's empowerment collective, WNDR WMN, and works closely with community driven agency, Driven Society, along with other creative collectives in NYC. Although Tatiana has many passions, her biggest passion is her jewelry and accessory line.