Description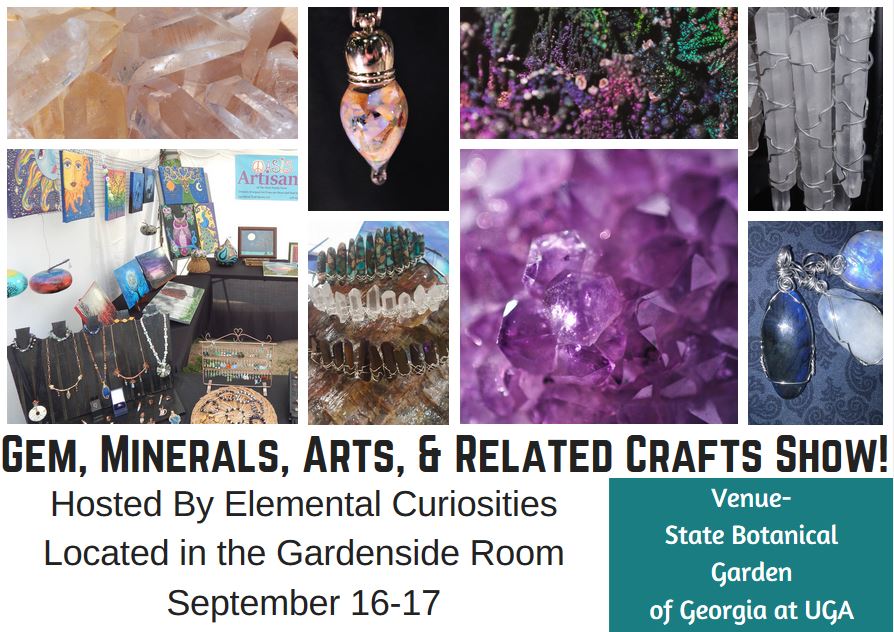 ---
Elemental Curiosities Presents The Gem, Mineral, Arts, and Related Crafts Show at the Gardenside Room and Patio.

Come relax at the Gardens and see the wonders that Nature grows in the ground- Plants, Flowers, Trees, Crystals, and Minerals!!

Please Note-The Botanical Gardens are in NO WAY Affiliated with this event. The store Elemental Curiosities has booked a private room for this to be a public event and has reached to many vendors and word of mouth to help make their first event successful. Thank you.

The Gem, Mineral, Arts and related crafts show will be in the Gardenside Room inside the Indoor Visitor Center and we will have Quartz Crystals, Amethyst, Fossils, Jewelry, Opals, Minerals from Local Mines and from afar, Artists that sell Jewelry and Paintings and more.

I've asked the Geology Department and Students at UGA to be involved! This will make for a great educational experience as well!

---

ADMISSION FEE-$5-one time fee for both days
Kids 16 and under are free
Wheelchair accessible
Handicap Parking
Plenty of Parking
Restrooms on Site-Indoors and Outdoors
No Parking on Grass or side of road-Only in Parking Spaces, if no parking is available please come back later!
No Smoking
No Pets

---

When you enter the Event, the $5 also enters you into a RAFFLE to win a Large Quartz Crystal Cluster! Just give your name and Phone number and we will throw it into a large jar to choose a name at random!

If we do well, your funds help ensure we can do another event next year as well!

Vendors may put something in the raffle too if they wish to make it more exciting!

---

For vendor Inquiry please message me!
Some info down below for vendors
As a Small Business Online Vendor as well, it can be hard to compete with the "big guys", this will be a small event that will be brought to life by other Small Business or just starting out! I want this to be Exciting and Successful!

There is an Indoor Room and Outdoor Patio.
Some Tables are provided with Chairs (previously was a restaurant so these are 2x2 tables being put together)
Must bring own linen.
The Gardens are family friendly and so should your wares be!
Plenty of Parking-arrive early
More info will be told in later emails and messages

Vendors Must be set up by 9:45 on Saturday Morning- arrive at 8:30 am.

Our wares will be indoors for two days- a Statement from the Gardens-"We will lock the room and place partitions up in front of the windows so no one cannot access or see the room. However, the garden must clarify that we are not liable for any items left overnight."
Also there is NO smoking on Garden grounds and No pets Allowed.
No Parking in Grass Allowed as they are part of the Gardens-Park only in Parking Spaces
The event is for Two Days-

$85 per vendor Indoors only for two days- I think I can get 15-20 MAX-that is pushing it.
For One Day, the price is half off, $42.50, but this is for the Patio Outdoor Location ONLY- 1st Come 1st Served! There are 7 round patio tables and plenty of chairs.

The One Day Outdoor Spots are perfect for those who can only come Vend for One Day due to work or other engagements and they can come get that extra exposure and extra funds. So the 7 spaces outdoors can host up to 14 vendors for two days. Let me know if you want to be a One Day Vendor and if you want Saturday or Sunday and I'll let you know if it's Available!
---
Final Payment MUST be received by July 15th! We reserve our room on July 16th officially and Vendor funds will help not only reserve their space, but are an important part of making this event come alive!

---

Upon take down, Vendors must clean up after themselves!

---

If you are wanting to help sponsor this event or advertise, please message me or email me at slaus13@gmail.com

I will update our list of vendors on our Facebook Event Page as Vendor Spotlights as we get more.