GEG West Bangkok Inaugural Meetup

Saturday, July 25, 2015 from 1:00 PM to 4:30 PM (Indochina Time Thailand Time)
Event Details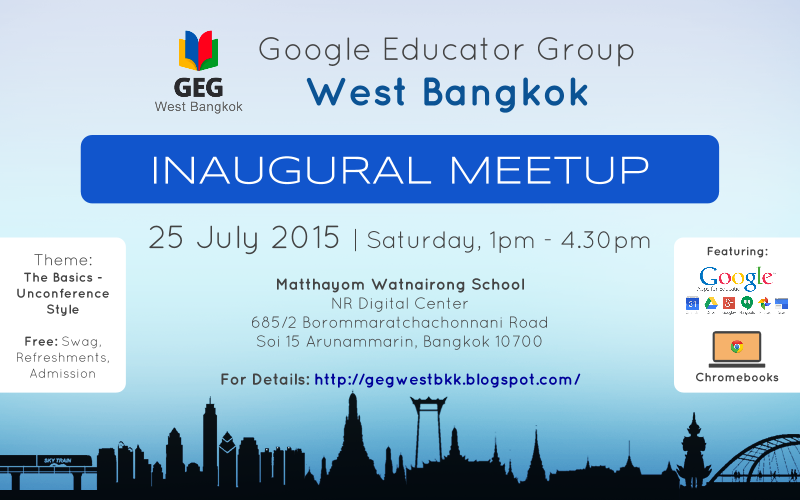 Welcome to GEG West Bangkok inaugural event!
This meet-up is all about the BASICS featuring Google Apps for Education and Chromebooks. If you are new to any of the Google Apps for Education (GAFE) tools and chromebooks, this event is for you. If you are a seasoned edtech guy who is willing to share knowledge and techniques, then this event is for you as well.
This event will be run in the style of unconference where attendees will create topics/session on the spot emphasizing the informal exchange of information and ideas!
Visit our page: gegwestbkk.blogspot.com/
Visit our community: GEG West Bangkok G+
Note: Chromebooks are in limited numbers, please bring your laptop computers with you.
What are GEGs?
Google Educator Groups (or GEGs) are independently run communities of educators who share, inspire and empower each other to meet the needs of students through technology. Via face-to-face meet-ups and online activities to provide a way for primary or secondary school educators passionate about education and technology and share, learn, and collaborate with like-minded people and share, learn and collaborate together with them.
The GEG meet-ups (sometimes online) are often themed, whether it is a focus on a specific Google technology, practicing sharing lesson plans, or having a more practical hands­on experience. How a GEG meetup is run is up to the organising chapter and possibly its members and it could take a number of different forms. GEGs seek to inspire growth of the community by providing training, workshop and many different opportunities for educators in the hopes that these workshops will begin to foreshadow the learning, sharing and collaborating with other educators and other communities.
Why join?
Learn. Share. Inspire. Empower. These four words represent the essence of GEGs. Educators will build relationships with other educators and gain the necessary skills to use educational technology to deliver the best possible education to their students.
Join GEG West Bangkok now and be part of the community! More information about GEGs can be found here.
When & Where

Matthayom Wat Nairong School

Bangkok Noi, จังหวัด กรุงเทพมหานคร
Thailand

Saturday, July 25, 2015 from 1:00 PM to 4:30 PM (Indochina Time Thailand Time)
Add to my calendar
Organizer
Davis Apas
Davis is currently the Technology Integration Specialist and ICT Teacher for Matthayom Watnairong School. He is passionate about project-based learning and using the technology like Google Apps to open his students up to collaboration with friends and the community. He enjoys working with teachers to find out how technology can make learning come alive for their students. He also enjoys motivating teachers and students to integrate technology across various disciplines. He has been a presenter in a summit for AppsEvents, EdTechTeam, training/workshops for EIS and most recently at DeepLearning Conference. He has led educational workshops on topics such as Google Apps and Professional Development. He is always on the lookout for new tools to use and share to empower students and teachers.
He is an authorized Google Education Trainer and a Google Certified Teacher.
GEG West Bangkok Inaugural Meetup