Actions and Detail Panel
GEF Trivia Night 2017
Sat, January 28, 2017, 6:30 PM – 10:00 PM CST
Description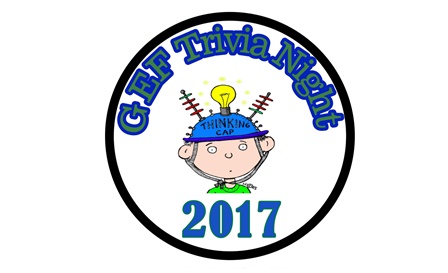 Grab your smartest friends and form a team of 10! This event is a fun night of trivia and fundraising. Each team chooses a theme (we've seen everything from rock stars to emojis) and is responsible for their own table decorations, food and drinks. Alcohol is permitted, but please limit coolers and decorations to the space on or under your table. Trivia consists of 8 rounds of 10 questions, and a prize will be awarded at the end of the night for the winning trivia team and the winning theme! Trivia categories last year ranged from Music to Sports to Food. So, be prepared for anything! Bring cash! Clues may be purchased and we will have games between rounds that are "pay to play." Prizes for game winners will be awarded. We will also have great auction items so bring your credit cards! All proceeds from Trivia Night go to funding grant requests from educators and staff at our eight schools in Glenview School District 34.
There are 29 tables of 10 available. The cost of each table is $650. Each table captain may purchase up to two tables.
You may request a "waiting list" ticket on the website, and tables that are released will go to those on the waiting list in the order in which they are time stamped ***.
*** Those on the waiting list will be contacted directly if a table is released. You will then be given 24 hours to pay for your table once you are notified.
Once you have received a table, you will receive an email with a link which will direct you to payment information.
Questions? Contact: kimberly.shampine@mdlz.com
GEF Trivia night sponsored by MLB and Willow Lake Orthodontics.