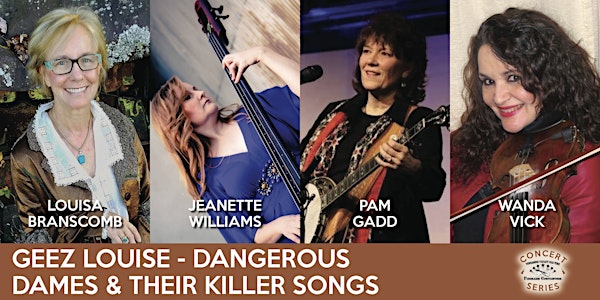 Geez Louise - Dangerous Dames & Their Killer Songs - TVOTFC Concert Series
Geez Louise will be performing on January 23, 2020 at 7:00 PM in historic McCandless Hall at Athens State University
About this event
Join us for the Tennessee Valley Old Time Fiddlers CONCERT SERIES! Enjoy the sounds of old-time music throughout the year with this series leading up to the 2020 Fiddlers Convention in October.
The first concert in this year's five-part series will be "Geez Louise" – Dangerous Dames & Their Killer Songs featuring Louisa Branscomb with Jeanette Williams, Pam Gadd, and Wanda Vick. They will be performing on Thursday, January 23, 2020 at 7:00 PM in historic McCandless Hall on the campus of Athens State University.
Iconic songwriter and instrumentalist Louisa Branscomb returns to her Alabama roots with her all-women band of outstanding internationally recognized players and songwriters in an inspiring show that spans hard-driving, traditional bluegrass to stirring, contemporary hits by the band members themselves. From well-loved standards to the band's own creations, this group will stir you with enthusiasm, humor, and songs that hit home.
Louisa Branscomb, iconic songwriter, brings songs from her current hit album - #1 in Bluegrass and #2 in Folk Music back home to Alabama with this all-star cast. A special stage feature (with some surprises) will be her hit song BAREFOOT GIRL, about growing up in Alabama! She is one of the most-lauded songwriters in acoustic music, with three International Bluegrass Association Awards, several additional nominations, two Grammy cuts , 2014 Song of the Year, IBMA Distinguished Achievement Award 2017, for her contributions in songwriting and community organizing that have changed the face of Bluegrass Music, as well as over 200 recorded original songs by artists including Claire Lynch, Krauss, John Denver, Dale Ann Bradley, and others. Her classic "Steel Rails" is one of the longest-running chart hits in bluegrass (also a Billboard country hit), while "Dear Sister" topped charts in bluegrass, Americana, and folk music and "Will I Be Good Enough," sung by Karen Lynne, soared on country charts in Australia.
Jeanette Williams burst onto the national scene in 1999 with her Doobie Shea Records release "Cherry Blossoms in the Springtime", which spent 9 months on the Bluegrass Unlimited National Album Chart. With more than ten SPBGMA nominations, and three wins for Female Vocalist of the Year (2009, 2012 and 2013), two IBMA awards (2006 and 2009 Recorded Event of the Year, with the Daughters Of Bluegrass) two songwriting awards (2007 Chris Austin Songwriting Contest at MerleFest, 2008 IAMA Songwriting Contest) and over twenty years of performance experience in Bluegrass and Bluegrass Gospel, Jeanette is expanding her repertoire to include her early influences of Classic Country, Blues, Roots, and Rock n' Roll.
Pam Gadd became a professional performer in 1979. Her career spans appearances on eight albums and half-a-dozen videos, as well as television appearances on the programs Hee Haw, Nashville Now, The Late Show With David Letterman, and The Tonight Show With Jay Leno. She has contributed her considerable skills on the banjo to recordings by such artists as Terri Clark and Emmylou Harris, and she received a nomination from the International Bluegrass Music Association in 1999 for that year's Emerging Artist Award. .
Wanda Vick, multi-instrumentalist, was once called the "Jill of all strings" by People magazine. She has been living the musician's dream for the past thirty years in Nashville. A sought after studio musician, she has recorded for an impressive list of artist in Country, Gospel and Pop. Artists she has recorded for include Taylor Swift, Jason Aldean with Alabama, Billy Ray Cyrus, George Jones, Dolly Parton, and many more. She has also played on thousands of demos for top Nashville songwriters. She has recorded for the soundtracks for movies, The Apostle, The Fox and the Hound 2 and The Last Ride (about Hank Williams).
Purchase your tickets today before they are all gone! This event is brought to you by the Tennessee Valley Old Time Fiddlers Convention Steering Committee and the Livingston Concert/Lecture Series.
Organizer of Geez Louise - Dangerous Dames & Their Killer Songs - TVOTFC Concert Series
Founded in 1822, Athens State is Alabama's oldest educational institution of higher learning. As one of only a few "upper division" universities in the entire country, Athens State is a destination for transfer students and students with more than 36 hours of credit who may have paused their education and are seeking to finish their degree. Offering over 50 undergraduate degree programs and options in addition to graduate programs, Athens State focuses on providing affordable, flexible, and high-quality options for all learners.
At Athens State, we understand it isn't how you began your education that matters. It's how you finish. And a strong finish is only the beginning.