GeekWire Startup Day

Friday, October 25, 2013 from 9:00 AM to 5:00 PM (PDT)
Event Details

Planning to make the startup plunge, or already in the deep end? Look no further than GeekWire Startup Day, taking place on Friday, October 25th at the Showbox Sodo in Seattle.
Now in its fifth year, Startup Day is the preeminent startup conference in the Pacific Northwest, bringing together entrepreneurs, investors, tinkerers and builders for a day of discussion, inspiration and learning about the startup journey. 
As a new offering this year, startup companies will be able to receive in-person feedback and conduct one-on-one presentations with event attendees in the Startup Demo Zone.  The Zone is available to qualifying startup companies for $550, and includes a presentation table; a ticket to the event and an individual meeting with an angel investor or VC. Space is limited, so make sure to contact GeekWire for more opportunities.  
We're also excited to be bringing back the Resource Room where entrepreneurs will be able to discuss everyday business challenges with experts in law, finance, public relations, human resources and more. 
Past speakers at Startup Day have included Box CEO Aaron Levie; angel investor Dave McClure; Zillow co-founder Rich Barton; Apptio CEO Sunny Gupta; Haiku Deck CEO Adam Tratt; and many other leading entrepreneurs. 
Come join us on 

October 25th

. Check below for the current speakers, being updated regularly!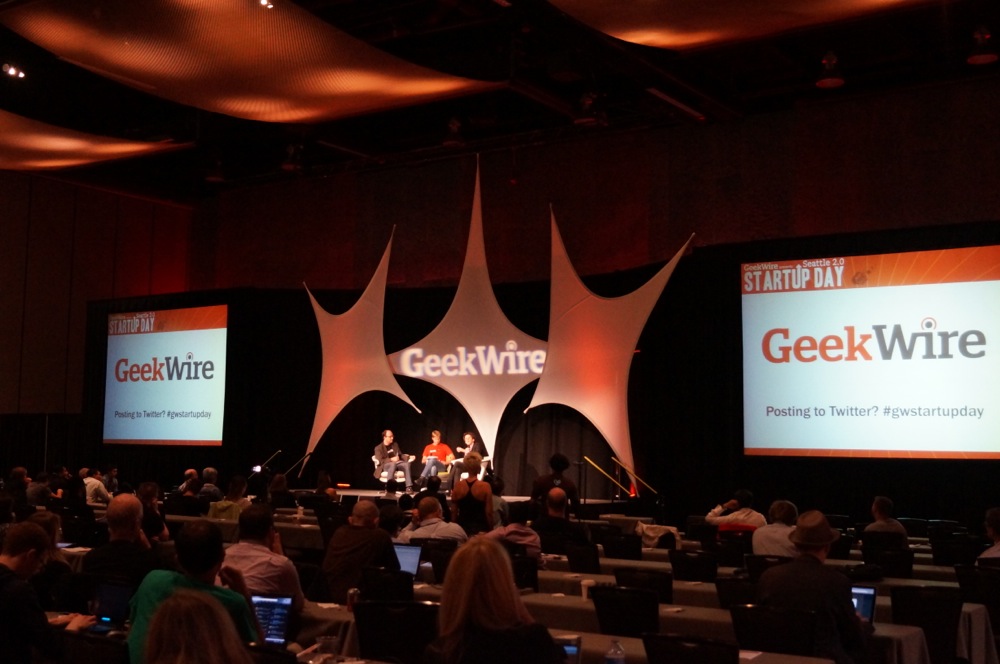 Frank Artale
Managing partner at Ignition
Frank Artale is a managing partner at Ignition, a Seattle area venture capital firm. He most recently served as group vice president, business development at Citrix Systems, responsible for business development with software and hardware technology partners. Prior to Citrix, he was an executive at XenSource and founded Consera Software, which sold to H-P in 2004. He also held management positions at Veritas Software and Microsoft. At Ignition, Artale's investments have included Appfog, BlueStacks, Bromium, Couchbase, Cloudera, ScaleXtreme and ServiceMesh. 
Dave Cotter
Co-founder and CEO of SquareHub and former GM at Amazon.com
Dave Cotter is the co-founder and CEO of SquareHub, a Seattle mobile startup that's making it easier for families to stay connected. Prior to SquareHub, Dave worked as a general manager at Amazon.com. Before that, he founded the online advertising startup Mpire, which sold to ComScore in 2011 for $21 million. He's a former entrepreneur-in-residence at venture capital firm Ignition, and previously worked at RealNetworks, Oracle and Microsoft. 
Geoff Entress
Venture partner at Voyager Capital and Seattle angel
Geoff Entress is one of the Pacific Northwest's leading angel investors. He's backed more than 100 startup companies, from Vancouver's HootSuite to Seattle's Cheezburger to Portland's Elemental Technologies. He was an early investor in Isilon Systems — sold to EMC for $2.25 billion — and World Wide Packets — sold to Ciena for $290 million. Geoff also serves as a venture partner at Voyager Capital, and previously worked at Madrona Venture Group.
Vanessa Fox
Chief product officer at RKG and founder of Nine By Blue
Vanessa Fox is a search expert who currently serves as chief product officer of RKG, which purchased her search analytics software company, Nine By Blue, in May 2013. She's a former product manager for Google's Webmaster Central, and she's considered on of the world's foremost experts in SEO and online marketing. Vanessa also served as an entrepreneur-in-residence at Ignition, a leading Seattle venture capital firm. She's the author of the book "Marketing in the Age of Google.
Startup Day talk
: "
How To Avoid Being Eaten By a Bear: Vital Entrepreneurial Skills That You Can Learn Anywhere."
Rudy Gadre
Angel investor and former general counsel at Facebook
Rudy Gadre is one of Seattle's leading angel investors, a backer of companies such as Jobaline, Yabbly, 9Slides, WalkScore, Chirpify and BuildersCloud. He's the former general counsel at Facebook. At Amazon.com, where he worked from 1999 to 2005, he served as vice president and associate general counsel for business development, new technologies and intellectual property. He started his law career in Seattle at Perkins Coie.
Greg Gottesman
Managing director at Madrona Venture Group
Greg Gotttesman is a managing director at Madrona Venture Group, He joined the Seattle firm in 1997, and now serves on the boards of AdReady, BuddyTV, Cheezburger, WildTangent and Rover.com. He also serves on the board of Up Global (Startup Weekend) and is the president of the Evergreen Venture Capital Association. Prior to joining Madrona, he served as an associate of the Boston Consulting Group.
Gov. Jay Inslee
Governor of Washington
Jay Inslee is the 23rd governor of Washington and a fifth-generation Washingtonian. He holds a degree in economics from the University of Washington and a law degree from Willamette University. A longtime Congressman, Inslee championed environmental and clean tech issues. As governor, his top priority is growing Washington's innovative industries such as clean energy, IT and life sciences, while also strengthening existing industries such as aerospace, agriculture, maritime and military.
Glenn Kelman
CEO of Redfin
Glenn Kelman is the CEO of Redfin, a venture-backed online real estate company based in Seattle. Prior to Redfin, Kelman co-founded Plumtree Software and worked at the Stanford Technology Group. He graduated from the University of California, Berkeley.
Startup Day talk
: 
"How to manage yourself as a startup CEO"
Adina Mangubat
CEO Of Spiral Genetics
Adina Mangubat is CEO Of Spiral Genetics, a venture-backed Seattle startup that's developing software to help scientists analyze DNA. Mangubat, a graduate of the University of Washington, was recently named to Forbes list of the top 30 disruptors in science and health.
T.A. McCann
Founder of RivalIQ and former CEO of Gist
T.A. McCann is a serial entrepreneur, advisor and angel investor. He's the founder of RivalIQ, a Seattle startup which provides tools for companies to benchmark and monitor their competitors and market landscape. He's also an active angel investor through Founder's Co-op and a board member at Up Global (Startup Weekend). Prior to RivalIQ, T.A. worked at BlackBerry, following its 2011 purchase of Gist, a mobile contact management startup that he founded. He's founded four other Internet-related companies, and spent four years at Microsoft on the Exchange and Mobile Service Delivery platforms.
Startup Day talk
: 
"Starting, funding, killing and selling: The hard decisions that make a startup."
Boris Wertz
Founder of Version One Ventures
Boris Wertz is the founder of Version One Ventures, a leading venture capital firm based in Vancouver, B.C. whose investments include Flurry, Indiegogo, Julep, Unbounce and Wattpad. He's also one of the founders of GrowLab, a Vancouver, B.C.-based startup accelerator. Prior to becoming an angel investor, Boris served as chief operating officer of AbeBooks.com, which sold to Amazon in 2008. He also founded the German online retailer JustBooks.
Startup Day talk
:
"There's only two ways to build a $100 million company."
Thanks to our sponsors: 


For sposonsorship opportunities, contact Sarah Camp, Sarah@GeekWire.com
Attendee List
Sort by:

Date

|

First Name

|

Last Name
When & Where

Showbox SODO
1700 1st Ave S
Seattle, WA 98134


Friday, October 25, 2013 from 9:00 AM to 5:00 PM (PDT)
Add to my calendar
Organizer
GeekWire is an independent technology news site and online community based in Seattle, Wash. — covering the people, companies and innovations emerging from the Pacific Northwest and impacting the world