Geekway Mini 2022 - Soylent Green is Meeple!
About this event
Geekway Mini 2022 - Feb 11-13 (rescheduled)
Please note: As of December 31, 2021, we are rescheduling Geekway Mini due to current COVID-19 conditions in St. Louis.
We are back at the Sheraton Westport Chalet and on our regular schedule for Geekway Mini 2022. You need a place to play all those games you got as gifts for the holidays - why not play them with 400 of your closest friends at Geekway Mini?
Three full days of open gaming
Access to the Geekway Game Library – check out games and play all you like!
Play and Win – play and game and win a chance to take home a copy of that game!
Please note that to attend Geekway Mini, all guests must provide proof of vaccination. Masks will be required in all public gaming areas.
The Schedule
Registration and all game areas, including the Play and Win area, will open on Friday morning, at 9 am. Registration will stay open until 6 PM, and the game library (including Play and Win) will stay open until midnight. The gaming space will be open 24 hours.
On Sunday, Play and Win will close at 3 PM, and the library will close at 4 PM. Geekway Mini will end at 6 PM.
(These times are subject to change)
The Venue - Sheraton Westport Chalet
Back to our roots for the venue! We'll be at the Sheraton Westport Chalet, with numerous dining options available just steps from the gaming area.
Consider spending a night at the hotel, even if you are local! Staying over lets you enjoy all the late night fun, and helps support Geekway! You will receive hotel booking information after you register. Geekway has secured preferred rates for gamers!
The T-Shirt
Geekway Mini 2022's "Soylent Green is Meeple" t-shirt is designed by Mark Sellmeyer. If you want a shirt, please order prior to November 26! We will close pre-sales of t-shirts at that point, and will only have a few available for sale at the convention itself. Please see the size charts below for our two styles of t-shirt. (Note we are still finalizing colors for the t-shirts because those supply chain problems you've heard of? They're affecting t-shirts, too. But we promise, they'll be cool.)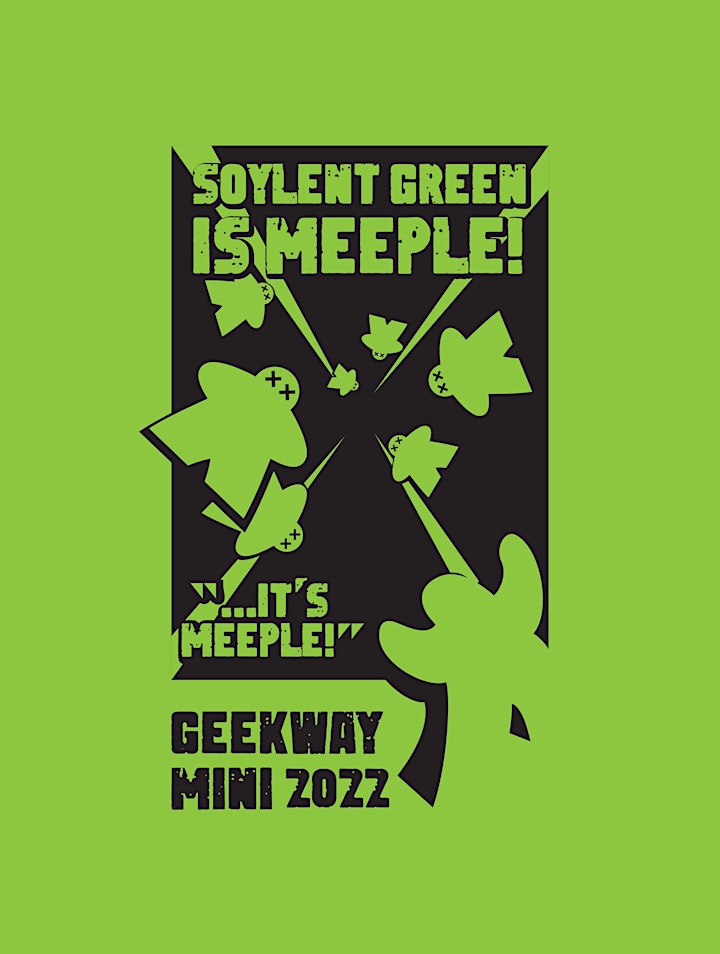 Straight Cut T-shirt size chart
Curvy Cut (Fitted) T-shirt size chart
Organizer of Geekway Mini 2022