About this Event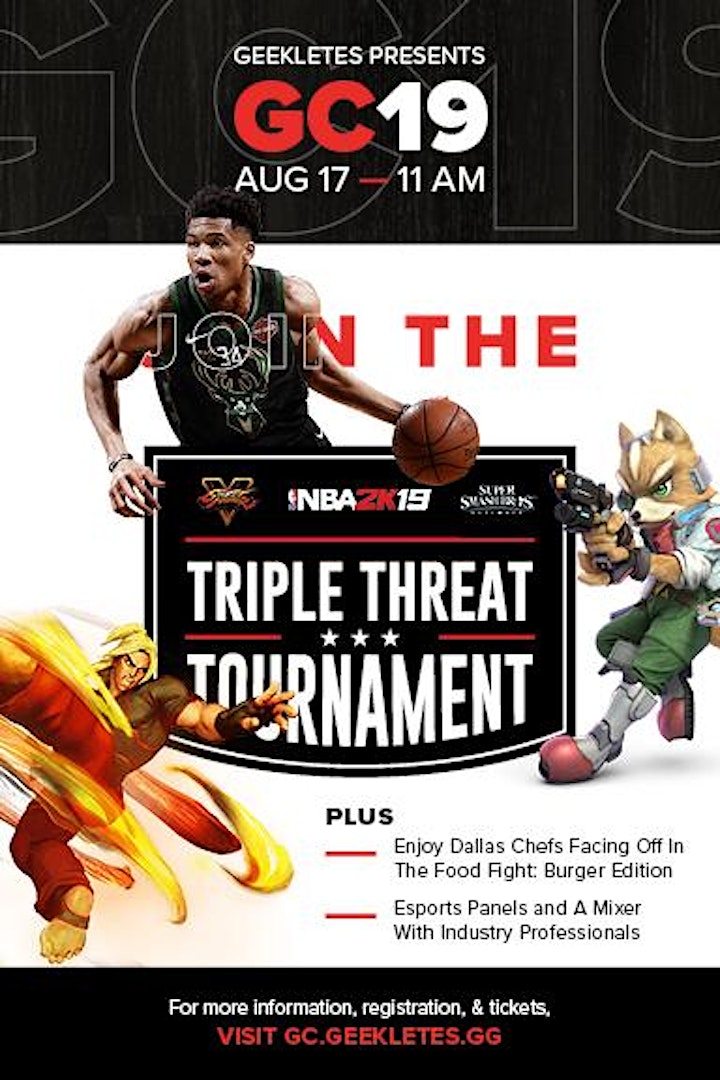 Our first annual #GeekletesCon marks the Grand Opening of Geekletes, an Esports conglomerate dedicated to growing the eSports community. Come out and join us at Geekletes and be the first to have full access the Geekletes facility. #GeekletesCon will feature an array of events such as a block party, Esports tournaments, and panels featuring Esports industry experts.
Event Agenda
Opening Ceremonies
Block Party
11:00 AM - Block Party
11:00 AM - Food Fight
Speaking Engagements
12:15 PM - Welcome to GC (CEO Keynote)
1:30 PM - Panel 1: Career Opportunities in Esports
3:00 PM - Panel 2: Pro Gamer Panel
Studio Activations
1:00 PM - Geekletes Photo Booth Activation
1:00 PM - ExDojo Exhibit
1:00 PM - VR Experience
1:00 PM - LAN Free to play
eSports Tournaments
1:30 PM- Geekletes Regionals Pro NBA2K Tournament
1:30 PM - Triple Threat Tournament
4:30 PM - Triple Threat Tournament Top 2
6:00 PM - Geekletes Regionals Pro NBA2K Tournament Top 2 Finals
8:00 PM - MPBA Nationals Pro NBA2K Tournament
Award Ceremonies
7:30 PM - Awards and Conference Close
About Geekletes
Geekletes is an esports platform that caters to Content creators, professional gamers, spectators, and the eSports community as a whole. Our facility currently features a fully capable Esports arena, workspace for content creators and streamers, several tournament gaming rooms, and even a full size basketball court. With this facility we plan to aid in building up the Esports community by throwing major Esports tournaments, providing a healthy competitive community that is active on a daily basis, providing a space for gamers and influencers to create content, and educating gamers and influencers on how to build a career in Esports through our academy. This plan will not only help propel esports to the next level, but it will be the bridge to the world of professional gaming for amateur members of the Esports community.