Description
How about meeting some of the most famous Java gurus in the world outside the conference rooms? How about getting to know fellow Java developers in a fun and different environment?

This is what you can do if you join the Geek Bike Ride 2012 on December 2nd!

This ride will happen just before JavaOne Latin America 2012 and several participants and speakers will join. This is a community event and anyone interested can join. You don't have to be registered in the conference to participate.

When: December 2nd 2012, Sunday, starting at 8am
Where: Parque das Bicicletas - Alameda Iraé, 35 (esquina com a Av. Indianópolis), São Paulo, Sao Paulo, Brazil


What you need to know:

1. The bike ride will be in the Ciclofaixa, an area in São Paulo that is closed for cars on Sundays. It is pretty safe and an easy ride.

2. We will ride about 20 Km (12.42 miles) at a slow pace. It is not a race, so don't worry. It will be easy.

3. A few Bike Angels volunteered to guide the ride. They are prepared to help you with the bicycle and make sure everyone will be able to get to end.

4. If you are bringing your own bike, make sure to also bring a helmet.

5. If you don't have a bike, you can rent one at the meeting point. The rental will cost around R$ 6.00/hour and will include the bike and a helmet. You will pay the rent directly to the company that manages the bike rental. PLEASE, notice that we have reserved a limited number of bikes to rent. So, if you want to rent one, make sure to choose the "I will rent a bike" ticket when you register and we will reserve a bike for you. We can't guarantee that a bike will be available if you don't make the reservation. Also, if you reserve the bike, make sure that you will show up in the day, since a reservation will be waiting for you.

6. If you are renting a bike, make sure to bring an ID (driver license, or any other document), since this will be required to rent the bike. If you are a foreigner, don't use your passport for that. A photo ID document will be enough.

7. Make sure to wear light clothes that are appropriated for exercising.

8. We strongly advise you to use lots of sunscreen. If you don't, you WILL get burned.

9. We are starting the ride very early in the morning, at 8am, but there is a good reason for that: it will be extremely hot in December and it will be very hard to ride later in the morning. Believe us: this is the best time in the day.

10. We will meet at 7:30am at the meeting point, so everyone can meet their group and their bike angel, get their bikes ready, etc. We will effectively start the ride at 8am. We expect to finish it in about 3 hours, but that will depend on the group performance.

11. If it rains, the ride will be CANCELLED.
Get the T-Shirt!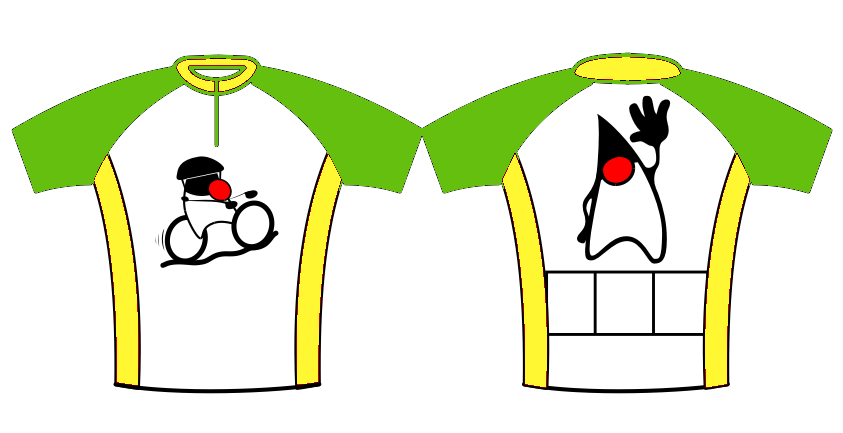 A limited number of special Brazilian Java cycling shirt will be available for free to the participants. The first ones to arrive at the meeting point will get them. The shirts were designed by Patricia Mallmann, a Brazilian designer and art director. They are made in a dry-fit fabric, specially designed for bike rides. They have 3 back pockets, a zipper in the front and short sleeves. The shirts are made and sold by Moon Bikers, a company that has a long tradition of creating cycling jerseys for professional bikers.
Know where you're going!
Good news! W
e are
doing a historical route!
Recent changes in the ciclofaixa will allow us to do a much better route than we had originally planed. We are going to the historical Sao Paulo downtown, where some of the most important landmarks of the city are located. The new route will be about 30 Km, but we will offer the possibility of doing part of the route by subway, to those who prefer that.
A map of the route is available
here
. If you are late, you can meet us on the way.
Meet the Bike Angels

What is a bike angel?
Bike angels are experienced cyclists that help people who want to learn how to cycle safely in the city. They teach how to best use the bicycle, make sure that the group will ride safely and help their fellow cyclists when there is a problem.
In a Geek Bike Ride, the angels had to be geeks as well. Here are the guys that will help you to have a great ride:
Claudio Kerber
@oclaudiobr
Claudio is one of the most known Agile speakers in Brazil. He has a
popular blog
and has worked as an Agile Business Analyst for many years. Besides that, Claudio is a cycle activist and an experienced bike angel. He cycles 20Km every day to get to work!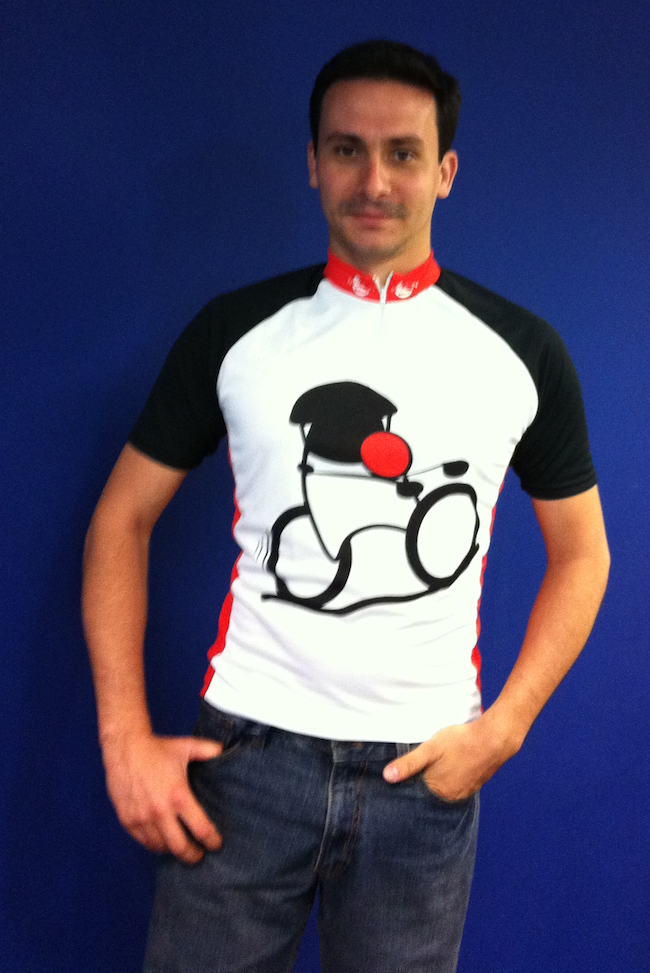 Fernando Babadopulos
@babadopulos
Fernando is an absolutely brilliant internet applications architect. He was responsible for the architecture and development of some of the most popular web sites in Brazil and abroad. Fifteen minutes talking to him and you'll probably learn more than a week reading books. Besides that, Fernando is a natural born athlete and a cyclist.