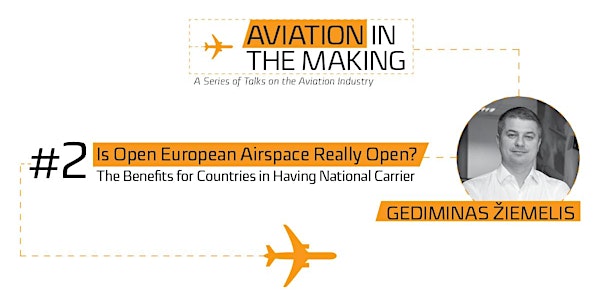 Gediminas Žiemelis: Is Open European Airspace Really Open? The Benefits for...
Event Information
Location
Dariaus ir Girėno g. 21
21 Dariaus ir Girėno gatvė
02189 Vilnius
Lithuania
Description
< Lietuviškai skaitykite žemiau >
Gediminas Žiemelis: Is Open European Airspace Really Open? The Benefits for Countries in Having National Carrier
CEOs representing several major US airlines are fighting against what they say is unfair competition from the three largest airlines in the Middle East, claiming that the carriers are heavily subsidised by their governments and have received
more than $40 billion in subsidies
since 2004. One of these Middle Eastern carriers, Emirates Airlines, employs 80,000 people and generates 500,000 jobs in Dubai alone.
Why do governments subsidise airline companies? Why do they do it in secret? What changed in Europe since the European Common Aviation Area agreements were signed? Is Open European Airspace really open from the perspective of national interests?
-----
Gediminas Žiemelis is a well-known businessman and the Chairman of the Board at Avia Solutions Group. He also manages several large companies in the aviation, pharmaceutical and real estate industries. In 2016, Mr. Žiemelis was acknowledged for his visionary business management and development skills by the prestigious European Business Award jury comprised of EU leaders in the fields of economics, education, business and politics.
With over 20 subsidiaries, Avia Solutions Group provides comprehensive aviation business solutions around the world in aircraft MRO, aviation training, airport management, IT solutions, VIP charter and aircraft management, RPAS solutions, ground handling and fuelling, aviation personnel resourcing and tourism. The magazine
Aviation Week & Space Technology
recognised Mr. Žiemelis as being among the world's 40 most talented young leaders in the aviation industry. Gediminas Žiemelis holds a Bachelor's Degree in Business Management and a Master's Degree in Law.
Part of AVIATION IN THE MAKING / A Series of Talks on the Aviation Industry
The current situation within the world of aviation is very optimistic, although there are a number of contradictions. The big players are buying out the small ones, challenges within aviation security are on the constant increase, and new areas of operation and regulation come into play as drones and commercial space flight become a reality.
Much strategic thinking about the future of air transport needs to be accomplished as it predetermines the economy within the entire region. International Air Transport Association predicts that air travel will double within the next 20 years and freight air transport is already one of the fastest growing sectors of the economy within the European Union. What do aviation leaders think of such predictions?
Kazimieras Simonavičius University and the company Friendly Avia Support have joined forces with the intention of concentrating ideas and deepening the knowledge of air transport by organising a series of public discussions about the industry with its leading managers. Sixteen meetings will take place during the 2017-2018 academic year in which distinguished aviation company managers will share their views and insights on the situation within various fields of air transport and evaluate the region's airport systems within a global context.
The events are free to attend, are held in English and certificates will be available for regular attendees at the end of the series.
<< >>
Gediminas Žiemelis: Ar atvira Europos oro erdvė tikrai atvira? Nacionalinių vežėjų nauda valstybėms

Pagrindinių JAV oro linijų vadovai kovoja prieš, jų teigimu, nesąžiningą konkurenciją su trim didžiausiomis Artimųjų Rytų avia kompanijomis. Jie tvirtina, kad Artimųjų Rytų vežėjai yra subsidijuojami vyriausybių, iš kurių nuo 2004 metų gavo apie 40 milijardų JAV dolerių. Vienas iš šių vežėjų, Emiratų avialinijos įdarbina apie 80 000 žmonių, o jų veikla sukuria dar apie 500 000 darbo vietų vien tik Dubajuje.
Kodėl vyriausybės subsidijuoja oro transporto kompanijas? Kodėl jos daro tai slaptai? Kas pasikeitė Europoje, kai buvo pasirašyti Europos bendrosios aviacijos erdvės susitarimai? Ar tikrai atvira Europos oro erdvė yra atvira vertinant iš nacionalinių interesų perspektyvos?
-----
Gediminas Žiemelis yra gerai žinomas verslininkas, "Avia Solutions Group" valdybos primininkas, taip pat vadovauja kelioms didelėms bendrovėms, veiklą vykdančioms aviacijos, farmacijos ir nekilnojamojo turto srityse. 2016 metais jis buvo apdovanotas prestižiniu Europos verslo apdovanojimu už inovatyvumą, verslo ateities viziją bei verslo valdymo ir plėtros įgūdžius.
Žiemelio vadovaujama įmonių grupė "Avia Solutions Group", valdanti virš 20 dukterinių bendrovių visame pasaulyje, teikia su aviacija susijusius sprendimus ir paslaugas orlaivių techninio aptarnavimo, pilotų, techninės priežiūros specialistų ir orlaivių palydovų mokymų, aviacijos personalo paieškos ir valdymo, antžeminio aptarnavimo, kuro tiekimo, IT sprendimų, oro uostų valdymo, užsakomųjų skrydžių, bepiločių orlaivių ir turizmo srityse. Leidinys "Aviation Week & Space Technology" išrinko jį vienu gabiausių lyderių tarp 40-ies aviacijos sektoriuje dirbančių jaunųjų vadovų. Jis yra apgynęs bakalauro laipsnį verslo valdymo ir magistro laipsnį teisės srityse, skaito paskaitas verslo, aviacijos, ekonomikos tematika tarptautinėse konferencijose ir forumuose.
Pokalbių apie aviacijos verslą ciklas

"

AVIATION IN THE MAKING

"
Pastarojo meto oro transporto verslų prognozės itin optimistinės, tačiau aviacijos pasaulyje daugėja ir prieštaravimų. Mažuosius supirkinėja dideli žaidėjai, plečiasi iššūkių civilinės aviacijos saugumui spektras, gimsta visai naujos veiklos sritys: bepiločiai orlaiviai, komercinės kelionės į kosmosą.
Apie oro transporto ateitį būtina mąstyti strategiškai, jis lemia
viso regiono ekonomikos būklę.
Tarptautinė oro transporto asociacija prognozuoja, kad per 20 metų keleivių oro transportu skaičius padvigubės. Krovinių pervežimai oro transportu jau dabar yra viena iš greičiausiai augančių ekonomikos sričių Europos Sąjungoje.
Ką apie šias prognozes mano aviacijos lyderiai?
Siekdamas sutelkti idėjas ir pagilinti aviacijos verslo žinias Kazimiero Simonavičiaus universitetas kartu su įmone "Friendly Avia Support" organizuoja atvirų susitikimų su aviacijos atstovais ciklą. 2017 - 2018 metais vyksiančiose 16-oje paskaitų, seminarų ir diskusijų oro transporto būklę nagrinėja, regiono oro uostų sistemą globalios aviacijos kontekste vertina bei įžvalgomis dalinasi žinomų aviacijos įmonių vadovai.
Dalyvavimas susitikimuose nemokamas, visi renginiai vyks anglų kalba, ciklo pabaigoje atvykusiems į ne mažiau nei 50% susitikimų suteikiami dalyvavimo mokymuose pažymėjimai.
--- --- --- --- --- --- ---
Registration required / Privaloma registracija #AviationIndustry #KSUniversity #AviaintheMaking
More info / daugiau:
+370 614 75790
rimvydas.vitenas@ksu.lt
www.twitter.com/ksuniversitetas
Date and time
Location
Dariaus ir Girėno g. 21
21 Dariaus ir Girėno gatvė
02189 Vilnius
Lithuania