GEARs Women's Supported Tour 2013

Tuesday, September 24, 2013 at 6:00 AM

-

Saturday, September 28, 2013 at 8:00 PM (PDT)
Event Details
The Old West Scenic Bikeway Loop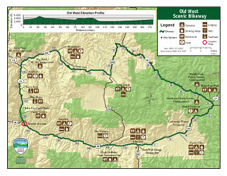 This scenic loop has been touted by the Adventure Cyclist Publication as one of the best in Oregon. The ride offers varied terrain, wide open spaces, small towns, traffic free roads, spectacular rock formations and friendly people.
Join us for this memorable high desert 176 mile ride: 4 days/4 nights.   We will leave Eugene for John Day September 24th, ride September 25-28 and return home the 28th. The ride will be limited to 12 riders. August 24, 2013 is the last day to register. A 50% deposit of $200.00 is due by August 24, 2013 with the final payment due on the day of the tour. The total fee will not exceed $400.00.
To register, riders must be GEARS Members. The Membership fee is $20.00 for an individual, which will provide the member with numerous benefits beyond The Old West Scenic Ride. If you are unsure of your membership status you can email Mike, our membership director, and he will let you know.
Sag will be provided to carry a maximum of one duffle bag or equivalent (to include tent, sleeping bag, pad) per rider, ice chests for perishable food (you supply), snacks (supplied by GEARS) and drinking water.  There will be a minimal fee for the ride which will be based on the number of riders, to cover the cost of accommodations, transportation, food, snacks, water and SAG.
Your questions may be addressed to:
Paula Erickson, GEARS President: perick54@yahoo.com
Julie Barnas, GEARS Vice President: jbarnas@comcast.net
Edana Paz: Edana@pazblueberryhill.com
When
Tuesday, September 24, 2013 at 6:00 AM

-

Saturday, September 28, 2013 at 8:00 PM (PDT)
Add to my calendar
Organizer
Greater Eugene Area Riders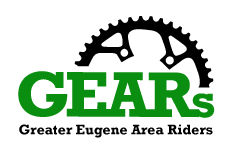 The mission of GEARs is to promote and encourage bicycle riding for transportation and recreation. GEARs strives to accomplish this mission by:
* Coordinating, promoting and leading regularly scheduled rides for riders of various skill levels,
* Teaching safety and skill classes for riders of various skill levels,
* Encouraging public, private and governmental entities to develop better cycling facilities,
* Defending and protecting the rights and responsibilities of bicycle riders as vehicle operators for transportation, pleasure and health,
* Initiating, coordinating and leading community bicycling events, and
* Lobbying governmental and public entities in the furtherance of our mission, vision and values.