Description
Workshop Introduction:
International trade has been conducted by many companies for many years. In more recent times, however, the growth in international trade (export/import) has meant that many companies have realized that they do not have the appropriate knowledge and know-how. This workshop takes the fear out of international shipping and looks at essentials in trade, import and export, and freight management. It will give a structured approach to control your international shipments by directly coordinating your documents with transportation rules and procedures.
Workshop Objective:
The 3-session course is designed for individuals involved in export and import of products to & from the United States. The aim of the course is to provide a range of topics that will assist a better understanding of logistics complexities and compliance with the US and international rules and regulations.
Date and Time:
1st Session – Tuesday, September 17, 2019 | 9:30am – 11:30am
2nd Session – Tuesday, September 24, 2019 | 9:30am – 11:30am
3rd Session – Tuesday, October 1, 2019 | 9:30am – 11:30am
Gear 4 Growth Workshop
International Logistics
Topics designed for this course are:
Session I.
1) Overview of International Logistics
a) Exporting goods from US
b) Importing goods into US
2) Different modes of transport
i. Sea
ii. Air
iii. Rail/Road
3) Role of Freight Forwarder / NVOCC
4) What is Incoterms & why is it important?
Session II.
1) Incoterms – Which term is the best fit for you?
2) Documentation
a. Export & US Customs requirements (AES Filing)
b. Import & US Customs requirements (ISF Filing)
3) Role of Customs Broker Agent
Session III.
1) Cargo Marine Insurance – How to indemnify yourself against possible Loss
2) International Letter of Credit (L/C) ---- Scary (NOT!!!)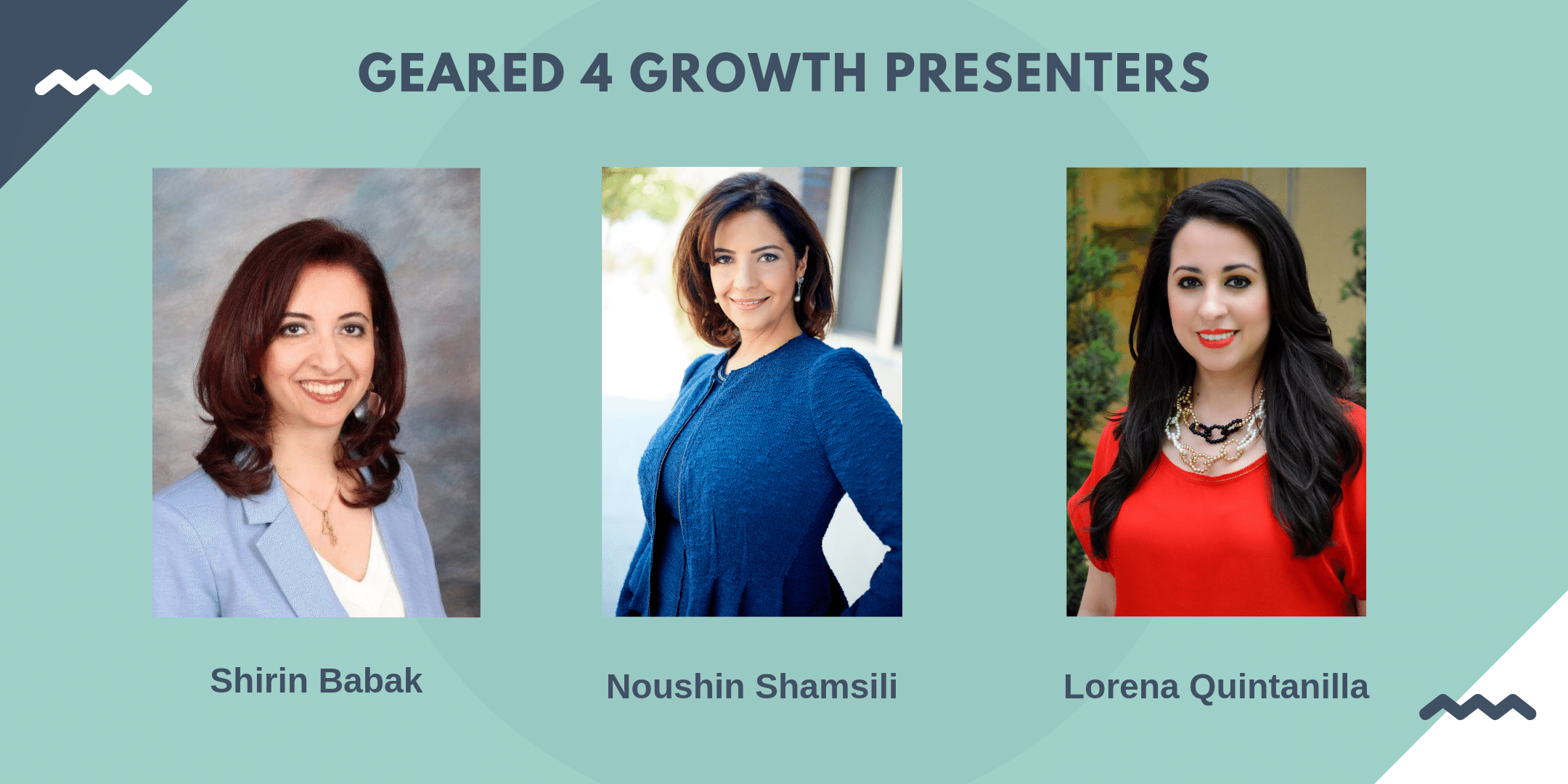 Gear 4 Growth Presenters:
Noushin Shamsili
President (2008-2019)
Ms. Noushin Shamsili is President of NUCO Logistics with over twenty-five years of experience in the Logistics' industry. NUCO Logistics is FMC-OTI licensed NVOCC and Forwarder in the United States. NUCO is also a woman-owned and operated Freight forwarder certified by the Women Business Enterprise National Committee (WBENC) and Women-Owned Small Business (WOSB). Prior to the establishment of NUCO Logistics, Noushin worked in a different capacity for international logistics' companies in the Middle East, Chicago, and Los Angeles. Early on in her career, Noushin had realized that there is a niche in the U.S. market for a freight forwarder company with extensive knowledge in Chemical products that specializes in shipment of products (Hazardous and Non-Hazardous), in Isotank, Flexibag, Dry Container, LCL cargo as well as arrange for Customs Clearance and documentation (such as Certificate of Origin and Bill of Lading) and to provide cargo marine insurance and consulting services in International Trading on "Letter of Credit" with banks as well as related document management. With that philosophy in mind, Noushin struck on her own and started NUCO Logistics, Inc. in August of 2008. Noushin has earned a BA in English Literature and has continued her education at the Institute of Chartered Ship Brokers (United Kingdom).
Shirin Babak
Director of Sales & Operation (2015-2019)
Ms. Shirin Babak is the Director of Operation and Sales at NUCO Logistics with over twenty years of experience in the Logistics' industry. In her capacity, Shirin oversees and negotiate the freight rates with Steamship Lines on a quarterly and/or ad-hoc basis, assist with compiling the tender rates, monitor the rate inquiries by the overseas agents and attends Tender briefings prior to annual tenders of multi-national corporations. In addition, Shirin helps Manage day to day aspects of imports and exports shipments with operation team in both Brea and Houston office. Shirin also plays a leadership role in long-term planning, including initiatives geared toward operational excellence and overall operational management, planning, systems, and controls. Shirin has a BA in math and has also earned her MBA.
Lorena Quintanilla
Branch Manager – Houston (2017-2019)
Ms. Lorena Quintanilla is Houston Branch Manager at NUCO Logistics. She has helped to expand the Houston office and leads the operations team in Houston. Lorena has a bachelor's degree in Business Administration with a major in International Business from the University of Houston Downtown. She has been in the shipping industry for over 10 years with previous experience as the Latin America Traffic Line Manager at Mediterranean Shipping Company. She has joined NUCO Logistics in September 2017. With her knowledge and solid experience in the ocean shipping line company and now as an NVOCC and Freight forwarder, Lorena has a broad range of expertise and knowledge in the shipping industry. In the life of every shipment a lot can happen, and Lorena and her team are ready to handle any challenge that is faced during this process. Lorena is continuing to expand our Houston office by hiring talented agents to coordinate shipments from the beginning to the end. Building independent agents to oversee accounts is one of her main roles.
Please email WBEA marketing department at wbeaevents@wbea-texas.org for any questions or inquiries.