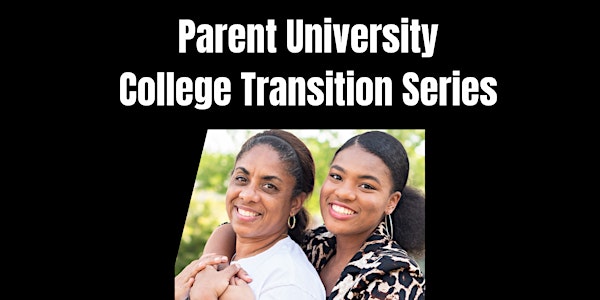 GEAR UP Georgia Parent University College Transition Series
Join GEAR UP Georgia and College Readiness 101 for a parent series designed to help families through the college transition process.
About this event
Dates Session Descriptions (6-8 pm)
June 16, 2022 The Starting A College Transition Journey session will show parents the correlation between their parent profile and the trajectory of their child's post-secondary education journey. Parents will learn about their role in their child's college transition process and how to create a successful plan for themselves as their child matriculates to college.
June 23, 2022 Financial Aid 101 is a review for some and an overview for all parents on the process of funding a college education. Concepts including federal, state, institutional and private aid opportunities will be discussed. Parents will also have an opportunity to complete the FAFSA application (if they haven't already done so) at the end of the workshop in preparation for their child's 2022 college freshman year. It's not too late!!
July 21, 2022 (Rescheduled from July 14th) Social & Emotional Awareness will discuss stressors that students will encounter through the college transition. Parents will become more mindful of positive and negative consequences, how to encourage their child to self-advocate for themselves, and create a plan for future experiences.
July 28, 2022 College Student Financial Literacy includes presentations surrounding common money mistakes and creating a financial plan for upcoming college students. Through this session, parents will create a simple budget for their child, identify common pitfalls, and learn about resources available to them.
August 11, 2022 The Talk is a presentation surrounding peer pressure, sex, drugs, and alcohol. Parents will engage in a discussion about the social pressures of college freedom, including the college's Title IX response.
August 25, 2022 The First-Year Experience session will expose parents to the experience of going through the high school to college transition with their child. Parents will also learn who to know on campus and what resources they need to look for when they get there.