Description
ARE YOU READY FOR YOUR IELTS TEST?
IDP is offering the GEAR UP FOR IELTS: PREPARATION SEMINAR to help you be fully prepared for your exam.

IDP IELTS's Gear Up is a useful addition to a test taker's IELTS preparation activities.

• Understand what examiners are looking for.
• Get practical tips on how to enhance their English language skills.
• Find out the most common mistakes to avoid.
• Get a detailed understanding of the assessment criteria.

Do not miss this chance! See you on the following dates and venues:

DAVAO
August 24, 2017
12NN - 2PM
Seda Abreeza Hotel, Davao City
MANILA
August 26, 2017
9am - 11am
Crowne Plaza Hotel, Ortigas Centre

CEBU
August 27, 2017
9am - 11am
Radisson Blu Hotel, Cebu City
OR
BOOK your IELTS TEST at the GEAR UP FOR IELTS: PREPARATION SEMINAR and get the IDP IELTS PREP PACKAGE PROMO BUNDLE worth PHP3,300 for FREE!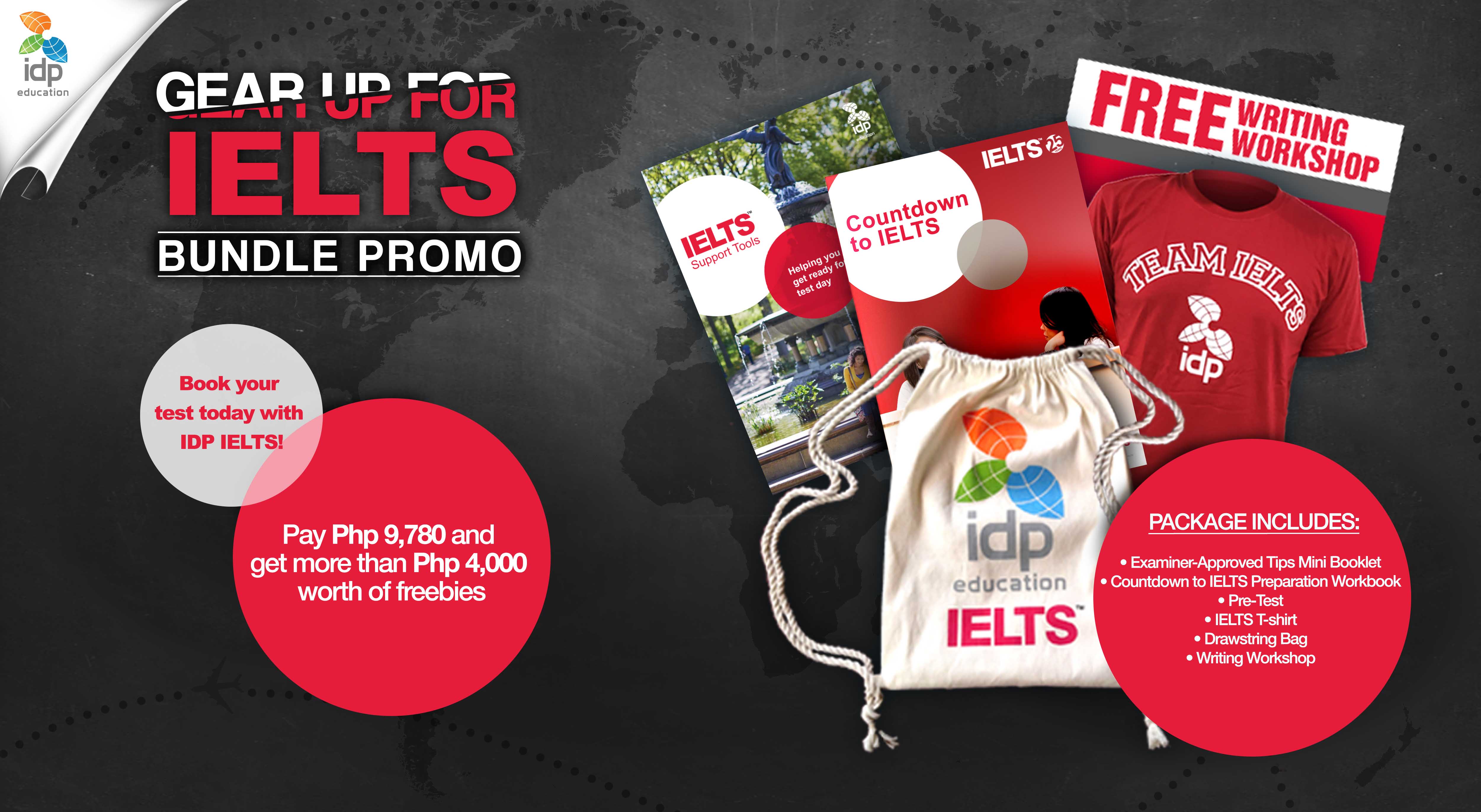 Four easy steps on how to avail the promo:
1. Register for the IDP Gear up for IELTS: Preparation Seminar or for IDP's Australia and New Zealand Education Expo, Breakthrough 2017 at www.idp.com/philippines/breakthrough-2017. Registrations are FREE.
2. Attend the event at your chosen city, date and venue.
3. Book your IELTS test with us on the spot!
4. Get your IDP IELTS Prep Package Promo Bundle for FREE.
IDP IELTS PREP PACKAGE is inclusive of:
1. Voucher for an IDP IELTS Workshop* worth PHP 2, 200 / FREE Writing Enhance**
2. IELTS shirt worth PHP 300
3. IELTS Tumbler worth PHP 300
4. IELTS preparation booklet worth PHP 400
*Applicable for Manila and Cebu registrations only. You may avail of this on your preferred, specific date from the following choices:
Manila City: IELTS Workshop on September 2, September 27, or October 7
Cebu City: on March-27 or May-19 for Manila; April-9 or May-14 for Cebu; or April 30- or May-26 for Davao only
**Applicable for Davao registrations only. The Writing Enhance is an IDP IELTS tool that can help you practice for your IELTS test in the comfort of your own home. You will be sent a secured file which you may review and answer--and once completed, an IELTS expert can give you comments on how to improve your Writing skills.
---
You may contact our offices for more information:
IDP Ortigas Office
Phone: (02) 535 3320 loc. 116, 121, 132, or 129
E-mail: info.manila@idp.com
Mobile: +63 917 630 0769

IDP Cebu Office
Phone: (032) 236 2758
E-mail: info.cebu@idp.com